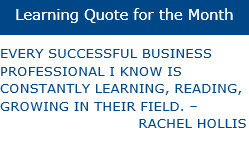 October and the Fall season are rolling along quickly with the launch of 16 new courses. What a great quote we have this month don't you think? What are you doing to keep ahead in your career? We have launched several new S/4HANA courses along with great business skills that everyone can use.
Our Instructor-led courses are video-based learning brought to you by expert SAP instructors, and other professionals each working in their specialty areas and sharing their years of experience with you one on one. We have also added Q&A webinars with our instructors where you can ask questions about their expert topic LIVE!
New Courses - October 2020
Topics in SAP and S/4HANA
Managed System Setup Configuration - Solution Manager 7.2
This course will prepare you for the configuration of Solution Manager 7.2 Managed System Setup. The discussions will help you to become competent in planning, designing, and operating Managed System Setup in SolMan. This step is critical in establishing connectivity to each of the SAP managed systems in your landscape.
Process Management and Solution Admin (SOLADM)
Process Management in Solution Manager 7.2 consists of: Solution Administration (SOLADM) and Solution Documentation (SOLDOC). You will first use SOLADM to build the necessary Solution, Define Logical Component Groups, Technical Systems, Branches, and define your change control landscape. In this course, you will learn what is required before you can start to perform documentation and build your Business Process Hierarchy (BPH).
Business Partner Configuration in SAP S/4HANA
Learn SAP's must-know concept of Business Partner (BP). Completing this course, you will be able to successfully configure and create BPs, customers, and vendors in the S/4HANA system as well as extend existing master data to BPs for system conversion. You will also be able to explain the differences between customer and vendor master data in SAP ECC 6.0 and compare it with S/4HANA.
Hands-On Business Rule Framework (BRF+) Intermediate
This course follows the Beginning BRF+ course. In this intermediate course, you will see how to validate data and exclude any bad data used for complex decision making by doing some calculating in a new business scenario. Finishing this course will provide inspiration on how to use BRF+ for data governance within your company.
SAP Business ByDesign User Interface Navigation
This is an entry-level overview course covering SAP Business ByDesign. It covers the HTML5 user interface, general screen, user navigation, screen personalization, launchpad personalization, report navigation, keyboard shortcuts, and how to make the SAP Business ByDesign user interface more convenient and efficient for end-users.
SAP Activate for S/4 HANA Implementations vs SAP ASAP
This course is an introduction to SAP's latest implementation approach for S/4HANA projects known as Activate. Previously, SAP followed the ASAP methodology that will not be used going forward. In this course, we will discuss the different phases of a S/4HANA Implementation project and the differences between ASAP and Activate approaches, so that you feel confident being a part of an SAP S/4HANA implementation team.
In this introductory course, you will learn the basics of ABAP Core Data Services (CDS). We will discuss the concept of embedded analytics in SAP S/4HANA and how the virtual data model and the different types of views available in it play an important part in building applications. The focus of this course will be in helping learners to create ABAP CDS from scratch. With hands-on exercises, you will learn to build your own CDS view from scratch.
Topics in Cloud Computing
Getting Started with Cloud Computing
Cloud computing/services is a great learning path, whether you are already an IT professional or only a student entering the IT world. In this introductory course, you will learn the history, building blocks, deployment, and service models of cloud computing to ready you for your next levels in Cloud Computing learning.
Microsoft Azure - Monitoring Cloud Resources and Services
This is the second course in the Azure cloud platform series. Now it is time to learn how to monitor your IaaS solution effectively. You will learn the steps required to monitor and analyze the performance and health of your Azure resources and applications as well as the Azure platform.
Microsoft Azure - Deploy Resilient and Scalable Solutions
This is the third course in the Azure cloud platform series. Now, it is time to learn how to design a system that will be more resilient to failures and more flexible to unpredictable capacity demand.
Topics in Other Programming
This step-by-step guide will show you how you can apply HTML5 code to your own web projects by covering the basics - along with additional resources for expanded HTML learning. In completing the course, you will have created a basic web page with HTML elements.
DAX Tips, Tricks, and Techniques
This course will benefit those who have been working in the Data Analysis Expressions (DAX) language and want to understand common mistakes that are made when writing queries. We will review DAX Theory and why it is important and then you will learn the best practices and techniques to continuously improve your work and outcomes.
Topics in Business Skills
Peak Productivity Hacks -Triple Your Productivity
In this Peak Productivity course, you will learn how the pros teach people to maximize productivity. Do you sometimes spend hours or even the entire day at your work desk, but can't seem to get much done? The GOOD NEWS - there is a simple FORMULA to put an end to procrastination and get more done in less time … and we will share it with you!
Building Interpersonal Skills with Emotional Intelligence
Building relationships is something that we do from birth. Developing healthy relationships as adults means building on these skills and refining them so that we can adapt around others' needs as well as our own. Building healthy interpersonal relationships is one of the ways that you use your emotional intelligence. The course covers the awareness and action part of how you interact with others in the outer world. We explore how to build relationships using empathy, how you develop trust, manage conflict, and work within ethical boundaries.
The Authority Guide to Emotional Resilience in Business
How do challenges inside and outside of work impact your emotions and your resilience? The emotional resilience of those involved in a business will contribute significantly to the organization's success. This course investigates the role of emotions in stress management so that you can determine how to develop resilience in yourself and others and use this skill at work.
Project Management Fundamentals
Develop a solid understanding of project management processes, terms, and techniques. If you are getting started with project management, you will want to familiarize yourself with accepted best practices. In this course, a PMP specialist will show you all the basics you need to know to effectively manage any type of project.