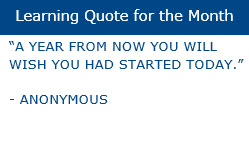 It is the end of the year and we hope you met all your learning goals for the year! We are closing out the year with an amazing 24 new courses with great Tips and Tricks to jump-start your next journey in learning.
Topics in SAP and S/4HANA
Marketing Campaigns Using SAP Machine Learning
This short tips and tricks course will walk you through SAP Analytics Machine Learning - more specifically, using a classification algorithm to find the client's best profitable variables to target a successful marketing campaign. Through the use of hands-on examples, you will see the process of using the Classification Profit Simulator to find the maximum ROI of a marketing campaign. You will learn how to optimize the number of contacts, build a demand forecast based on past sales data, and use a time-series tool to qualify if the data is helpful for predictions.
3 MM Attributes to Improve Customer Service & Productivity
Planning for the right quantity of the right materials at the right time is key to balancing the Customer Service and Productivity of the organization. Among various material master attributes, the proper definition of three key parameters – MRP type, Lot Sizing Procedure, and Safety Stock – will help to achieve the target comfortably. In this course, we discuss how to set these parameters.
Configuration 1 - Materials Management Module S/4HANA
The course material for Configuration in S/4HANA Materials Management has been split into two courses. This Configuration 1 course explains in detail the various business rules which can be set up in Materials Management to enable the Procure to Pay process to function as per the business requirements. Topics covered in this course are configuration with respect to the Enterprise structure, Material Master, Business Partners, and Purchasing documents.
Configuration 2 - Materials Management Module S/4HANA
This course is part 2 of a two-course series on SAP MM configuration. Here, in Configuration 2, we explain in detail the configuration with respect to supplier pricing, inventory management, valuation settings, automatic account determination, and invoice verification. Upon completion of both Configuration 1 and 2 of the course, you will have a very good understanding of the various business rules which can be configured in the SAP Materials Management module.
SHDB - Transaction Recorder Tips
In this course, you will discover the different data recovery tools offered by SAP. We will define how data transfer works in the SAP universe. In addition, we will use the SHDB Transaction Recorder to perform mass data migrations. Moreover, you will also understand how BDC Batch Communication Data works, nowadays more commonly called Batch Input. We will finally develop an SHDB program to perform automatic mass changes via an external source file.
SAP LSMW - Legacy System Migration Workbench Tips
In this course, you will discover the different data recovery tools offered by SAP. We will define how data transfer works in the SAP universe. In addition, we will use the LSMW - Legacy System Migration Workbench functionality to perform mass data migrations. Moreover, you will also understand how BDC Batch Communication Data works, nowadays more commonly called Batch Input.
MASS T Code - Mass Maintenance Tips
In this short tips and tricks course, you will discover the different data recovery tools offered by SAP. We will define how data transfer works in the SAP universe. In addition, we will use the MASS Maintenance T Code to perform mass data migrations, especially for FI, SD & MM modules. We will learn how to use 4 methods - changes via tables, changes via fields, changes via external source file, and changes via clipboard.
Introduction to OData Basics - Next Steps
This is the second part of a two-part course series that will teach you the basics of OData and will take your ABAP knowledge to the next level. You will learn how to communicate with SAP backend systems (UI5, Fiori, CRM) using OData services. In this course, you will learn the theories around OData and the SAP Gateway Builder, and then create a project that you can test and learn debugging techniques for.
Property Management in SAP
This training will offer you a step-by-step approach to SAP Property Management, by providing a roadmap to better transparency and accountability. Companies of all sizes procure assets that are important to their operations and this course will focus on the Supply Chain Specialist role, Purchase Requisition, and Purchase Orders. You will learn how to use the corresponding t-codes via videos in a live SAP system.
Topics in Business Skills
If you liked the FREE PM intro course Project Management PMP: Critical Path Primer you will love the same instructor as he takes you down the full PM path with these next two courses.
Project Management: PMP Math Explained
If you want to pass the CAPM or the PMP exam, you MUST learn the equations and math calculations. This course covers all of the tools and analytical elements that are needed to be able to effectively manage projects and to pass one of the certification exams. If you are preparing to challenge the CAPM or PMP exams and are unsure of the math, then this is the course for you!
Project Management Complete: From Initiation to Closing
Project Management knowledge is a career booster and this course is for everyone. If you have no previous knowledge or experience with Project Management, you are encouraged to start here! You will learn everything you need to gain insight into the Project Management Profession and the complexity of managing projects. This course will walk you through the basics, but it is NOT basic. The lessons offer you in-depth access to every essential PM topic from Initiation to Close-out.
Data and IT Literacy Skills for Business Professionals
In recent years the acceleration in technology innovation and adoption has been breathtaking. Everything is and will be driven by data. All working professionals irrespective of industry or role will need strong data and IT skills to survive and succeed during this time and beyond. This course will strengthen your tool-agnostic data and IT skills. If you are already a data-savvy professional you can use this course to refresh your knowledge.
Salesforce User Training
Are you a Salesforce user, but you feel like you don't know what to do within salesforce or where to go? Do you want to learn to be more comfortable with the system and be able to navigate around it? This course is created by an end-user, who then became a Salesforce Technical Support member, and is now a consultant and content creator! This course will be an introductory look into all the basics of being a Salesforce end-user.
Salesforce Platform App Builder Certification Prep
In this course, we prepare you for passing the app builder certification from Salesforce. We cover Salesforce Fundamentals including Mobile, Security, Sharing Data, Modeling, Object Relationships, Schema Builder Business Logic, Process Automation, Workflow Rules, Process Builders, Flows User Interface, Lighting Platform App Development and Deployment including Sandboxes and Metadata. This course will provide you with practice questions to help you be the most prepared for exam day. This exam and certification is a game-changer for a salesforce career!
Create a Webpage Quickly with Google Sites
Bring in your media, YouTube videos, Maps, Docs, Sheets, Forms, Slides with just one click, for your users to see and interact with content. Add text, colors, and styling to customize the look and feel of your site. Create interactive websites to share your content with the world, or select who can access your site's pages. Google Sites is a web-based page-building platform that makes it easy for businesses and individuals to create a space online to share content. The course covers a quick start to creating your own pages using Google Sites.
Quick Tips and Tricks: Using Google Sheets
This short tips and tricks course will help you optimize your productivity when using Google Sheets. You'll learn about common functions through real-world examples. You will learn how to use spreadsheets effectively, collaborate with others, share your Sheets data and understand version control. If you're short on time but need a refresher on Google Sheets, this course is for you!
Introduction to Using Google Sheets
Google Sheets is a spreadsheet app that is powerful and easy to use. This course is perfect to become more familiar with the app as the lessons contain helpful tips, video walkthroughs, and resources. Lessons are designed as step-by-step structures to help you learn everything about Google Sheets. The app has a familiar layout so you can get started quickly. Learn how to power up with Google Sheets and have the power to share and collaborate with others!
Topics in Personal Skills
Stress Management - Relief from Work/Life Stress
Stress can weigh you down until you can hardly think straight! In this comprehensive Stress Management course, you will learn tools and strategies to effectively cope and manage day-to-day stress. Created by a professional therapist, understand topics covered with his 35+ years of expertise in helping others beat stress in one condensed course.
Master Your Communication Skills
It can be difficult to get even the smallest things done if you can't communicate well. Master communicators enjoy better careers, relationships, happiness, and more success. Learn what skills will provide you with an advantage over those who are missing these skills, and become a better communicator in your life and work.
Topics in Spanish
Trucos y Tips: Optimización Power BI y DAX
En este curso tendrás trucos y tips para Optimización POWER BI de un caso real a resolver que presenta la complejidad de una situación habitual. Aprenderás lo más importante a tener en cuenta para lograr un rendimiento y dinamismo OPTIMO en tus reportes. La experiencia que debe tener cada Visualización en Power BI. ATENCIÓN: Este curso NO INCLUYE conceptos básicos o de interacción de POWER BI. Como requisito debes contar con Conocimientos básicos de Power BI y de Bases de Datos.
Trucos y Tips: SAP - Trabajo Dinámico y Cómodo
En este curso, verá algunos consejos y trucos de SAP que le facilitarán la vida. ¡El ERP más popular y utilizado entre empresas multinacionales, entidades gubernamentales y más! Aprenderás algunos cambios de configuración y cómo activar o desactivar algunas funcionalidades que darán más dinamismo a tu trabajo diario. Generando una actividad más eficiente y comodidad a la hora de trabajar.
Introducción a SAP en Español
En este curso verás una introducción a SAP desde CERO! El ERP más popular y usado entre empresas multinacionales, entidades gubernamentales y más! Aprenderás los conceptos más importante y comprenderás por qué es el más usado a nivel mundial entre compañías líderes. En este curso verás: - Historia de SAP - La necesidad de SAP y su evolución - Versiones de SAP, repaso - Módulos más usados - Interfaz inicial - Navegación en SAP GUI - Conceptos organizativos y de estructura de SAP - Conceptos de Datos Maestros - Conceptos de Datos Transaccionales.
Instalar SAP Business One Developer en la nube de Amazon
SAP Business One Developer puede instalarse en la NUBE de Amazon Web Services desde el SAP Cloud Appliance Library. Con una cuenta de AWS es posible usar el SAP B1 utilizando SAP Hana como base de datos. En este curso aprenderemos a calcular los costos de la instancia dependiendo del número de procesadores y la memoria. Se instalarán dos instancias en AWS. Una Linux para la base de datos SAP Hana y otra para el cliente de B1. Exploraremos los módulos de Ventas, Inventarios, etc. de B1 instalados en la nube de AWS.