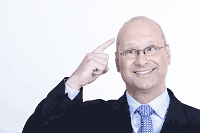 The training industry is abuzz with a few new key concepts and the SAP training world is certainly no different. People are talking about the following hot trends with regards to training:
- Gamification
- Social Learning
- Micro-Learning
All 3 trends aim at increasing the learners' engagement level which ultimately leads to higher knowledge retention and increased user adaption of training programs.
Our vision here at Michael Management is to end the corporate drudgery associated with the old, traditional IT training approach...so we took a really deep dive into these ideas and are implementing these features into our SAP training platform now (oh, yes, and we're the first and only ones doing that in the SAP training market):
Gamification
Our idea is to turn boring training into a fun game by awarding skill points for certain activities (i.e. completing a training lesson). Collect enough points and you'll be awarded a skill badge and higher skill ranking. Earn enough badges and skill points and you'll move up on the proverbial skill ladder (ranges from Rookie all the way up to the coveted title of Guru). Now we compile all results into an active Leader Board and you have transformed your tired training program into a fun game. Studies have shown that attainable challenges and friendly competitions significantly increase user engagement.
Social Learning
OK, so now you've earned a bunch of skill points, badges and skill levels and you've built a pretty nice-looking profile. What do you do next? Brag about it, of course! Well, ok, maybe not brag so much but the point of social learning is that you connect to your peers in your department, company or the rest of the world. Share your achievements, congratulate other students on theirs, connect with colleagues, and most importantly, participate in each others' learning progress.
Micro-Learning
Remember sitting in a classroom for 8 hours a day for an entire week? Yeah, me neither. Thankfully, the days of these marathon classroom training days are almost gone…we're all just way to busy for that. Thus, training has to be quick, effective and to-the-point. Enter the new term 'micro-learning'. All our SAP eLearning lessons are 30 minutes in length or less (and some proponents of micro-learning even say that training sessions could be much shorter, i.e. 5 minutes) allowing students to shoehorn the training into their regular daily schedule without missing a beat.
OK, your turn. What do you make of these new trends? Please add your comments below – I read all of them!
And, if you liked this article, please share it.
Cheers,
Thomas Michael
Thomas Michael is the CEO of the Michael Management Corporation, the company that gamified, socialized and microtized (is that a word?) online SAP training like nobody else. Tom just returned from speaking at the annual SAPPHIRE conference, enjoys talking about building better businesses, and can't wait to complain about the humidity in New York.
Other Articles by Thomas:
3 Reasons Why I Get More Done Than You
4 Steps To Better Sales Calls
5 Reasons Why Your Training Does Not Work