If you have been working with SAP for more than a few weeks, you know that sooner or later, you will run into an error message. Maybe you tried to run a transaction and received an authorization error (saying that you are not authorized for this SAP transaction). Or maybe you tried to post a document and then received a warning message about missing or incorrect system settings or configuration.
The list of possible errors in SAP is truly endless, and it is always a frustrating experience when things in SAP don't go as you want them to.

We developed an elegant tool to let you search for all SAP messages and keywords…but first, let's take a look at the components that make up an SAP error message:
The error message code
The error message text
The error message long text
SAP Error Message Code
An SAP message code typically looks like this: AA001 (or sometimes shown as AA 001). The first part is the Message Class, which indicates the functional area of the messages. It is a way to group messages by logical category. In our example, message class AA is used for all messages related to Asset Accounting.
Here are a few other SAP error message classes:
Following the message class is the actual message number (in our example: 001). Message numbers can range from 000 – 999.
Whenever you see a message in SAP and want to tell someone about it, always make sure to share both the message class and message number to identify the correct error.
There are about 16,000 different message classes in SAP S/4HANA – each of these classes can contain up to 1000 individual messages…that's a lot of messages. I'll let you do the math.
SAP Error Message Text
The message text is the (short) description of the issue and is displayed in the status bar in your SAP window. The message text can be up to 73 characters long. In our example, message AA001 says: Asset & & not in company code &.
The ampersand characters (&) are placeholders for the actual assets numbers and company code. In other words, the real message you would see in your SAP screen would say something like this: Asset 1000 0 not in company code 3000.
SAP Error Message Long Text
Unfortunately, these messages are not always self-explanatory – in fact, many times they can be quite cryptic. Luckily, most messages also have a Long Text, which you can display by double-clicking the error message. In our example, the long text says: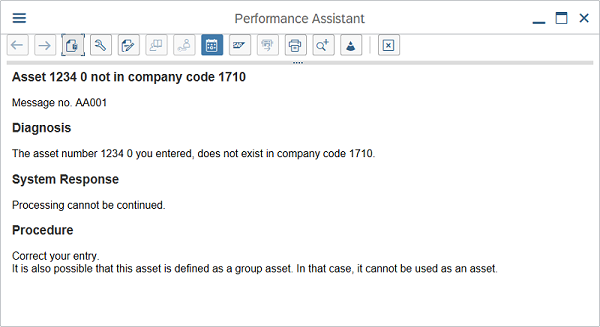 The Long Text typically includes useful information about how to fix the error. It might even include direct links to a configuration transaction (if specific configuration settings are missing, for example).
---
Now, one of our most popular blog articles is this one: Download all SAP transaction codes – a handy Excel list of all the available Tcodes in the SAP system. Thus, I thought I'll create a similar tool to lookup all of SAP's error messages.
---
How To Lookup An SAP Error Message
You can look up SAP error messages in the SAP system directly using transaction SE91 – however, this is considered a Basis / System Admin transaction and you might not have access to it. Therefore, we created our online lookup tool here:
You can look up SAP error messages by message class, message number, or even keyword to find messages quickly.
By the way, do you know how many SAP error messages exist? Before I wrote this article, I had no idea either. Well, it turns out there are about 1 million error messages (in English) in the system!
I hope this tool will be useful for you! Please share this with your coworkers.
Cheers,
Thomas