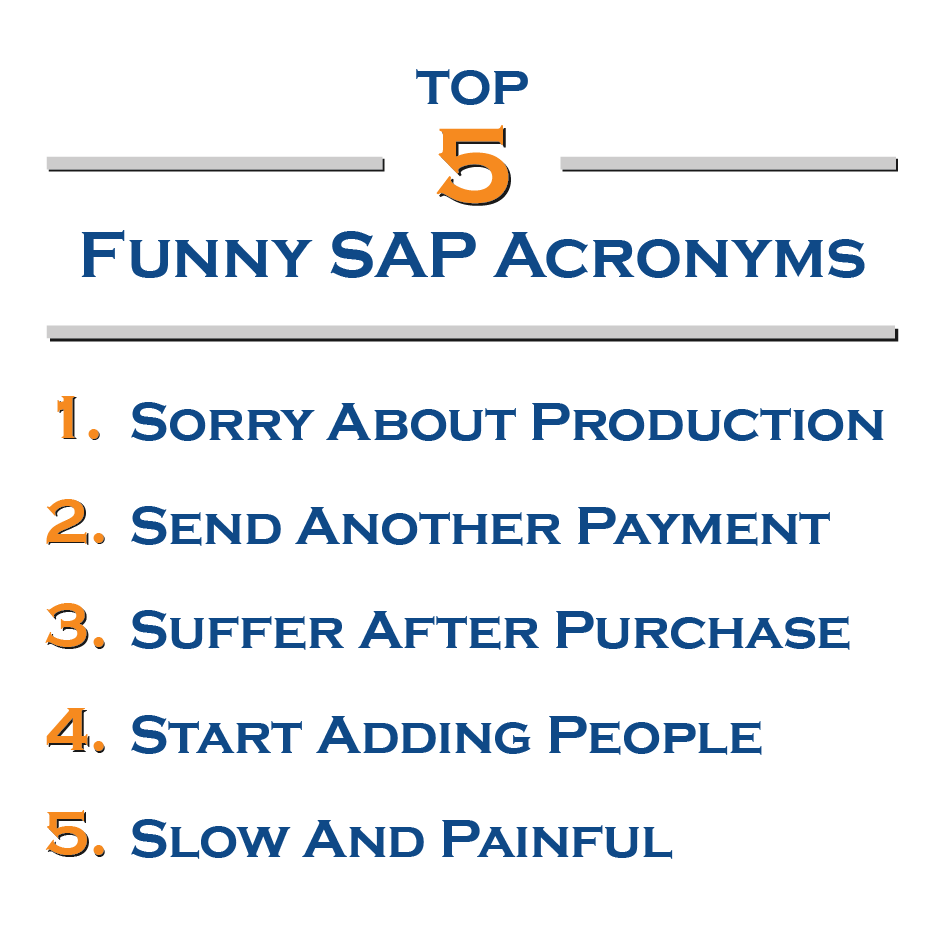 Have you encountered job postings asking for SAP S/4HANA experience, but you are wondering what does SAP stand for or what is the meaning of SAP?
Did you attempt to find out, but ended up more confused than when you started?
Or looked into SAP ERP system training, and had the same confusing SAP experience?
You're not alone. The company's website lists a complex catalog full of courses, but it doesn't tell you where to start! Let us try to help you with a little bit of humor.
Do You Eat SPAM?
We're not talking about junk email, but the actual SPAM lunch meat in a can. You know about it, and yet nobody eats it, right? Wrong.
Since its 1937 introduction, Hormel produces 44,000 cans of SPAM every day for a worldwide following. (It's most popular in Hawaii, South Korea, and The Philippines.)
While the acronym's actual meaning remains a mystery, they include "Shoulder Pork And Ham" and "Something Posing As Meat." And of course, it's the subject of a Monty Python classic skit and play.
The company and its data management system are a little like SPAM—it's popular and sells well, but it gets no respect.
What Is SAP?
It's not the liquid that comes out of maple trees.
Founded in 1972 and headquartered in Walldorf, Germany (about an hour south of Frankfurt), SAP SE is a German software development company that develops Enterprise Resource Planning software used worldwide by companies to run their specific business processes. It began as as a 5-person startup company and has grown into global organization with over 100,000 employees, 400,000+ customers in 180 countries. It's software allows any user, anywhere in a company, to access information quickly, and ensures that the data is current and consistent.
The company also offers effective business management solutions, integrating a company's essential business functions, including SAP systems as CRM (Customer Relationship Management), SRM (Supplier Relationship Management), BI (Business Intelligence), and many more. It can consolidate all of your company's tasks into a cohesive system that works 24/7 and keeps the business running.
Most of their customers are currently using the ERP system to manage their financial accounting, supply chain management, materials management, production planning, and many other SAP business functions. The earliest release of the ERP system was called SAP R/3, but most companies are now on release ECC 6 and the newest release SAP S/4HANA.
What Does SAP Stand For?
Literally, the SAP acronym stands for Systems, Applications & Products in Data Processing (translated from German.) It's the third-largest software company in the world, offering its accounting, cloud, and other systems for large, medium and small businesses.
The company's main product is an ERP software (enterprise resource planning) and integrates accounting, logistics, reporting, HR, and other functions into a consolidated, real-time system. No more spreadsheets (so they say)! The software includes many available modules, but the most common are Financials, Supply Chain Management, Human Resources, and Analytics.
Sounds great, doesn't it? However, people who work with it every day will tell you a different story.
In fact, people love to have a little fun with the acronym. Here are some other meanings for SAP that you may or may not have heard of:
Start Adding People or Salary Advancement Program
"It's not just a job. It's a wardrobe." An SAP implementation isn't something you buy off the shelf and install like Quickbooks. It takes a lot of planning and configuration that needs to be done before you flip the switch and start using it.
Glassdoor reports that the average base pay for an SAP consultant is $82,902, with some as high as $99K. Wouldn't you like to make a better salary? Start training as much as you can (it will buy a lot of aspirin).
Scare Another Programmer or Start Applying Patches
"Anti-intuitive" is another frequent description people use of SAP's user interface and screens.
The software is primarily coded in ABAP, or "Advanced Business Application Programming." It's a programming language designed to meet the development requirements that are intended to run systems in the background.
SAP is supposed to consolidate functions so that employees don't have to rely on spreadsheets and Access databases for current information. However, users report that after an implementation, they find that it's much easier to use spreadsheets and Access databases for current information.
Slow And Painful or Say A Prayer
SAP tends to work better for larger companies than smaller ones.
One user from Quora offers this anecdote: "The running joke at the office used to be that if you want your expense check next year, make a mistake when you enter your expenses into the system because it will take that long to resolve it."
Buying, implementing, and running ERP software is an expensive undertaking. Not only do companies have to pay for the software and shell out annual maintenance fees, but implementing the software requires the help of many high-priced consultants due to its complexity.
Stops All Production or Stop All Progress
Users report that it creates jobs by requiring three people to do what used to be done by one person. The software also requires that companies change the way they do business to match the software.
"User-unfriendly" is one term that comes up a lot. Others will tell you that the people who are enthusiastic about it aren't the ones who have to use it.
But then again, even Apple is planning to add it to its iPhone and iPad for business. How bad can it be?
This could be a recycling slogan...or maybe it's not.
Despite all the joking, SAP remains the undisputed leader in ERP software solutions around the world. Almost 90% of the Global 2000 Companies run its software for managing business operations. If you work for a large global organization across the globe, chances are that you will be working with SAP software in some form.
If you're an absolute beginner and just want to understand the basics, watch this 25-minute video (if you already know a little bit of SAP this is not the video for you, just FYI):
What is ERP Software Used For?
ERP stands for Enterprise Resource Planning and it includes software solutions to integrate all major business processes of an organization (i.e. Finance, Supply Chain, Sales, Human Resources, etc.). All business data is stored in the same database and employees have access to it in real-time.
For example, if a customer calls the company with an inquiry for a product, the sales clerk can enter the inquiry into the system and check if the product is available, see pricing, available promotions and see shipping information.
How do you start learning SAP?
The software is highly complex and not easy to learn. It contains dozens of modules for each business function, such as the FI module (Financial Accounting), CO (Controlling), MM (Materials Management), SD (Sales & Distribution), and many more. Most people start by learning the fundamental SAP skills (i.e., basic navigation & reporting) and then specialize in a module. Remember, learning this complex new software can take years to master.
We're ready to help you learn SAP ERP the right way. We've been helping people just like you effectively learn or upgrade their skills since 2000. Find out why individuals and companies alike trust us to train them with the skills they need every day.