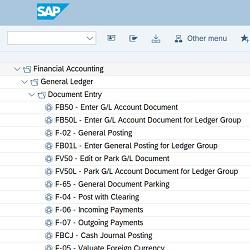 It was just a few months ago that we received a live chat on our website asking if we had a list of all SAP transaction codes – well, we didn't, and so I wrote a blog to show you how you can download all SAP tcodes. This little blog turned out to be the most visited article of the year – who would have known?
Then recently, someone asked me about this list on our Twitter feed, specifically, if our list also included the transaction codes for SAP's newest release, S/4 HANA . No, sorry, it didn't - the list I created was only for SAP ECC 6 and did not include any of the new transactions you can find in S/4HANA. So I logged into our S/4HANA system and downloaded all transaction codes to an Excel spreadsheet and compared the 2 lists. It took me a little while to figure out what transactions still exist in S/4HANA, which ones were new and which ones just simply disappeared.
What is SAP S/4 HANA?
As a reminder, S/4HANA is the newest release of the SAP ERP system (the predecessor is SAP ECC 6). Most companies are still running SAP ECC 6, but they are all looking at S/4HANA now because SAP will stop supporting ECC 6 in 2027. As a result, all SAP customers will be forced to upgrade, and thus, people want to know what the new transaction codes in S/4HANA are.
What is a Transaction Code?
A transaction code in SAP is a shortcut to an activity such as creating a customer master record or posting an invoice. As an example, AS01 is the code to create a new fixed asset master record, FB01 lets you post a financial document or you can use ME21 to create a purchase order.
Instead of navigating through the massive SAP menu tree, experienced SAP users enter the shortcut code in the command field - it is a much faster way to work with your most commonly used transactions.
Download SAP S/4 HANA Transaction Codes
You can see a complete list of all transaction codes by displaying the contents of table TSTCT – this is where SAP stores all tcodes and their description in all installed languages.
TSTCT is a massive database table with millions of records, depending on the various installed languages in your SAP system. So save yourself the time and work - I've done the analysis for you already.
It turns out that there are about 7600 new transactions in S/4 (and that's on top of the roughly 100,000 tcodes that exist in SAP's ECC 6 release) …that's somewhat surprising to me – I would have guessed there would be more S4HANA tcodes.
But it's time for you to check this out yourself and download all new SAP S4HANA transaction codes.

Once you have downloaded the file, please note that you can play around with it – for example, you can add a filter in Excel and search for the string /ui2/ (=user interface 2) to find all new Fiori-related transaction codes quickly. Or you could search for all transaction codes that start with AS* to find all tcodes related to Fixed Assets.
I hope you'll find the list of SAP S 4HANA transaction codes useful and, as always, please share this post with your coworkers if you found it useful.
Cheers,
Thomas Michael
---
Thomas Michael is the CEO of the Michael Management Corporation – the company that killed death-by-PowerPoint training and made online SAP courses fun again. Tom recently discovered his love for eggnog and is looking forward to spending the holidays in New York City.