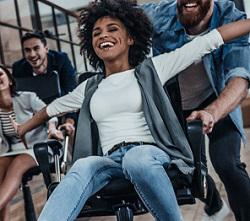 Motivated students and engaged employees are always an asset to any organization. Encouraging students to continue learning and growing can be a challenge, though.
While learning itself should be an intrinsic motivator, using extrinsic motivation int eh form of rewards and recognition goes a long way.
Employees who are interested in continual learning are always glad to know that their efforts to learn more are appreciated, even with the smallest of recognition. Whether it's learn-it-fast training, industry certification, or a longer-term commitment like learning SAP, having a reward system to offer learners a small (or large) reward lets subject matter experts know their skills and experience are valued and respected.
So what kind of rewards should you offer when your students achieve their learning goals and increase their skill set? Think about something you'd like to receive yourself or something you've received in the past. (Starbucks cards were cute back in the '90s, but now they seem a bit dated.) Cash is usually a universal gift, but you can go beyond money for a memorable reward as well.
Here are some of our suggestions for ten great ways to recognize students' work, reward your learners and encourage further student learning.
10 Tips to Motivate & Reward Your Students
Special Treatment And Office Perks. A Friday afternoon off, coming in late on Monday, or other spontaneous time off, "Casual Friday" on any day of the week, "CEO For A Day," or a special parking spot can be a great morale booster that doesn't cost anything.

Achievement Certificates Or Plaques. Completing training and certifications are always a good reason to celebrate, whether it's completing a training course or something more significant like a learning mentorship. A custom certificate or an inexpensive plaque for their desk area is a great way to do that. Canva lets you create free designs for a wide range of projects.

Company Branded Merchandise. Everyone loves toys—coffee cups, ball caps, water bottles, tech accessories, lanyards, can coolers, and other things that make life a little better. When it's something useful, employees will use them until they fall apart. Whether you produce branded items in-house, have a local vendor create them for you, or you use a company like Swag or Vistaprint, it's easy to offer your learners a little reward for their achievement. Want something more personal? Create a custom coffee cup just for the individual.

Lunch! People live for lunch, and bringing in lunch for the day is always a treat. Next time, consider something special outside of the usual pizza or sandwiches such as a barbecue or a food truck for a special occasion. Alternately, take one or two employees to lunch to celebrate an achievement like completing complicated training.

Offer New Opportunities. Invite an employee to work on a particular project that is outside of their standard job description, or represent their department at a meeting they don't usually attend. For someone who is on a learning track like SAP, this can help them can gradually move into a new role. You'll show your confidence in their abilities, and the unique opportunity allows them to grow as a trusted member of the organization.

Show off achievements. Does your break or lunch room have a bulletin board? Use it to post employee or team achievements, appreciation from a customer, such as a description of a project that benefits the organization, or a graphic that shows a team's improvement.

Gift Cards. Yes, we said it was passé earlier, but a gift card that's suited to their individual tastes can be a welcome reward. Do they like Netflix? Give them a card that goes a long way in helping someone binge-watch a favorite series or watch movies at home. Websites like CardCash have gift cards at discounts. Restaurants, clothing shops, mall stores, bookstores, games, and sporting goods stores, iTunes, and even grocery stores all offer gift cards for just about anyone, including coffee lovers.

Write a LinkedIn recommendation. This may sound counter-intuitive, but recommending someone on LinkedIn is a great way to reward someone who has worked hard to earn their training. Recommendations from supervisors are valuable on LinkedIn, whether or not someone is job hunting. And because LinkedIn is a social media platform for business networking, your organization can benefit as well if that employee brings in new clients.

Employ A Social Recognition Tool For Employee Engagement. Sometimes an employee is the one who wants to recognize another employee for something they've done. Give them a way to do that. Kudos is a platform that employees can use to send kudos to another employee instantly and create a culture of appreciation. Employees accumulate points that can be used for merchandise and other reward items they like. The platform can be customized for your company and its unique analytics show what types of activities are most enjoyed.

Help Them Continue Their Education. Another "experience" reward can include education benefits. You may not be able to offer a whole degree program like Starbucks College Achievement Plan benefit. But offering training, conferences, student loan assistance, or other education-related benefits can go a long way in letting an employee know that he or she is appreciated. If you have someone who is interested in moving into a new career or needs additional training for their job, consider offering SAP training. We offer individual learning paths as well as corporate SAP training for companies.
These are just some of the ways you can recognize and reward your company's learners and let them know that they're appreciated. Positive behavior reinforcement will keep them motivated to learn and focus on their professional development.
Reward Yourself With A New SAP Career
Is a new career in your future? Join thousands who have embraced a new job and career path with SAP.
Michael Management is the premier online SAP learning platform to learn a little SAP for your current job or everything there is to know. We've helped more than 30,000 learners just like you become certified in SAP. Our exclusive online learning platform is available 24/7, so you can learn on your schedule. Check out our YouTube channel to see more about us and about how SAP can take you into a new career in IT.