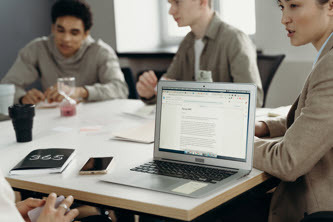 When it comes to working with computer software in business today, Microsoft Office, now rebranded as Microsoft 365 is the most common software used by organizations for administrative functions. Most of us have used Microsoft Word, Excel, and Outlook, and would say we have experience using the programs to complete daily tasks.
I have experience.
But as we know everything is constantly changing from software updates to the needs and expectations of every business. We expect the software to make our everyday lives easier only to find out there is more information to catch up on, which can be challenging and stressful for both individuals and organizations.
Many end users do not realize they are missing skills until they face a challenge. They either lack the knowledge or are not familiar enough to perform specific actions in the programs. For example, an end user might not know there is a feature in Excel such as VLOOKUP that would help find the very specific data they are searching for. Or they are not familiar enough to explain to someone else how to set up the page orientation in a Word document and change the layout from portrait to landscape.
Where can I find the answer?
At that point, many of us turn to Google for solutions when we don't know how to do something. While Google is AMAZING at providing answers, the possibilities are endless, results can be overwhelming and there can be too many options to sift through. Finding a solution tailored to your specific situation, that relates to the issue you are trying to solve, and that is easy to understand can be challenging. All we really want is to find a quick and easy solution.
Unless an organization provides resources, routinely offers training opportunities, or has a structure that guides staff to help and assist, the organization is most likely losing hundreds of hours because the staff is not trained to their best ability which causes stress, frustration, and lack of motivation. With the proper knowledge and tools needed stall would be able complete daily tasks in a way that was efficient and minimized business risk.
What do I need to know?
As a professional trainer and educator with Microsoft programs, I believe that you do not need to know EVERYTHING. You just need to know a range of tools, features, and tips that can make tasks easier to complete while increasing efficiency and productivity. But the question is…. How do we find something when we do not know what we don't know?
Start with a foundation that provides confidence to explore the program features and have a base set of tools to refer to. It will make these programs so much easier and less stressful to work with.
Check out my 47 Must Know Microsoft Tips course with Michael Management