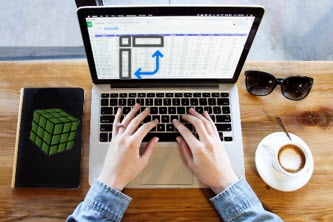 So many clients I work with want to know how to create complex formulas or functions to analyze large data sets in Microsoft Excel. The reality is, you don't need to be a math genius to do this, you just need to understand a powerful tool in Microsoft Excel called Pivot Tables.
When I mention pivot tables I often see eyes glaze over! Like Macros(1), pivot tables can seem overwhelming and complex.
However, when you understand what they do and Excel's tools to make creating them EASY, enormous amounts of time can be released to do other tasks.
The bonus is, without complex formulas, this simple tool helps decrease the risk of errors PLUS reduces stress and frustration. Particularly helpful if you feel, like many clients I work with, formulas and functions make you break out in a sweat!
What IS a Pivot Table?
Pivot Table is the name given to a tool in Microsoft Excel that takes large amounts of data and brings it together into a meaningful format by utilizing data categories, or headings. Pivot tables enable large data sets to be quickly added, and counted, or for other statistical calculations to be made without the need for understanding or creating formulas.
Why you should use Pivot Tables
If you've never worked with pivot tables before, here are three reasons why you should give it a try next time you need to analyze a large set of data.
1. Simplicity
With so much data we can draw information from, one common task undertaken in business today is data analysis.
Pivot tables offer Excel users the simplicity of being able to click a few menu options to transform data lists into meaningful summaries that can fast-track analysis and the decision-making process. Saving time, stress, and frustration.
The added benefit of a pivot table is there is no need to have any formula or function knowledge. Users just need to understand the outcome they want to achieve and where to find the relevant options in Excel.
The beauty of using pivot tables is that Excel makes it easy. By offering a range of simple options such as Format as a table, Recommended pivot tables, and Analyze Data, Excel offers options to create pivot tables with a few clicks.
2. Formatting
Shading or adding borders to your data to make it more readable or just more interesting can be time-consuming.Excel's Format as a Table option immediately turns data sets into a table, activates filter tools, and makes the presentation of data look awesome with minimal effort.
Choose to Summarize the Data with Pivot table and make formatting professional data list summaries easy.
Don't like the colors or shading offered? No worries, choose from Excel's Table styles, or PivotTable styles to change the look of your data set or pivot table.
Don't waste time formatting your summarized data. Let Excel do the hard work for you!
3. Dashboards
Every office has one. That person is a whiz with Excel and has created what can seem like complex dashboards. They simply click a button, and the data adjusts to display a selection. It is like magic!
A pivot table that summarizes your data list is like a simplistic dashboard. So instead of being in awe of your colleagues, pivot tables make it easy for ANY user to create simple dashboards to analyze and interrogate data with just a few keystrokes.
Once a pivot table is created, data can be formatted into groups, comparison fields added, or detailed data or filter reports can be generated.
Add in a pivot chart for a visual representation of your data along with slicers and timelines (as long as your data has date fields) and you've now created a dashboard that allows you to create a professional dashboard to wow your clients, colleagues or management without the need for complex formulas or functions.
So next time you need to analyze a large set of data, consider pivot tables.
You have nothing to lose, except stress and frustration and who knows you may just become your office's next Excel whiz!
(1)Macros are a tool in Microsoft Excel that enable common tasks to be automated without the need to learn complex coding.
To find out more about Pivot Tables with Donna Hanson check out her course here:
https://www.michaelmanagement.com/sap-training-course/create-and-leverage-pivot-tables-in-microsoft-excel