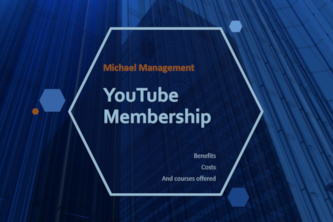 Are you ready to upgrade your qualifications and take your career to the next level?
Do you want to learn SAP skills or take SAP training but don't know where to start?
Today we launched an exclusive new YouTube membership feature designed to give you a clear path to success and SAP proficiency.
What are the perks of having a YouTube membership plan?
Monthly access to select online SAP training courses.
A support community of SAP uses, instructors, and experts to upgrade your skills.
Certification for eligible online courses completed.
Bonus SAP resources and materials.
We have created three membership levels to meet your needs, each with its own selection of training material. You can find more information about each membership tier below in the slides below:
How do I sign up for a Michael Management YouTube Membership?
You can become a member directly on our YouTube channel or by using this link. Once you have confirmed your membership on YouTube, fill out this simple form, giving us your name, email, and YouTube username. A member of the support team will verify your membership and get you access to the select training courses included in your plan.
And that's it! You will retain access to the training courses and exclusive SAP resources as long as you are a current member.
Why should I take Michael Management SAP training courses?
Michael Management is the leading provider of online SAP training and live SAP access services.
Our clients include many Fortune 1000 companies that recognize the importance of ongoing SAP training for their teams, experienced SAP consultants, and private individuals wanting to learn important SAP skills for their current job or future career.
What else does Michael Management offer?
Michael Management also offers relevant, actionable courses in Microsoft tools, Tableau, Python, JavaScript, and more.
You can review our technology training in other applications and take a look at our Soft Skills Business Training in our course library. Only select courses are included in each YouTube membership tier, but you can sign up for unlimited access to our entire course library here.
In addition to our SAP training courses, we also offer SAP Access. With our live SAP Access, you can learn by working and playing in a fully licensed SAP sandbox system.