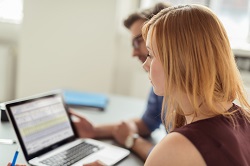 Understanding SAP and the way its software functions is a highly marketable skill in today's job market. How marketable? Nearly 80% of Fortune 1000 companies run SAP software for their own business processes.
Large companies choose SAP because it can expand with them worldwide. Different countries, languages, and currencies; SAP has the software to meet the need.
Do you have the SAP skills these big businesses are looking for in an employee? Here are nine SAP skills that any SAP professional can learn on Michael Management to add to their resume, either through our open online courses or our instructor led SAP training (sorry, we don't offer classroom training).
1. SAP Financial Accounting
Financial accounting is a crucial piece for any business, but businesses that operate globally have specific needs. That is because they are also keeping track of financial transactions that take place in various countries. Each country has its own set of commercial laws and regulations.
To fill this need, many companies use the SAP Financial accounting software. This software accounts for different time-zones, currencies, and languages. While the software is excellent, companies are also looking for trained professionals who understand how their SAP systems work.
If you are in the financial industry and looking to make a change, learning this important module with these SAP training courses is a great place to start: SAP Financial Accounting online courses.
2. SAP Materials Management
For large companies, managing the materials they use daily is a big job. Materials Management is the engine that drives the SAP supply chain.
Most people don't realize the steps involved in getting a product to the consumer. Everything starts as raw materials. Those materials then go through suppliers, manufacturing, distribution, and finally, to the customer who will sell to the consumer.
The programs within SAP integrate to help this process run smoothly. If you are looking to build a logistics career, start by developing your skills with an SAP Materials Management Course.
3. SAP Human Resources
The human resources department oversees all employees of a company. Their job consists of three areas: Organizational Management, Recruitment, and Personnel Administration.
All three areas have a component within the SAP system to help organize, plan, and coordinate everything. Because large businesses often employ thousands of people organizing each step is crucial to success.
Learn more to see how SAP Human Resources can help get you organized.
4. SAP Asset Accounting
Since SAP is used in countries worldwide, the accounting process looks slightly different for each user. The asset accounting component is no exception.
Once the parameters are set for the country and industry, this system helps accountants manage fixed assets with data from the entire SAP system. This means that if data from the Materials Management component is relevant to a fixed asset, it will be posted to the asset accounting system.
This skill is one of many crucial pieces in the more extensive integrated SAP system. To learn more about adding this skill, review our SAP Asset Accounting courses.
5. SAP Supply Chain Management
Those that work with the supply chain are concerned with the movement and storage of raw materials, inventory production, and finished products.
The supply chain manager is responsible for all of the working pieces from the point of origin to consumption. SAP has comprehensive and integrated solutions that allow all business parts to communicate with one another. Understanding how these pieces communicate will enable you to improve or establish your supply chain process.
If your business is in manufacturing, the supply chain can make or break success. If you are looking to establish or improve procedures, the Supply Chain Management course is a great place to start.
6. SAP Customer Service
Being great at customer service means working successfully with customers and your employer while tracking the data you receive. Tracking the data means keeping excellent records of sales, payment terms, and new customer data.
Managing this information in an SAP system will save you time and integrate the data you input directly where it needs to be. Understanding this crucial piece of customer service will impress potential employers and be a great skill to add to your resume.
Learn more about the SAP Customer Service course.
7. SAP Fiori Specialist
If you already work with SAP S/4HANA, you know that Fiori is the new browser-based user interface. The Fiori system is app-based and breaks down frequently used areas into their own sections.
This update has provided an easy to use experience across many platforms, including desktops, tablets, and smartphones. With any new version of the software, it takes time to learn the new layout.
Taking the time to understand SAP Fiori upfront will help you better navigate your company's future system. Once you know the basics, you can dive into your specific piece of the SAP system or learn them all to become an SAP Fiori Specialist.
Review this available SAP Fiori learning path to develop your skills in this new SAP solution.
8. SAP Sales and Distribution
Sales and distribution are a crucial piece of any business. Without it, products would get produced, but nothing would make it into the consumer's hands.
Making sure products get where they need to be, and consumers are happy requires a lot of logistical planning and coordination. Learning how to manage these details using the SAP sales and distribution system will allow you to streamline your process, eliminate errors, and handle more business.
If you are looking to learn more about this crucial business area, check out the SAP Sales and Distribution courses.
9. SAP Plant Maintenance
Plant Maintenance (aka Preventative Maintenance) is a vital part of a company's logistics processes. Keeping a plant up and running requires regular maintenance and inspections. The plant manager is responsible for making sure these things happen promptly, so operations are not disrupted.
If your company uses an SAP system, understanding how to manage your logistics within the SAP system is essential as all SAP systems are connected.
Review these SAP Plant Maintenance courses to improve your skills in this SAP module.
SAP technology is the first choice for many large companies because of their innovative solutions to integrated workflows. Learning new SAP skills will help you grow professionally. These SAP skills are just a small sample of the courses available to help you get to the next level.
Sign up for one SAP course by clicking the link above or register to preview all the SAP opportunities Michael Management offers.