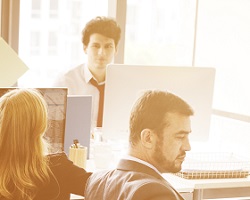 Do you have what it takes to become a highly effective SAP professional? Chances are, if you're reading this blog post, you're already a pretty great one, but you want to take your growth to the next level.
It can be overwhelming trying to learn SAP solutions, tools, and functions and be a successful leader, but there are certain habits you can build into your daily routine to become better at your job and further your career. Some of them involve earning an SAP certification by taking SAP courses relevant to your position, and others involve how you choose to show up every day.
Most of us have read or heard of the business book The 7 Habits of Highly Effective People by Stephen R. Covey. It's been one of the most popular books in the personal development and leadership space for more than 25 years now. In this blog post, we will take our spin on that book and dive into the 7 habits of a highly effective SAP professional to achieve goals of long-term continual improvement.
The 7 Habits of a Highly Effective SAP Professional
They Seek Out Solutions Rather than Dwelling on Issues

If you've ever worked on an SAP project before, you know that they have many moving pieces to them, and the deadlines are usually non-negotiable and fast approaching. It's likely during the timeline that issues in the system will arise. Effective SAP professionals focus on finding solutions rather than getting caught up in frustration. A solution-driven mindset demonstrates leadership skills, keeps everyone productive, and delivers projects on time.

Strong Written and Verbal Communication Skills

This is an essential requirement for any position at any company, but the complexity of SAP projects requires strong written and verbal communication skills; otherwise, things will head downhill pretty fast. This could look like communicating the status of a project with leaders and partners, knowing which issues need to be escalated, and raising concerns early enough to save the day.

They're Organized and Driven By Deadlines

The business world seems to work around the clock these days. You know this because your plate is always overflowing with projects that have tight deadlines. To be successful in your SAP career, you have to be organized, and on top of your schedule. The most highly effective SAP professionals are committed to never missing a deadline and do what it takes to stay on track. It may be frustrating to work overtime every now and then, but it pays off with a better quality solution and helps you grow as a professional.

They Never Make Assumptions

The most seasoned professionals in the SAP field know how dangerous it can be to make assumptions about current projects based on their experience with previous projects. They take the time to understand the unique requirements of each customer and treat each implementation as its own individual process.

They Seek Out Potential Issues and Risks

We've discussed a few times already just how fast-paced SAP projects and implementations can be. An exceptional SAP professional knows there is no room for unexpected issues to throw them off track from meeting a deadline. They always look ahead to identify potential problems and risks and escalate them to leadership when necessary to ensure the project remains on time and on budget.

They Continue Their Education with New Training

There is an infinite amount of information for professionals to learn in this field. There will always be new solutions, tools, functions, and processes in the world of SAP. A highly effective SAP professional knows that continuing their SAP training is vital to succeeding in their current position and growing their career further.

They Share Their Skills and Knowledge with Others Around Them

Let's face it; there's a lot of jargon and complex ideas in the tech industry. As an SAP professional, it's likely that you'll need to teach others about SAP solutions and how to use them. As you continue your training and take more SAP courses, it's important to share what you've learned with your team and encourage others to learn SAP solutions, tools, functions, and processes as they come out.
SAP Training to Take Your Career to the Next Level
Michael Management is the leading provider of online SAP training and live SAP access services. We're here to help you learn new skills, master existing ones, and earn an SAP certification at the end of each course. Because we want to earn your trust, you can preview all of our SAP courses before committing to buying them. Register today and find the training you need to take control of your career.