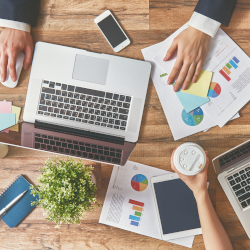 The SAP financial accounting module (SAP FI) is the #1 most important module in the entire SAP suite of software.
Why?
In short, it covers all of the essential information that you need to know in a variety of different SAP specialties. In addition, it dives into some of the intermediate and even advanced skills that you'd need to truly excel when using SAP.
Accounts payable, accounts receivable, fixed assets, and more are all part of SAP's finance module.
This is a wealth of information for anyone ambitious enough to pursue SAP as a career skill set. But it's a double-edged sword. Often, the people who are excited about learning the skills in this module can become bogged down by the sheer weight of what they need to do to pass.
That's why it's so helpful to have a guide.
This blog is a short guide that walks you through the different skills that you'll need to master in the SAP finance module.
Why Is SAP FI So Important?
SAP FI covers almost all of the information you need to know in order to maintain the financial integrity of an organization when using SAP.
Balance sheets, profit documentation, loss documentation, expenses, overhead, material management, and more are all collected under the umbrella of SAP FI.
This is also what makes SAP FI so challenging to pass. But when you come out the other end, you're fully equipped to do just about anything needed on the financial side of using SAP.
Here's some of what you can expect.
General Ledger
A general ledger is a centralized document that tracks all financial information from other ledgers and departments.
This "master ledger" acts as the single source of truth for any financial data that comes through your organization. In other words, if money exchanges hands with or within your company, the general ledger will show the details of the transaction.
For enterprise-level companies, the general ledger is an immense document that rapidly updates at all hours of the day and every day of the year. Smaller organizations may have a slower intake and output of cash.
Regardless of a general ledger's size, however, it constantly acts as the centralized point where all financial data flows.
If a transaction is not documented in a general ledger, something is amiss.
Bank Accounting
Next, bank accounting is the practice of proper maintenance and use of corporate financial accounts.
Just like with the general ledger, bank accounting in SAP can become exponentially more complex depending on the size of the company.
Global enterprises may have hundreds or thousands of bank accounts throughout the world dedicated to different countries, subsidiaries, uses, and permissions. Tracking and maintaining them is essential to the ongoing success of the company as a whole, not to mention the people who are directly impacted by the integrity of those accounts.
Smaller companies will most likely have fewer bank accounts in fewer locations. In fact, some companies that use SAP may only be national in size, meaning that they only have to concern themselves with maintaining proper bank accounts and documentation in one country.
Much like the world of personal finance, the bank accounts included in corporate finance require close attention, daily changes, and keen minds to keep them healthy.
Accounts Payable
Accounts payable is another crucial area of learning that occurs within SAP FI. In general, accounts payable is important because it tracks the financial liabilities of a company as they relate to suppliers and vendors.
In other words, accounts payable track the inter-company debts that an organization must fulfill by a deadline.
This makes accounts payable absolutely essential to the ongoing growth and integrity of a company as a whole. Unfulfilled accounts will, over time, become greater liabilities that entail greater penalties until the debt is settled.
Avoiding that eventuality — and the potential damage that a company can receive to its reputation as a result — is imperative.
Accounts payable are almost always displayed within the general ledger as line items of cash that either needs to leave the company or has already left its accounts. Without accounts payable, a corporation has no way of concretely tracking the cash that it must pay to maintain positive relationships with its corporate suppliers, vendors, and partners.
Because of this, accounts payable may have a negative reputation at different companies. Since accounts payable deals exclusively with cash that must leave the company, the data that it shows can be seen as a negative point of the company as a whole — just like a loss.
However, this simply isn't true. Even though accounts payable is responsible for showing cash leaving the company, it's every bit as important to the ongoing health of a corporation as any other financial area.
Without accounts payable, companies would grind to a halt under their debts.
Get Your Cheat Sheet & Grow Your Expertise
Are you ready to take the next big leap in understanding the SAP finance module?
We have the perfect way for you to get started!
Below, you'll find a link to a cheat sheet that our SAP experts have devised here at Michael Management. This cheat sheet entails all of the high-end, important information that you need to know as someone learning the SAP finance module.
The cheat sheet itself includes a lot of the information we already discussed in this post, but it also delves much further into the details of the module itself. With it, you can expect the quick, easy, bite-sized information that you need to get the SAP finance module under your belt.
Are you ready to accelerate your learning and grow your SAP skills?
Click here to download your free SAP finance cheat sheet today!