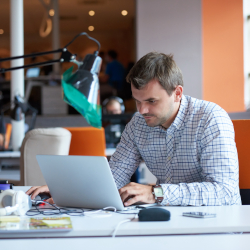 Are you just starting to learn SAP? Are you finding it challenging to memorize all of the individual, specific skills you need to get started?
Then this beginner guide is for you!
First, it's important to know that you're not alone. Everyone who has mastered SAP started in your exact position, and now basic functionality is second nature to them.
Second, if your learning style is more graphical or theoretical, it may not be enough for you to repeat the same functions over and over again to learn the skills you need to thrive.
Third, congratulations on choosing to embark on learning SAP! You're making an intelligent, powerful choice for your career, and learning SAP's basic skills is the first step on the journey of rewarding, fulfilling, and lucrative work.
But for right now, there's a major question to answer. How can you learn basic SAP skills outside of doing them over and over again?
In this post, you'll read four areas that are commonly challenging for new SAP users to master. We'll talk a little bit about what each skill does, and we'll also give some insight into how you can build on these skills in the future.
1. General Navigation
Navigation is the skill of "moving" around an SAP interface. Navigation is what allows you to access different parts of the software so that you can perform other important actions.
While navigation isn't necessarily considered a "skill" in other software areas, it's essential to understand in the framework of SAP. This is because it is ultra-customizable depending on the business in which you work, and different parts of the software may be more important to one business than another.
In other words, whenever someone talks about SAP at your company, you need to be able to understand what they're discussing in reference to the software itself.
As a result, navigation is arguably the single most important skill that you can learn as you embark on an SAP certification. It's the skill from which all others are made possible.
After all, if you can't find the information and materials you need, how can you do your job as an SAP specialist?
2. Wildcard Search
Wildcard search is another SAP skill that catches some learners by surprise. In a nutshell, SAP has a proprietary "search engine" that empowers users to find information quickly and easily — so long as you know how to use it.
Many first-time SAP users expect the search function to work like Google. But the fact of the matter is that SAP has a different search algorithm that is much more specific and detailed.
This is why SAP makes use of wildcard search. Wildcard search is the process of using an asterisk (*) at the beginning, middle, or end of a search term to find instances of a certain phrase instead of a single, specific term.
For example, say you're looking for the term "port authority." If you enter that term in SAP, you'll see results for that exact keyword.
But with wildcard search, you can use "* authority" to see all instances of a word that precedes "authority." You can also use "port *" to see all instances where "port" precedes any other word.
This gives you a broader range of search results, and it can be an absolute lifesaver for someone to find partial titles, entries, or phrasing in a crucial part of the SAP framework.
3. Common Reporting Functions
Next, we have reporting functions. Almost all SAP specialists use reporting in some shape or form, and some use it more than others.
Regardless, reporting is a crucial function because it allows you to pull, structure, and analyze data.
In almost every job title that uses SAP, this is an essential function of your day-to-day work. It allows you to make the most of the data that pertains to your career, and it lets you communicate that data in understandable ways.
Most importantly, it can give you the power to document the success of your position, department, or entire company.
4. Other Common Functions
Last, there are always other miscellaneous functions that you'll have to learn by using SAP. These functions can range intensely in terms of how frequently they're used or how important they are to one specialist versus another.
Still, it's important to learn them, even if these functions may not always have a direct impact on your day-to-day work.
More importantly, learning all of the common SAP functions allows you to gain perspective on other high-level functions that you may not use.
This can, in turn, introduce you to other concepts in SAP, other career paths, and perhaps a future in a more engaging and rewarding position than you currently know.
After all, it can be quite common for SAP specialists to earn multiple certifications in areas that are tangentially related, giving them the ability to do more with their time and help their organization grow.
Master Beginner SAP Skills with Our SAP Cheat Sheet
Are you ready to master the foundational skills that you need to excel in using SAP?
Our beginner cheat sheet contains the information we discussed above and then some. Altogether, this is perhaps the most comprehensive cheat sheet of starter-level skills available.
The graphic itself is segmented into simple, easy-to-read sections that cover individual skills and concepts. This makes it ultra-simple and quick for you to reference a skill that you're still learning.
If you're looking for an educational reference on beginner skills that goes beyond repetition, this cheat sheet is for you.
Click here to download your free cheat sheet for beginner SAP skills!