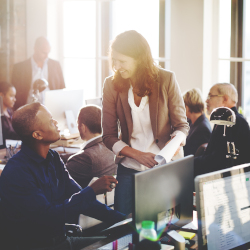 In every company, there are managers who are constantly looking for new and inventive ways to improve the performance, efficiency, and growth of their departments.
However, this is something that's almost always easier said than done. Businesses — particularly global enterprises — have a constant list of shifting priorities that may require time, people, and resources in any number of different capacities.
Still, there are a few areas of managerial work that are almost always prioritized and executed. One of those is training. It is the essential investment that a manager makes in his or her team to help them grow, accomplish, and thrive. As a result, the company as a whole follows suit.
This is especially true in SAP software, where large-scale companies can prepare employees to accomplish any number of different tasks in the same platform.
If you're a design maker or training manager and you find yourself in such a position, you probably have questions about SAP training for your team. In our experience, these are the four most common questions that managers ask about SAP training — and the answers.
1. Why Is SAP Training Important?
The first question every manager has about this subject is straightforward — why should I bother with SAP training for my team?
You may be even more skeptical if you know your team to be successfully using SAP in some capacities right now. After all, if your team is already accomplishing its goals and making progress, why would you want to invest in additional training?
First, it's important to point out that training is not just about the employer — it's much more significant to the employee receiving the training. Ambitious, driven individuals constantly strive to challenge themselves and achieve more by learning new skills and practicing them in real-life scenarios.
As a result, offering training to your team could not only help your team grow learn SAP, but also retain its most talented members.
In addition, a study by the research institution IDC discovered that companies investing at least 7% of their budget on training are significantly more successful than the ones that choose to spend less. This 7% mark is a fairly low bar, especially when you consider the compounding results that come from high-level training in platforms like SAP.
Third, research has also shown that applying at least 1.5% of a project cost toward training will increase that project's success rate by at least 30%.
Finally, the Bureau of Labor Statistics discovered that a single employee leaving a team via firing, retiring, or quitting can impact the performance of a team by 15% per year. This means that a single individual leaving your team doesn't just leave the company — they hinder your team's ability to perform.
Naturally, training (and re-training) is the remedy.
2. What does SAP Training Provide?
Overwhelmingly, professionals who are proficient with SAP have shown that they want short, bite-sized, and informative lessons that teach them actionable information.
This information is what helps them grow, as they're able to take the lessons themselves and apply them to day-to-day work.
In addition, about 67% of professionals are interested in online courses, 50% are most interested in end-user training, and 50% seek lessons with a maximum length of 30 minutes.
Modern SAP training caters to these needs and desires flawlessly by adhering to a simple mantra — make the lesson good, make it actionable, and make it brief.
With these guiding principles, your team can expect lessons delivered with the content they want in a time that works for their busy schedules.
3. How Do I Start Training My Team?
The first step to implementing SAP training is to take a look at your old training materials. In many cases, it can be hard to do — especially if your company has standard operating procedures (SOPs) that specify the different resources you can and can't use during a training.
This can be a challenge internally for your team because SAP is constantly changing and updating. That means last year's training materials probably won't be adequate to communicate what your team can do new for this year.
If you find your standard training materials are old — at least a year or older — then it's time to move to your next step.
Surveying your team is the essential subsequent step required to evaluate your SAP training opportunities. In particular, it's important to ask whether team members have different items they want to learn or any areas of SAP they'd like to know better.
Finally, it's time to get things together by setting up your training logistically (is it online or in-person?), establishing key performance indicators for success (how will you gauge whether the training was worthwhile?), and naming someone to be in charge of the whole initiative (who is responsible for the key performance indicators?).
Altogether, following these steps will set the stage for you to have an outstanding training session with your team.
4. What Does This Cost?
As a manager, you may or may not have direct control over your department's budget. However, you — or your own manager — will almost certainly want to know how much SAP training costs.
If you get training straight from SAP, you can expect to pay about $3,100 per individual subscription — maybe more, depending on when you're reading this.
You can also choose third-party education providers, though. This includes us, Michael Management. Our price point is often about half of SAP's.
Where Do You Start with SAP Training?
Now it's time to get your SAP training schedule together!
The questions in this blog post are just the beginning. It's crucial that you know all of the other details that are too intricate and small to discuss here.
But we have good news! If you want to be able to plan nearly all of your SAP training, we have a free resource to help.
It's called The Manager's Guide to SAP, and it discusses all of the questions we answered on this post plus a whole lot more to help you get your SAP training together.
Are you ready to take the first big step in your department's SAP training?
Download the free guide today!