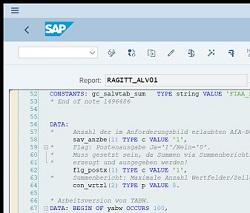 Over the years, SAP software professionals have come up with best practices that are universally accepted and have not only proven to produce superior results but also define standard rules for ABAP (Advanced Business Application Programming) coding. It makes it easier for developers to adapt to each other's code without much analysis.
SAP Best Practices is a defined way for success and minimizing chances of failure. SAP ABAP is the programming language for SAP and it has been around for decades now, and the best practices keep evolving with time and industry. We compiled this list of common best practices likely to be used by almost all SAP implementations and divided them into relevant topics.
Best Practices for ABAP Development
Learn ABAP Programming Best Practices from an expert developer in this training course.
Below are our top 10 tips for ABAP Best Practices:
ABAP code should have explicit comments for the functionality implemented. It is best to have a detailed explanation for the ABAP logic.
Each ABAP project implementation should have a class "ZCL_CONSTANTS" with attributes containing all constants required for the project. This avoids hard-coding values within ABAP programs.
Utilize object-oriented modularization techniques to avoid redundancy of code. For example, all initialization logic can be pushed to the "CONSTRUCTOR" method and reusable logic to separate methods.
Variable, Tables and Structures should be cleared within the program, and unused Variab...