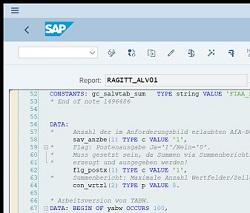 Mastering the SAP skills needed to work with data properly can help you reach your next milestone.
It's critical that the training you undertake for SAP ABAP on HANA supports your growth. You want to invest your time in something that will have a positive return.
An SAP ABAP on HANA training program should help you to:
1) make sense of its extensive capabilities, and
2) immediately put your developing ABAP skills to use, no matter what your current level is.
Here we will provide an SAP APAP on HANA overview, along with some of its unique advantages. Then we will look at five essentials that should be included in an effective SAP ABAP on HANA training program.
What is SAP ABAP on HANA?
Most business professionals are aware of SAP ABAP on HANA, if only in broad strokes or by name alone. Here is an explanation of terms:
SAP (Systems, Applications and Products in Data Processing) -- Formed by five IBM employees in 1972 with the purpose of creating an Enterprise Resource Program (ERP) software, including features such as integrated business processes and real-time data processing.
ABAP (Advanced Business Application Programming) -- SAP's language for programming business applications on their Netweaver application server. The SAP Netweaver platform runs all SAP business application software,
HANA (High-Performance Analytic Appliance) -- HANA's innovative product combines a powerful in-memory database system with ABAP programming that is capable of pulling data directly from the database to serve any number of business-enhancing applications. SAP's latest iteration of its ERP software is S/4HANA.
Along with the integration of a Database Management System (DBMS) and application programming, SAP on HANA has replaced disparate and often cumbersome disk-based storage systems, and includes smarter storage techniques that can handle any level of data bombardment.
The superior data storage capability is just one of the many advantages that have SAP, its program users and the greater business world moving in SAP HANA's direction.
What Additional Avantages Does SAP ABAP on HANA Provide?
Efficiency -- Today's ERP and related management systems rely on a number of processes and reports to be processed and delivered at high speeds and in real-time, because analysis--and solutions--can't wait for end-of-the-week summaries.
Various Data Sources -- Data not only comes consistently and in a flash, but also from a variety of sources, including traditional business sources like sales data and contracts, as well as website and mobile data, machine learning algorithms that analyze raw production data, and a number of "Internet of Things" (IoT) sensors located in places like factories and points of sale.
Transformational Datatypes -- SAP on HANA helps data move across different platforms for easier data pairing and analysis.
Simplicity -- Along with the power SAP ABAP on HANA provides, the software's other leading advantage is its usability, which, with some guidance from a well-organized training program, can put data-leveraging power at any user's fingertips.
5 Essentials an SAP ABAP on HANA Training Course Should Include
First of all, an SAP ABAP on HANA training course should immediately cast a bright light on the user's career goals.
It should be apparent, after a few moments spent with an individual course or self-assessment check, whether or not the program will help you drive improvement at your current job and potentially advance your future career prospects.
Here are five important aspects to consider:
1. Manageability -- You shouldn't have to put your responsibilities on hold to work around a rigid training schedule. Rather, look for courses that can be taken on-line at your convenience, and are pared down into easily digestible segments.
2. Specificity -- SAP ABAP on HANA encompasses an endless range of functions and features--supporting 10 Lines of Business (LOB) across 25 different industries. Whether you work in human resources, supply chain management or sales and marketing, the right training program should be tailored to your job specifics.
3. Organization -- Is the SAP on HANA training service helping you find the right class, or combination of classes, to meet your needs? Or are you blindly having to search through thousands of options until you find what might work for you?
The right training service should provide guided course selection based on your current skill level, occupation and career goals. Look for self-assessment features that will help you hone in on the most relevant courses for you.
4. Method -- SAP ABAP on HANA training courses will undoubtedly come with loads of information and technical explication. That being said, they shouldn't take the form of "death by PowerPoint". Instead, the right balance of video information and hands-on exercises will provide you with the fastest means of absorbing each lesson and turning it into actionable use.
5. Momentum -- With actionable use comes the most important benefit of all: working momentum. When you can immediately apply new ABAP skills, you can 1) begin to drive real improvement at work, and 2) garner support among clients, colleagues and superiors toward continued skills development.
Why Choose Michael Management?
At first glance, the daunting variety of available SAP ABAP on HANA training courses could make anybody, particularly busy professionals, feel uncertain about committing time and money to a training service without seeing actionable results from the start.
However, with Michael Management's experienced approach to course design, you will be able to hit the ground running with newly acquired ABAP skills, no matter what your current skill level happens to be.
We offer LOB-specific courses presented in easy-to-follow segments that won't overwhelm you, or leave remaining gaps in your SAP ABAP on HANA knowledge requirements.
By providing thousands of hands-on simulations and video courses for all core SAP areas, we are able to deliver valid training, guaranteed to transfer to your real-life business project specifications and career goals.
Thousands of courses?
Not to worry. We have also created over 50 predefined Learning Paths for common SAP job roles, so every course you sign up for is part of an organized and relevant progression that will best assist you.
Additionally, we provide over 50 SAP skills assessments to identify knowledge gaps so that remedying course recommendations can successfully be made.
Finally, self-study guides and on-line courses are available 24/7 so you can study and review your SAP skills at your convenience, and at your own pace.
And with a money-back guarantee within the first 10 days, you will have enough time to decide if our learning format is working for you.
In the breakneck business world of Big Data harnessing, success is all about leverage. Can you take the endless stream of statistics and turn them into profit-driving analysis?
Let Michael Management's innovative training courses guide you to a more complete working knowledge of SAP ABAP on HANA, so you can bring innovative solutions to your big business challenges.
Begin with an SAP Skill Assessment to find out which courses are right for you!