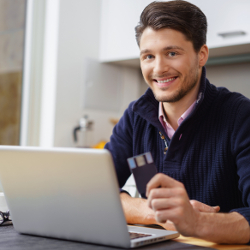 Remote work has become the new normal for many companies in the United States and throughout the world. Accessible broadband Internet, the high price of commercial real estate, and the promise of cutting out the morning commute have all pushed white-collar employees and their employers to be more comfortable working beyond the walls of their office buildings.
While this may be a natural fit for some companies — particularly those that work and sell online — it can be a challenging transition for any manager or executive who has only experienced personnel management in person.
Fortunately for managers everywhere, there are some basic initiatives you can take to better manage your remote team. In this blog, we'll discuss five of the best ideas you can adopt to become a better manager of your remote team.
1. Set Expectations
The first step in managing a remote team is to set expectations of someone's job description, behavior, time commitment, and more.
This is almost always done in any work setting anyway. After all, how can someone fulfill a role in a company if they don't know the expectations of that role?
But remote work necessitates that expectations be set and defined to a much larger extent.
For example, when does lunch happen for your team? Is someone free to hop off of their computer at any time, or do you need your whole team to be present at the same time every day?
What does it look like for someone to go to a doctor or dentist appointment?
How does PTO work, and do you have the same expectations of PTO as you did when your company worked in-person?
Perhaps most importantly, what should an employee expect in terms of privacy when they work remotely for you? This can be especially important if someone is using their personal equipment — as opposed to employer-purchased equipment — to do both professional and personal duties in their lives.
These expectations are crucial to set early in someone's work experience with you. They set the tone for someone's daily work, and they can help remote workers segment their personal and professional time when they don't leave their homes all day.
This is especially true for remote employees who are working from home for the first time. They may find it exceptionally challenging to split their personal and professional lives at first, and setting expectations can help them thrive accordingly.
2. Prioritize Communication
Along with setting expectations, it's important to communicate with remote employees as often as possible.
This is essential for a number of reasons. The biggest one is that remote teams often use text-based communication more frequently than voice-based communication.
While this may not sound like a major obstacle in everyday work, vocal tone is used as a major indicator of the intent of someone's statements. The same sentence said in different ways can convey sincerity, jokes, sarcasm, sympathy, and more.
As a result, the lack of vocal tone can cause misinterpretation between two or more employees. That also means someone can reply to a message, have the reply misinterpreted, and cause a conversation to take a very different turn than it would have in-person.
So what's the solution?
Many managers make up for this challenge by communicating more often by video chat, telephone, or asking clarifying questions via text communications (like "how did you mean that?").
These tactics alone can make the difference between a project's success and failure.
3. Create Secure Collaboration Methods
In addition to communication, your team needs to have new ways to collaborate on projects.
Previously, you may have called a huddle, meeting, or even a group lunch to discuss work that needs to be done among multiple employees.
But with the exception of video chat, it's almost impossible to do that remotely.
That's why so many companies now embrace full packages of software products, like Microsoft Office and Google Suite, that allow your team to work together on the same documents and track progress.
Many companies also choose to work with a project management system, like Basecamp or Asana, to help them track individual tasks that need to be completed for a larger initiative.
However, whichever option you choose as a manager, ensure that you have the necessary security permissions in place before opening the software to your team. Depending on your industry, your clients, and the information with which you work, you may have drastically different security expectations than another company — and those can be challenging to address.
When in doubt, consult your IT team or your direct supervisor. You can also contact collaboration-based companies, ask them questions about their security, and go from there as well.
4. Meet Virtually to a Team Member's Need
Virtual meetings are the perfect combination of frequent communication and collaboration.
Meeting virtually means going beyond a typical text-based chatroom and using webcams, microphones, computers, and/or smartphones to see teammates' faces.
This allows everyone on your team to get together, see each other, and feel a little bit more connected than a phone call would allow.
In addition, it can play an emotional role in some employees' days as well. Some remote employees may feel isolated during their day-to-day work if they don't leave their homes often. Allowing them to see the faces of their teammates can play a big role in making them feel more connected with their coworkers.
5. Focus on Success & Victories
Finally, one of the best ways to manage a remote team is to focus on your successes and victories, no matter how small they may seem.
Did someone on the sales team land a new account? Celebrate it with the whole team.
Did someone on the marketing team send an email that got some outstanding results? Celebrate it with the whole team!
IT members who set up new security protocols, customer service reps who turn an angry customer into a raving fan — they're all excellent ways to celebrate the wins that employees have, even when they can't work together.
But you may be hesitant to do this. After all, is it really worth celebrating someone who's "just doing their job?"
Maybe. The answer to that depends on your company and its culture.
But if you can introduce some positivity, excitement, and joy into your employees' lives, you can also help keep their morale high and their performance excellent.
Learn How to Manage Remote Teams with Michael Management
These five tips are just the tip of the iceberg when it comes to remote teams.
Are you ready to learn the rest?
Michael Management offers 25 hours of essential content on remote team management that can work for virtually any manager, any company, and any industry.
If you're ready to access all of this content — and improve your performance as a remote manager — you can get access for a full calendar year right now.