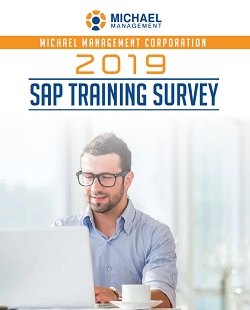 Michael Management Corporation, the award-winning provider of online SAP training solutions, has surveyed SAP professionals from 55 countries in Q1/2019 about their experiences and expectations with regards to SAP training.
We crunched the numbers and then reached out to industry expert and ERP Market Analyst Jon Reed to provide an analysis and commentary for our survey.
Some of the key findings of this year's SAP training survey are:
42% of survey respondents say they have not received enough training to perform their job duties.
34% say they have no access to company-specific training material.
37% say their company's training material is outdated or of poor quality.
78% of SAP professionals say that they can devote 30 minutes – 1 hour per training session.
You can download the enture survey now using this link:

ERP Market Analyst Jon Reed of diginomica analyzed the survey results for us and comments:
The Michael Management team caught me in a really grouchy mood this year when it comes to training investments.
I just spent the weekend researching the role of IT and software failures in the two tragic Boeing 737 max plane crashes. As of this writing, some of the data is still coming in, but: it comes as no surprise to learn that inadequate pilot training was a contributing factor. A more accurate way to put it would be: now that pilots from Southwest and other airlines have been adequately trained on the suspected new software features, they are now confident they could handle the situation these pilots were faced with. Of course, the software will be improved also, but the point is – lack of training can have catastrophic consequences.
But wait, I hear you saying – "SAP projects aren't as high stakes as that!" True, thankfully, in most cases not. But, is it fair to say that businesses, customers, and careers are on the line? And so, the baffling lack of investment in innovative training materials continues to bother me. Each year, for seven years now, I comb the Michael Management SAP training survey for signs of change and hope. And, guess what? In the 2019 edition, I found a couple signs I really liked.
But first, the rough stuff. Of the 600+ SAP pros surveyed:
34% of respondents say they do not have access to company-specific. training material. 37% say that their training material is either outdated or poor quality.
Oh, and:
42% say they have not received enough training to perform their job duties. Not a pretty picture.
However, one thing I am very encouraged by is the increasing sophistication of users' online training preferences. Why? Because I believe online training, integrated into a continuous learning environment, is necessary to meet companies' budget constraints – not to mention the limitations SAP professionals have to leave their day-to-day for classroom training.
On page 9, you can see a breakdown of users' online training preferences. Some of those results are perhaps surprising, such as the popularity of downloadable materials and the lack of interest in student-to-student networking. Be that as it may, it's clear we're getting a better handle on how to deliver effective online training, and meet the training preferences of students. That matters.
The big challenge to online training is getting folks through an entire course in a way that motivates them. Thankfully, we're moving beyond the days of combing through online slide decks and calling that training. You may wonder why I'm not too optimistic about the 59 percent who said they have enough training to do their SAP job – up from 56 percent last year. That's because the big reveal slide on page 8 shows that since Michael Management first issued this SAP training survey seven years ago, there really is no discernable year-over-year upward trend.
Translation: we all have work to do.
Finally, a word on the skills cloud on page 10, which visualizes the answer to the question "What SAP specific skills do you want to learn this year"? The overwhelming interest in S/4, HANA, and Fiori shows that SAP's S/4HANA future is gaining traction. However, that only raises the training stakes. These new releases, particularly when you factor in cloud, analytics and machine learning capabilities, are not simple skills evolutions. No, they are significant changes for companies and their SAP teams. I urge companies to start thinking about SAP training not only in the context of S/4HANA, but around the general trend of the so-called "intelligent enterprise" SAP is pushing. That means the intersection of cloud, analytics, user experience, and so on.
It's simple really: to compete with the Amazons of this world, we need to serve our customers better at scale. Modern software can help with that, but only if we change along with it. Hope springs eternal, so maybe next year's Michael Management survey will mark the turning point.
In the meantime, let's get busy learning.
Join Jon Reed's 10,000+ Twitter followers: @jonerp.