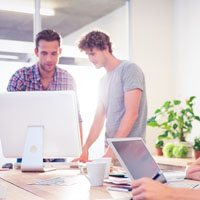 How many of us used to be good at math but nowadays reach for a calculator or an app on our phone to get those figures we need?
How many of us used to have nice, legible handwriting but now cannot even read our own (rarely) handwritten notes or grocery lists? The reasoning behind these changes is really very simple: You have to use it, or you will lose it!
This is no doubt the case with technology as well, especially the broader and more complex something is, such as SAP. There is no single universal SAP "calculator" or "guide" you can rely on that will easily or quickly answer your questions or do your work for you – not only do you yourself have to LEARN SAP, but you yourself also have to USE it and keep your skills current as SAP continues to evolve and progress.
Luckily there are always ways to keep furthering and enhancing your SAP skills.
Emmerson Packaging rolled out 1900 hours of SAP training and saved $180,000 with our training subscription.

Find out how: Customer Success Story
SAP Training Courses
With a plethora of SAP training courses in just about every SAP career area, you will always find a new SAP course or direction you have not yet taken. It is also beneficial to revisit the courses you have already taken in order to refresh your knowledge in those areas. That is why when you register for an SAP training course with us you have full, unlimited use of the course for one full year from the date of purchase – we know that taking a course just once, even if you earn a top score, is not enough to memorize what you have learned - repetition is key. Doing something over and over again is what builds a habit and ingrains knowledge.
Live SAP Access
Being taught how to do something is actually quite useless if you don't put it to use and actually do it yourself. You can watch a video or read a book on how to do almost anything: drive a car, bake a cake, build a house, use SAP – but until you actually get your hands on it yourself and get that live, hands-on practice and experience, what you have learned really has no merit. Live SAP Access gives you the platform you need to put to use what you have learned in the training courses. Again, repetition is key here, the more you do it, the easier it becomes to do it and to learn even more.
Be Aware Of Your Current SAP Skill Level
Completing SAP Skill Assessments on a regular basis is an easy way to gauge your current skill level as well as discovering areas where you may need to refresh or improve your skills. Also, it is always fun to check your learning progress by comparing past and current Skill Assessments to see how far you have come!
Stay On Top of the Latest, In-Demand SAP Skills
Keeping your SAP skills current – not just by continual use of what you already know – but by continuing to learn the latest and greatest SAP skills, will make you really stand out to employers. Even if you are not looking for a new job, it will increase your visibility to your current employer, especially when it comes to on-the-job acknowledgment including promotions and salary increases.
Be Receptive to New Technology and Training
Many people are resistant to learning something new and think their current education level will carry them through the rest of their careers. People say to us, "But I already have an MBA", or, "But I have been a CPA for 10 years". While those achievements are admirable, just think if doctors took that attitude when it comes to training for new technologies or methods in medicine. In order to stay current with technology, which is always changing and progressing very quickly, you must keep your skills and knowledge fresh and relevant or you will very quickly be left behind.
Of course, before you focus on SAP Skill-Building and Retention, you need to get that initial SAP Training!
Blending SAP Skills into Your Current Career
Perhaps you are already happy with your current line of work and are not looking to change careers but are looking to enhance your current career by adding SAP skills to your already impressive repertoire, or perhaps your employer has required you to learn SAP as a part of your current position. Even if you are considered an advanced professional in your current career, everyone new to SAP starts SAP Training at the beginner level – this is necessary to learn the very basics of what SAP is and how it is used (the icons, commands, and functions) before learning how to use the specific modules for specific job roles. With SAP being so vast and covering so many job roles, once you start taking training courses you may even find yourself becoming interested in areas you have not explored before, broadening your horizons even further!
SAP Skills as a Building Block for a New Career
Maybe you are looking for a new career and think SAP Training is a great way to get started in finding a new, stable, long-term career direction – if so, you could not be more correct! With almost every company in nearly every industry now requiring new hires to already possess SAP knowledge, you can be ahead of the game by getting your training started NOW, and have the Certificates ready to proudly present to your potential employers! (And if you are wondering just exactly who these companies are that are requiring their employees to be SAP-savvy, take a look at just a few of the companies that use our SAP Training! I am sure you will recognize a few of the names..)
"If a person will spend one hour a day on the same subject for five years, that person will be an expert on that subject." - Earl Nightingale