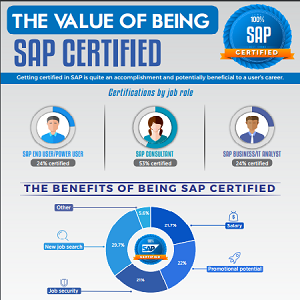 Knowing how to use SAP is a great advantage in your job and in your career. But should you get certified in SAP? It's one of the most popular and sought-after certifications in IT.
If you're thinking about becoming certified in SAP, there are a lot of excellent reasons to do so. Here, we'll discuss the reasons why you should consider certifications in SAP, and how it can help you in your career.
What SAP Professionals Think
In our annual SAP training survey, we asked 865 SAP professionals worldwide about their experiences and expectations with regards to SAP training. From that number, we discovered that:
A whopping 53% of SAP consultants were certified…
…but only 24% of SAP Business/IT analysts were certified
Same for SAP end users: only 24% were certified
A full 95% of these SAP professionals surveyed told us that being certified would definitely be a boost to their career and feeling of job security. The reasons they gave us were varied:
21% cited better job security
21.7% cited increased salary potential
22% cited promotion potential
29.7% cited new job potential
What are your reasons for getting an SAP certification?

Increased SAP Career Potential
SAP is the third-largest business software in the world, utilized by over 350,000 companies worldwide. An estimated 75% of the world's transactional businesses will come in contact with an SAP system, somewhere. Once used only by large companies, today small and medium-sized businesses comprise 75% of SAP's customer list.
4 out of 10 SAP Professionals admit that they did not get enough training to do their jobs.
There's a strong demand for people who know how to use SAP well. But a full 44% of the people we surveyed felt like they didn't have sufficient SAP training from their employers to do their jobs!
Becoming SAP-certified will not only help you get into the SAP community, but stay there, and become experienced and proficient. You'll find new opportunities to use and improve your skills. You'll also be available for better opportunities while you help businesses become more efficient every day.
A search on Indeed for SAP Certified shows that the average salary for an SAP Consultant is $90,338, and for an Enterprise Architect is $132,011. Wouldn't you want to be in one of these categories?
SAP Certification Is A Major Accomplishment
SAP Certification means that you've not only studied SAP and are skilled with it, but you've also proven yourself by examination. Your proficiency is proven and verifiable, you know what you're doing and you can do the job you've been given. Unlike a full degree program, we offer hands-on learning that you can do in hours, not months or years, with the current SAP curriculum. Being certified is not only an accomplishment but gives you a competitive edge over other job candidates.
SAP is a skill that's in demand now, and certified users are routinely chosen over non-certified candidates. Our training courses are designed to prepare you to work in a real-time SAP environment. As the second-largest provider of SAP training (behind SAP itself), we've worked with thousands of people just like you to help them learn a valuable skill that will serve them in their current job and in their next job.
Once you're certified, you'll want to update your resume and related social media to reflect your new skills. Make sure your certificates can be authenticated online and have been issued by a credible organization. You can also upload your newly earned certificate into your LinkedIn profile, and make sure it's visible where your network (and any interested recruiters) can see it. When you do, turn on that little button that says "share profile changes". Your entire network of connections will know you've become certified—and that can open doors to new opportunities.
Invest In Yourself and Learn SAP
It's one thing to say you're an SAP expert. It's another thing to have proof that you are an expert.
Education is not only for a job or bragging rights—it's an investment in yourself and your future. And with an online training platform that offers training in the SAP knowledge base you need, you'll skip the long boring lectures and "elective" classes you really don't need.
If you keep telling yourself you "don't have time," it's easier than ever to learn a new skill with training online, even an hour at a time. Nearly fifty percent of our survey respondents said they prefer the online, self-directed e-learning better, with 30- and 60-minute lessons being the "sweet spot" for these courses.
When you've decided what SAP training course (or courses) to take, you'll need to study for it, of course. Our SAP training is industry standard. The online platform means you can learn on your own schedule, and we're ready to help you become successful in SAP.
The fee for the certification exams is included in the price of your course—but it's not easy! A full 40% of our students fail the exam the first time they take it. Don't quit! If you fail the certification the first time, keep studying, and take it again. You can re-take the exam as many times as you need to in order to pass.
Becoming A Certified SAP Professional
We've taught over 15,000 students what they need to know about SAP, and how to improve their skillset. Since 2000, we've completed over 300,000 training sessions, winning multiple awards in the process. But our core competency is helping people just like you learn to use SAP or learn it better.
If you're interested in furthering your SAP career, you can find training for SAP certification courses in our catalog. And if you are completely new to SAP, start with the Basic SAP Skills courses first. There are many SAP solutions to learn, including SAP S/4HANA, SAP Ariba, SAP HANA or even SAP Cloud - don't get frustrated or overwhelmed in the beginning.