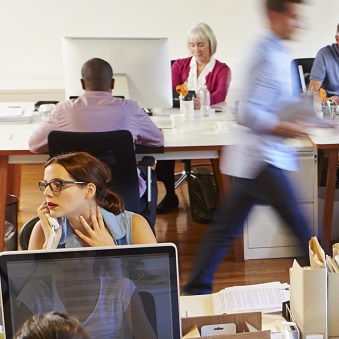 Do you ever think about finding a better way to do something? Do you ever wish you could get more done, or find time to get finished? Maybe it's time to implement some productivity hacks that can help you with daily efficiency.

What Is A Hack?
No, not a computer hacker. (That can get you into trouble.)
The hacks we're talking about are shortcuts, skills, tips and tricks that make life a little easier at work and at home.
Productivity hacks for work are the little things that help you become more productive and reduce or eliminate wasted time. If you've ever finished work and felt like you've left way too much unfinished, it's time to delegate, automate, and eliminate your way into better productivity.

1. Eliminate Distractions
These can take a number of forms, including:
Email notifications
Interruptions
Phone calls
Checking social media "just for a minute"
Stuff on your desk that clutters up your workspace
Once you've been distracted from a task, it takes about 20 minutes to return to what you were doing.
It's also a good idea to keep your workspace neat, organized and clutter-free. In addition to keeping you from thinking about it, you'll spend less time looking for something you know you have somewhere, but can't put your hands on.

2. Forget About Multitasking
Here's a tip: it doesn't really work.
It was a buzzword in the 90's, and companies expected it. But there was one flaw: actually doing more than one task at a time actually reduces productivity.
Although you can have several ongoing tasks going concurrently, you really can't do more than one task at a time, or you lose focus. Multitasking divides your attention between two or more tasks, reducing your attention for both of them. Your productivity can decrease as much as 40%, because you never really focus on one task entirely.
A better way to work is batching, where you focus on similar tasks at the same time, such as email, voicemail and text messaging together, then moving onto the next set of similar task. By working on the same type of task, you'll avoid shifting your thinking back and forth and become more productive.
Do you have small tasks to do that you just haven't done yet? If you do them during the work day, you may find yourself doing all the "fast tasks" and not getting any real work done. There's a better way—jot them down batch them. They don't take longer than a couple of minutes, so you can complete them quickly. You won't take time away from the bigger tasks and projects that require your attention, and you're not distracted by them, either.
3. Automate it: Create Templates
Do you get regular email requests asking the same questions? Or need to re-write something new repeatedly for a new project or client? Draft a template!
Instead of repeatedly typing the same thing or copy and pasting from a previous email and make mistakes, create a Word document with answers to the same basic questions and store it for when you need it. You can do this for nearly any repetitive document that's needed regularly, and tweak the content as needed before sending it to the recipient.
Bonus—Automate with settings: take it a step further and create an email autoresponder. Set one up that's triggered by specific words and phrases, and you won't have to keep answering the same questions. When someone has additional questions, then you'll be available to answer them individually. Learn how to send "canned" responses in Gmail here, and do the same thing in Outlook.
4. Hand-Write Daily Task Lists
It sounds a little outdated to hand-write tomorrow's work on paper. Sure, you can keep task lists in Outlook, Google Calendar or other calendar functions. But it's also easy to ignore those lists and notifications with a click, too.
Get a 5" x 7" lined notepad and write down tomorrow's important tasks before you leave your desk today. You also can begin compiling the list during the day, and finish it just before you leave. In the morning, you'll know your priority tasks when you sit down with your first coffee. You'll know exactly what you need to accomplish, and there's no question about what comes next.

5. Manage The Email Monster
When email became part of everyday life in the 90's, it was this great new thing that was going to make communication easier, faster, and more efficient. Sure, it's easy to dash off a quick email to someone and be done with it, but what if everybody is emailing you? Today, most people have thousands of emails that they never read, and worse, miss the ones they need to, and sorting through those emails for what you need to see can take up a large part of your day.
It's time to take control of the monster.
Label emails that you need to see immediately and create folders for them. Have multiple meetings during the week? Create a folder for each of them, and set up a label and an automatic function to deal with them. You can even create popups that tell you that you've received an email related to each meeting, or that you've received one from someone specific.
Set specific times to check your email instead of "grazing" through it all day long. If you must check email first thing in the morning, make it brief and get on with your day. Check again before or after lunch, and once before you leave for the day. Otherwise, you'll spend more time on email than you will working on the important things.

6. Eating The Frog First
Mark Twain once said, "If it's your job to eat a frog, it's best to do it first thing in the morning. And if it's your job to eat two frogs, it's best to eat the biggest one first."
The idea is that if that's the worst thing you have to do all day, you'll have the satisfaction of knowing it's done.
While we're not suggesting you eat an actual frog at your desk in front of your coworkers, the idea is that you start on your biggest, gnarliest task on your list and get it over with. The "frog" is the biggest task you have, and likely the most important, and probably the one you'll procrastinate doing, then hate yourself later for procrastinating. Don't do that—eat the frog, get it done and dusted. Then you can get on with the rest of your daily task list.

7. Plan Your Downtime
This may sound silly, but hear me out: if you suddenly find yourself in between projects, meetings, or other pieces of your daily routine, and nothing is going on, what will you do? Sit there and surf around on social media? No—use the time for something that's not part of your routine, but needs to be done.
Think about those non-urgent tasks that you know you need to do, or that you'll get around to "one day." It could be cleaning up your desk, clearing out old files, organizing your electronic files, deleting or sorting emails, or tackling an inbox of filing that's been sitting for a while.

8. Music And Ambient Sounds
If you're one of those people who like to listen to music while you work, instrumentals, not vocals, are the best way to go. Otherwise, the lyrics become distracting, especially if it's a song you know well. Jazz, classical and easy listening instrumentals are popular, and add background music without interfering with your concentration.
If music isn't your thing, consider "white noise" to cancel out distracting chatter and noise. Background sounds are also helpful. If you like working from your favorite coffee shop, Coffitivity is a website as well as an app that offers ambient café sounds that are designed to help you work better. Offering "enough noise to work," Coffitivity is the background noise that helps you concentrate better.

9. Get Professional Help
Ok, so we're not suggesting hiring a coach, but there are a number of books available on the subject of improving your productivity. One book that offers short-and-sweet productivity improvement is Time Management In 20 Minutes A Day by Holly Reisem Hanna. With strategies for improving efficiency both at home and at work, this book is a quick read with emphasis on getting focused as well as finding your own methods for improving productivity. The book is less than 110 pages, so it's not a long, complicated read.
One of the author's suggestions for dealing with short tasks: Stop Standing Around (page 87.) What can you do while you're waiting for the microwave? You can empty the dishwasher, clean the kitchen countertops or sort through mail. If you're sitting in a doctor's office waiting for an appointment, or in an airport waiting for your flight, use that time to catch up on reading or other short tasks. Short waiting periods are useful to take care of some of smaller tasks you may procrastinate doing.

Make SAP Your New Year's Resolution
If a new career is in your future, let us help. Michael Management is the premier online e-learning platform to get the training and skills you need to move into a new SAP career. We've helped more than 300,000 on their way to a new and better career with exclusive online learning that's available when you are. Find out more at our YouTube channel, with more than 75 videos that discuss SAP.
Ready to get started? Contact us today to find out how you can learn SAP quickly and efficiently.