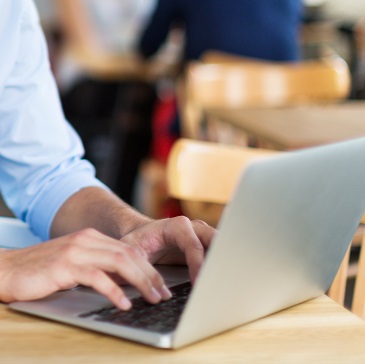 So you've done your research and due diligence considered all the possibilities and decided to go for it and embrace a new career in SAP. Now what?
It's more complicated than ever to actually find a job, even though SAP jobs are there. Between applicant tracking systems (ATS), social media and even creating a resume that a robot can "read," everything has to be just right to get your information in front of a live person.
So where do you start? Here are some ideas to get you into the running for your dream SAP job.
1. Identify Your Dream Job
This may sound a bit odd but stay with me.
Think about your ideal workday, and what you want in a job that utilizes your SAP skills. Do you want great benefits, remote working, a higher salary, a company that aligns with your personal values—or a combination of all of them?
Make a running list of the things you want in your SAP dream job and use these as a baseline for the jobs you apply for. There's no use applying for a job that will require you to commute for hours every day if you're looking for something closer to home--or work from home.
2. Polish Your Own Branding
Employers will be looking at you the same way you'll be looking at them. What kind of image do you put forth? If SAP is a career change to you, re-branding is in order from your previous occupation.
Start with your LinkedIn profile. It doesn't need to be exactly like your resume, but close enough to represent you. This is likely the first thing potential employers will review. Update your skills, credentials, and your previous job descriptions to better fit your new branding.
Another tip: make sure your email address sounds professional. Even if you use a web-based service like Gmail, create an email just for your job search with a recognizable variation of your name. Save the ilovebeer51@*****.com or crazycatlady46@*****.com for your friends and newsletter subscriptions. Additionally, make sure there's nothing embarrassing showing on any of your other social media accounts, either.
Note: if you're currently employed and use LinkedIn for business, you'll want to keep your job search confidential—especially if you're planning to move out of your current career and into an SAP career. Make sure that your LinkedIn profile won't "share to network" your changes—turn that button off! Make changes slowly so that they don't set off any alarm bells to your connections, and possibly your employer.
3. Now Identify What Companies You'd Like To Work For
Is there a company that would be your dream company? How many companies are there that truly interest you? What industry would you like to work in that is using SAP?
If you don't have a "dream company" already, it's time to start looking for them. Using the "dream job" list you started, search for and identify the companies that you would like to work for, rather than just applying for every job you find. Once you identify them, it will be easier to familiarize yourself with these companies for the day you interview.
4. Find And Follow These Companies On Social Media
Start with LinkedIn (you do have a full LinkedIn profile, right?), find them, and click that "follow" button. Look around at what they post, how many employees are there, and what jobs and other things they've posted. Move onto Twitter, Facebook, and any other social media they use. (Most will have the symbols posted on their pages that link directly to each social media account.)
Some companies also use special accounts, as well as hashtags or other symbols to post job listings, such as on Twitter. Find and follow these to see job listings as they're posted. You may also be able to message a company's HR department on Twitter or reach a recruiter directly on LinkedIn.
5. Learn About Each Company Before The Interview
You want to be more than familiar with your ideal or "dream" companies for the day you're selected for an interview. Scrambling around at the last minute finding out what they're all about is not a good way to prepare. You'll be better prepared to talk with them if you're already versed in the company's operations, understand what they're about, and know what you would be getting into if you were hired.
Additionally, you'll also impress the interviewer because you've done the research and know what the company does, how they utilize SAP, and what they're all about.
Read more on their website, and bookmark the pages that list their job openings so you can access them quickly.
On the flip side, you also want to know if a company you're considering will be a good fit. Check out sites like Glassdoor, which offer reviews of "what it's like to work here." If everything is great for the first 90 days but becomes a sweatshop after that, you'd want to know about it so you can avoid it. Unfollow their social media and remove any bookmarks so that you don't go back to them.
6. Get Noticed By The Companies You Want To Work For
It's not enough to apply—they have to see you as well. Standing out from a sea of resumes, which sometimes number in the thousands.
Since most companies spend a lot of time on LinkedIn, it's a good idea to stay active there yourself. Post an article, and comment on a few as well. Make connections that are relevant to SAP and the career you're looking to move into.
Interact with these companies as well, when warranted. Depending on the company, they may recognize you from these interactions.
Are you attending a conference that one or more of these companies will be participating in? Let them know through their social media channels, and they may even set up a meeting for you.
7.Getting Hired!
Eventually, your hard work and diligence will pay off—you've found your dream SAP job! Enjoy the results you worked hard to find, and step into the new job as the confident SAP professional you are.
If you do find yourself working in a place you'd rather not be, just start looking again. Use the same techniques that found your current position, and keep going until you find something better. Once you've found a new position, don't feel bad about leaving the negative experience behind. Leave on a polite note and get on with your next job.
Make SAP Your Next Career Move
Want to know more? Download our free e-book, The Ultimate Guide To Landing Your Dream SAP job, and find out why becoming SAP-certified is the right step to your new career. Our YouTube channel has more than 75 SAP videos available that can help you decide.
Since 2000, Michael Management has helped more than 300,000 people find a new skill and a new career with SAP. As the premier online e-learning platform, we're ready to help you jump into SAP feet first. Contact us today to find out how you can learn SAP and be on your way to your new career.