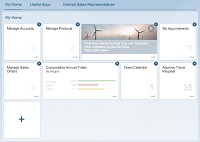 SAP has been producing sleek and impressive marketing materials on Design Thinking to catch your attention. There is even a course number UX401 covering this. What exactly is it? Is this a new innovation or a new methodology or a new procedure?
What is "Design Thinking" trying to address?
Answer: Improve user satisfaction with SAP solutions rolled in to them.
SAP is genuinely trying to address the notorious user dissatisfaction seen in many SAP implementations. In classic SAP methodologies, by the time a project reaches the User Acceptance Testing (UAT) phase, there is no turning back. In this phase, users often discover to their dismay that solutions presented are not aligned with their way, style or nature of work. They are grudgingly forced to amend their work style to the implemented SAP solution.
What do you do to improve user satisfaction?
In short, at the early stages of a project, understand users and their requirements better, empathize with their pain points, build low-fi prototypes to get their feedback and ithen terate until users give the go ahead with the final solution build.
Once you move beyond extensive and fancy marketing jargon and words on Design Thinking, essentially, SAP is promoting a new add-on process within your implementation methodology by which project teams and business users come to a common, better and unambiguous understanding of new processes, their looks and features.
How do you carry out Design Thinking?
SAP has built a new cloud based tool to carry out the Design Thinking steps called BUILD. In this tool, you can engage project team members and business users to discover and define use cases, ideas and build low-fi prototypes.
So, is this a new innovation, new methodology or a new procedure?
This is not a new innovation but rather a set of important procedures and related tools to be introduced in SAP UI design projects at the early stages.
As SAP stated in their Design Thinking materials, "Fail Often and Fail Early" sums up the magic formula to be used to overcome user dissatisfaction in SAP implementations.
Engage with your users early, make an attempt to understand their pain points, show them low-fi prototypes and iterate again and again until users are comfortable with what you are planning to give them as a final solution.
My Assessment:
BUILD is good but not yet great. I will definitely recommend it for UX/Fiori UI5 projects. Interestingly, BUILD UI is built in AngularJS and not UI5!
A head-spinning amount of jargon and words to sell Design Thinking from SAP and SAP partners.
It was pain to go through UX401 due to too much marketing hype but I went through it word by word, page by page (all 300+ pages). It appears as if SAP is telling SAP customers that you are living in an old world of doing business (using SAP software) and that there is a new UX to improve efficiency. I agree!
Design Thinking is a good idea and BUILD will improve user satisfaction. It will help SAP projects to succeed. Good effort from SAP.
Please share your thoughts.