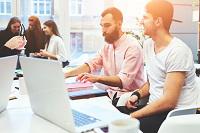 With all the hype around Simple Finance, many companies are curious about what this product has to offer. They would like to evaluate the pros and cons of moving to Simple Finance and more so from a timing perspective. Is it worth a wait to watch and see until SAP comes up with other products in this suite like Simple Logistics, Simple Front office etc.?
Today, with SAP HANA, SAP customers are reaping the benefits of ending the traditional restrictions of relational database architecture. But for all its potential, in-memory processing does not address persistent data aggregates; SAP HANA still rests on aggregate data views. This, in a nutshell, is the value proposition behind SAP Simple Finance; the elimination of traditional aggregate limitations that enables financial and controlling reporting to be merged into one view. Reconciliation, which until now always has meant accessing various tables such as FI tables for general ledger (GL) data or CO tables for profitability and cost center data is now built in.

SAP Simple Finance Addresses the Following:
The redundancy of data mining in both breadth and depth, enabling information and insight at users fingertips in seconds. It is about achieving real-time enterprise-wide finance through SAP HANA by also converging other data and non-SAP applications into the SAP Simple Finance umbrella. This means that although the company may be in the middle of a 10-year infrastructure project plan, for example, it can still achieve a live SAP HANA reporting environment without having to eliminate an existing project plan and start from scratch.
Further, functionality such as Central Journal, a big part of the way financial data is converged in SAP Simple Finance, helps new SAP customers understand the value of moving to this new solution, whereby they can benefit from connected data and additional reporting, dash boarding, and modelling functionality. SAP Simple Finance eliminates information silos by going to the line-item level as the single source of truth for GL, payables, receivables, revenue and cost, and fixed asset data.

Step Ahead with Simple Finance
SAP Simple Finance helps answer a lot of these common questions in such a way that makes it easy to establish a business case and show return on investment (ROI). But it's more than just speeding up processes making finance a true strategic partner to the business. Think of the enormous potential here. With real-time reporting, dynamic and integrated forecasting, and rapidly produced analytics, finance teams will not be spending much time collecting or analyzing data, or manually manipulating spreadsheets. Instead, they can join with internal and external stakeholders to model future performance and build scenarios based on potential external events or competitor actions.
Finance teams will have more agility, possessing an adaptive capacity to rally around new challenges. With the availability of real-time dashboard reporting and what-if modelling to account for the effects of environmental or behavioral changes in processes, such as turnover, system failure, or capacity peaks, organizations can plan resource usage to enable resilience under any foreseeable change.

SAP Simple Finance Reduces Complexities in Two Ways:
1. Integrating the SAP Business Planning and Consolidation front end with the SAP ERP back end in SAP Simple Finance frees a customer from having to resort to the redundancy of planning based on a business warehousing architecture. With data accessible in real time across the spectrum of financial applications, users are empowered to ask questions that might not be answered in prepared reports.
2. The second is a simplification in system design. Customization can be done at the line-item level, meaning an added field will be available in all the reports from the new single source. This means that re-implementations or upgrades are not necessary. With flexible and adaptable on boarding, SAP Simple Finance can essentially mask system deficiencies or an application's structural issues, supporting and enabling continual change in the system itself in addition to supporting process change.

Solutions
SAP Simple Finance revolutionize reporting by providing real time up to date integration with the transactional system. It is no longer necessary to have separate reporting database for database performance purpose. Journal based real time reporting will be the new standard. Simple Finance enables the full spectrum of integrated financial reporting.

SAP Accounting
This function eliminates the boundaries between financial reporting and controlling. The harmonization of controlling and finance introduced by the SAP G/L is enhanced with Simple Finance. The account represents the leading links for financials, controlling, asset accounting and material management. Account based profitability accounting is refocused – all analysis dimensions are now available on account level. This provides the ability to analyze transactional and master data across the application.
SAP Simple Finance also incorporates planning and forecasting through the integrated planning module. Real time integration of forecast and budget data from ERP system allows the improved comparison of planning and actual data without replication. The high performance HANA platform enables instant results for top down settlements and allocations allowing accurate simulations in the integrated planning module, which is a crucial step towards full integrated business planning.

SAP Cash Management
This function makes data available for an enhanced liquidity analysis. This refers to data which may be captured by the system but yet not has been processed on an accounting basis. Based on the effective date, this data can be analyzed in conjunction with actuals and forecasts.

SAP Simple Finance as a Central Journal
This function enables the business to run central analysis of operational data like an integrated Business warehouse within the ERP system. Additionally the Central Journal provides the ability for decentralized Non-SAP data to be captured in a central SAP Simple Finance System. Furthermore, utilizing SAP Simple Finance reduces the data footprint which in turn significantly decreases the required in memory hardware. This is due to the efficient data storage of HANA-technology and the fact that redundant data storage of totals and index tables are eliminated by the new designed table structures.