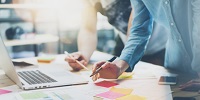 SAP S4HANA Finance (formerly called SAP Simple Finance) includes many new features, such as the universal journal, streamlined design, and real-time analytics. The new SAP Asset Accounting (FI-AA) module is one example of a financial module that has been redesigned in the S/4HANA suite to increase process efficiencies across the life cycle of an asset.
S/4HANA promises to speed up the time it takes for the financial close, improve financial data for accounts receivable and account payable, and provide better business processes for management accounting and financial planning purposes.
Since SAP announced the release of SAP S/4HANA Finance (then called SAP Simple Finance) in early 2014, there has been much confusion on what this product was all about. Most people, including those who were SAP customers, thought that it was a Financial Accounting and Controlling (FI/CO) sub-module that was in some way simpler to configure than the effort currently required in the ERP suite.
If you're new to SAP FI, you might want to start with this blog first:
What is SAP Financial Accounting?
Having encountered the confusion around SAP S/4HANA Finance, I decided to put together a summary of what SAP S/4HANA Finance means from a business perspective. First, to understand what SAP S/4HANA Finance is, it is essential to understand ...