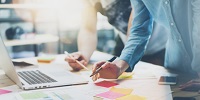 SAP S4HANA Finance (formerly called SAP Simple Finance) includes many new features, such as the universal journal, streamlined design, and real-time analytics. The new SAP Asset Accounting (FI-AA) module is one example of a financial module that has been redesigned in the S/4HANA suite to increase process efficiencies across the life cycle of an asset.
S/4HANA promises to speed up the time it takes for the financial close, improve financial data for accounts receivable and account payable, and provide better business processes for management accounting and financial planning purposes.
Since SAP announced the release of SAP S/4HANA Finance (then called SAP Simple Finance) in early 2014, there has been much confusion on what this product was all about. Most people, including those who were SAP customers, thought that it was a Financial Accounting and Controlling (FI/CO) sub-module that was in some way simpler to configure than the effort currently required in the ERP suite.
If you're new to SAP FI, you might want to start with this blog first:
What is SAP Financial Accounting?
Having encountered the confusion around SAP S/4HANA Finance, I decided to put together a summary of what SAP S/4HANA Finance means from a business perspective. First, to understand what SAP S/4HANA Finance is, it is essential to understand SAP's journey with SAP HANA, as it is closely linked to not only SAP S/4HANA Finance but also SAP's DNA.
What Is S/4 HANA Finance?
Before I answer this question, let me explain what SAP S/4HANA is. It is the SAP ERP 6.0 suite that is fully capable of running on an SAP HANA database. SAP S4/HANA Finance takes that a step further. Specific key components of the former FI/CO suite have been re-coded so that they can take full advantage of SAP HANA's potential.
SAP Simple Finance (version 1.0) that was released in 2014 was the add-on SAP HANA-optimized version for the Financial Accounting module in SAP Business Suite. In comparison, SAP Simple Finance 2.0 is part of the SAP S/4HANA product that was released in 2015. SAP Simple Finance 2.0 is the redesigned and re-coded successor of SAP Simple Finance 1.0.
Note: Today, S/4HANA Finance is available as both on-premise and cloud versions. The cloud version is constantly enhanced in approximately quarterly releases. The 1503 release was followed by 1505, 1508, and 1511. (For those of you who are new to SAP's new release numbering convention, the first two digits are for the year (2015 in this case), and the last two digits pertain to the month of the year. The on-premise version is enhanced yearly.
As of September 2015, the term SAP Simple Finance is obsolete. It has been replaced with the term SAP S/4HANA Finance. For the rest of the article, I use the term S/4HANA Finance and focus on the S/4HANA Finance on-premise version, in particular the 1503 release formerly known as Simple Finance 2.0.
Since SAP S4/HANA Finance is part of the S/4HANA suite, it is essential to understand that S/4HANA consists of four components:
The functional/core component: SAP provides the various finance capabilities and enhancements as part of the functional/core component. You need to be on at least SAP Net Weaver 7.4, SAP ERP Central Component (ECC) 6.0 Enhancement Package 7, and SAP HANA version 1.0 to be able to consider a migration project or upgrade to S/4HANA. Migration to S/4HANA from ECC 6.0 is a functional upgrade that involves the migration of transactional tables.
The presentation/user experience (UX) component: This SAP Fiori-based GUI component helps you interact with the core component through the user-friendly Fiori screens. It requires SAP Net Weaver 7.4 and SAP Gateway version 2.0. Note that this is an optional component, and you can continue with your existing SAP GUI or Net Weaver Business Client as your user interface.
The reporting/analytics component: This component enables real-time reporting and analytics using pre-packaged HANA Live views. The prerequisites for installation are SAP HANA Live 1.0 for SAP ERP and SAP HANA. This, too, is an optional component.
App component: This component is a collection of analytical applications in the Financials suite for key financial decision-makers in an enterprise.
Key S/4HANA facts
S/4HANA represents what can be called the power of one. To me, the introduction of the universal journal (table ACDOCA) moves SAP closer to a single accounting transaction repository. It means that the posting to various individual ledgers, such as the material ledger, Asset Accounting (FI-AA), and CO, has been replaced by posting to one unified journal.
In operational terms, every business transaction in the SAP General Ledger or classic General Ledger, CO (except costing-based profitability analysis), FI-AA, and the price determination component of the material ledger generates a journal entry in table ACDOCA. Why is this big deal?
With one fell swoop, SAP has reduced the numerous instances of data redundancy and duplication across all FI modules. For those of you who are thinking about what this does to the coding block, do not despair. ACDOCA can be extended to include the coding block. One of the most painful aspects of implementing FI/CO in any organization has been the (delayed and manual) reconciliation of CO postings to FI. This is now instantaneous and automatic.
S/4HANA has solved one big pain point – real-time reporting or analytics. The delayed reporting and analysis due to Extraction, Transformation, and Loading (ETL) to connected data warehousing systems (typically SAP Business Warehouse [SAP BW]) has been a bane.
With S/4HANA Finance, you can transact and report all at the same time because within your system, that houses S/4HANA lurks a full-blown SAP BW system. This eliminates the need for offloading the reporting and analytics to your SAP BW system.
In other words, there is no ETL needed for your separate SAP BW instance and, therefore, no delays in reporting. You are now able to do real-time reporting that combines transactional and historical data and allows you to make both strategic and tactical decisions based on the most recent data.
S/4HANA Finance has considerably simplified the overall data flow in your FI modules. Those of us who have been involved with FI/CO for many years will readily agree that there were too many tables being updated behind the scenes for every single financial transaction. For example, FI postings would generally involve updates to a lot of tables (known as secondary indexes).
All these tables (such as BSIK and BSAK) have been removed. This has reduced the complexity of the overall data model. There is enough information available in the public domain on the tables that have been eliminated in S/4HANA Finance, so I do not list them here.
Although SAP Fiori was not the presentation layer for SFIN 1.0, with the release of S/4HANA, Fiori plays a far more prominent role. Although it's optional for the on-premise version, Fiori is your user interface for the cloud version. What this means for you as a user is that you have an interface that takes out the complexity and clutter of SAP GUI-based screens.
Furthermore, Fiori provides you with the same interface across all devices, whether it is your laptop or a mobile device. Fiori uses both SAP HANA Live Content as well as S/4HANA embedded analytics. S/4HANA comes built with more than 500 role-based applications that include finance-specific roles. One category of these applications is analytical applications that provide users with real-time visibility into key performance indicators (KPIs).