SAP Financial Accounting (SAP FI) - An Overview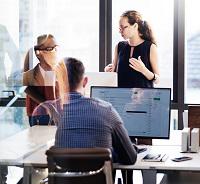 SAP FI (SAP Financial Accounting) is a module in the SAP ERP system (Enterprise Resource Planning). The SAP FI module is one of the most important and popular components of SAP as it is used to store the financial data (balance sheets, profit & loss accounts, etc.) of an organization. SAP FI is tightly integrated with activities in other modules, such as SD (Sales and Distribution), MM (Materials Management), PA (Profitability Analysis), and many others.
Sometimes it is referred to as the SAP FICO module, but to be accurate, that really means 2 separate modules: FI (Financial Accounting) and CO (Controlling).
SAP Financial Accounting manages transactions in fixed asset accounting, bank accounting, cash journal, inventory, tax accounting, general ledger, accounts receivable, accounts payable, fast close functions, financial statements, parallel valuations and different charts of accounts, as well as master data governance. In short, SAP FI supports external accounting, as opposed to the SAP CO module, which is used for internal management accounting purposes.
As the name suggests, the SAP FI module handles the business processes around financial transactions within enterprises. This module helps workers process data that is involved in all financial and company transactions through a single framework and enables financial reporting requirements.
The SAP FI module is very flexible and can be customized to any business, large or small. Regardless of business size, industry, or physical location, SAP FI can accommodate all business needs and support a broad scope of statutory requirements.
End-users utilize the SAP system to transfer, manage, and control large amounts of data. It can be exceedingly difficult to manage such accounting details manually. Thus, to overcome this hurdle, the SAP accounting modules are designed to enable the automated management of diverse accounting data from multiple systems.
If you are looking to learn more about SAP FI, start with this course: SAP S/4HANA Financial Accounting Overview.
Why SAP FI?
There are many reasons why SAP FI is an integral part of any organization. The SAP Financial module tracks the company transactions, from the financial statements to the individual accounting documents using complete audit trails.
All transactions performed in other modules (such as MM - Materials Management or SD - Sales & Distribution) are posted to the FI module through automatic reconciliation accounts. This ensures that sub-ledgers always match the General Ledger account balances. The data is accessible in real-time, and it is easy to access the financial accounting data for ad-hoc reporting.
Sub-Components of FI
The SAP S/4HANA Financial Accounting (FI) is one of the most critical modules in all of SAP. The SAP FI module contains many sub-components, such as:
General Ledger
Accounts Payable
Accounts Receivable
Bank Accounting
Asset Accounting
Travel Management
General Ledger
The SAP General Ledger's main objective is to provide a central system for the management of all external accounts of the company. The SAP FI module manages the company's business transactions along with various other areas of operation. It offers real-time analysis of all accounting values posted in the company.
Wish to know more about General Ledger (G/L) Accounting? Check these courses SAP New General Ledger and SAP S/4HANA Finance - Fiori General Journal Boot Camp.
Accounts Payable & Accounts Receivable
SAP Accounts Payable manages all vendor activity and data while SAP Accounts Receivable records all customer transactions and data. These sub-modules automatically reconcile with the General Ledger and, thus, flow through to the balance sheets and financial statements.
Learn more about Accounts Payable and Accounts Receivable in these courses SAP Accounts Payable Accounting and SAP Accounts Receivable Accounting.
Bank Accounting
This sub-module is used to manage all financial transactions involving bank accounts. From managing bank master data to managing cash balances to handling incoming and outgoing payments - everything is included in this sub-module, which also reconciles with the General Ledger.
Start with this hands-on simulation course to learn more about this component: SAP Bank Accounting.
Asset Accounting
The Asset Accounting sub-module is designed to handle the fixed assets owned by the company. In addition to providing comprehensive information and reporting results, the Asset Accounting component provides comprehensive asset master data management, automatic depreciation calculation, various book and tax valuation principles to meet different statutory reporting requirements around the world.
Getting started with learning SAP Fixed Assets is easy with these hands-on courses: SAP Asset Accounting and SAP Asset Accounting Reporting.
Travel Management
The Travel Management sub-module manages all transactions related to coordinated corporate trips inside and throughout the organization. With the help of the travel management module, users can handle bookings, payment, approvals, and various travel expenses. The travel component is also tightly integrated with the SAP HR - Human Resources module to enable easy travel expense reimbursement for employees.
Importance of SAP S/4HANA Finance
No industries in the world can operate without financial transactions. The FI module supports the financial processes and business operations of an organization. It also enables the creation of income statements, balance sheets, and cash flow statements. The introduction of SAP S/4HANA Finance, along with SAP S/4HANA Fiori, has enabled companies to perform any financial transaction at ease.
Looking for SAP FI Courses?
The SAP FI module is very comprehensive, and learning all aspects of it is a significant undertaking. But getting started is easy with these SAP Learning Paths for Financial Accounting.