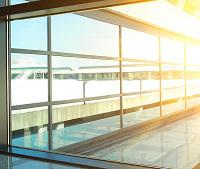 The SAP Cloud Platform (SCP) is the next-generation platform to create or extend existing enterprise applications in the cloud. The SCP was developed by SAP, and it is offered as "Platform-as-a-Service" (PaaS). It is SAP's intelligent and innovative platform for cloud development and deployment based on SAP's new in-memory HANA database.
Learn more: SAP S/4HANA Public Cloud - The Essentials
It supports many trending and innovative technologies such as artificial intelligence, big data, Internet of Things (IoT) and machine learning. The applications can be hosted in different regions such as Europe, USA, Asia, etc. The data centers in the different regions where the applications, data, or services are hosted, are either maintained by SAP or by SAP-certified IaaS partners such as Microsoft Azure, Google Cloud Platform (GCP), Amazon Web Services (AWS) and Alibaba Cloud.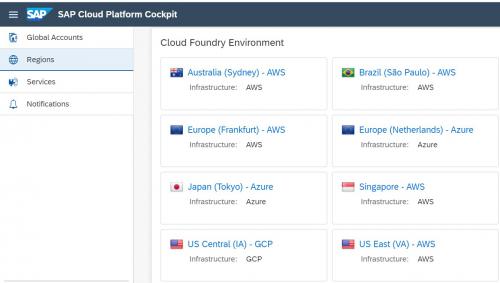 SAP Cloud Platform Cockpit (Different Regions)
Extend – Integrate – Develop
The SAP HANA Cloud Platform (SCP) enables business processes to extend, integrate, and develop their applications either in their on-premise development environments or in cloud applications. As an intelligent enterprise platform, the SCP offers better agility, flexibility, and scalability. It offers more flexibility than its competitors, it is easy to integrate and connect different applications with the SCP regardless of where the application runs and who developed it.
This allows both SAP and non-SAP or third-party software vendors to integrate their applications with the SAP Cloud Platform easily. The SAP Cloud Platform is based on open standards (Java, JavaScript & Node.js) and offers IT experts a range of development tools and capabilities.
SAP Cloud Platform Capabilities
The SAP Cloud Platform provides a wide range of services, tools, APIs, and other application capabilities that help you to integrate and extend your applications. The SAP Cloud Platform services and capabilities are used by many customers across the globe. Consider SAP Analytics Cloud (SAC) services offered by SCP with the intent of providing actionable insights and analytics capabilities. It is accomplished by integrating SAC with any on-premise systems.
Custom-build SAP Fiori applications in the S/4HANA Cloud access SAP HANA and SAP ASE (Sybase) services, SAP HANA Spatial services, build and integrate applications with SAP Concur, SAP SuccessFactors (SF) using APIs available in SCP. SAP offers services to enable the application development on the SAP Cloud Platform and grouped the services into business and technical services type.
SAP Cloud Platform Services
The services offered by the SAP Cloud Platform are further grouped as below,
Integration Suite
Enterprise Extensions
Intelligent BPM
Data-Driven Insights
Digital Experience
Platform Foundation
The above services in the SAP Cloud Platform facilitate many capabilities for users to integrate their applications. A few important and widely-used capabilities in each service category are:
Integration Suite - OData Provisioning, Cloud Integration, API Management, Open Connectors, Smart Data Integration
Enterprise Extensions - ABAP environment, SAP Web IDE, SAP Data Quality Management, SAP Business Application Studio, SAP Localisation Hub, Tax Service, Data Enrichment for SAP S/4HANA
Intelligent BPM - Business Rules, Workflow, SAP Intelligent Robotic Process Automation (RPA) and Process Visibility
Data-Driven Insights - Internet of Things, SAP Analytics Cloud, SAP HANA Cloud, SAP ASE Service, SAP Web Analytics, SAP Streaming Analytics, SAP Leonardo Internet of Things, SAP Data Intelligence, SAP Edge Services
Digital Experience - SAP Fiori Cloud, SAPUI5, SAP Conversational AI, Mobile Services, Document Service, Portal, SAP Build
Platform Foundation - Job Scheduler, Java Server, Alert Notification, Transport Management, Data Retention Manager, Application Logging
SAP Cloud Platform vs. SAP HANA Enterprise Cloud
More often, the SAP Cloud Platform (SCP) and SAP HANA Enterprise Cloud (HEC) are treated as the same products, but they are not. These are two different cloud platform offerings from SAP. Although both use SAP HANA technology to build, extend, and integrate applications, they are different in the services they offer. The SAP Cloud Platform is a "Platform-as-a-Service" (PaaS) while the SAP HANA Enterprise Cloud is an "Infrastructure-as-a-Service" (IaaS) environment.
The HEC is a private hosting service for SAP HANA and its related applications. It is entirely managed by SAP and provides all the functional and technical capabilities of on-premise SAP HANA in a privately managed cloud environment.
In many ways, HEC is advantageous over SAP HANA on-premise such as SAP managed cloud, scalability, reduction in the total cost of ownership (TCO), better time to cost ratio, and comprehensive functional as well as technical services. While on the other hand, the SAP Cloud platform offers many services that are either managed by SAP or other cloud offering vendors like AWS, Azure, and GCP.
Benefits of the SAP Cloud Platform
SAP's Cloud Platform, the SCP is an innovative enterprise-ready PaaS offering to enable an intelligent enterprise. These services are either subscription or consumption (pay for what you use) based. The SAP Cloud platform stands out in the market amidst the competitors for various reasons, such as easy integration with existing solutions or system landscapes. Also, SCP offers rapid deployment of services and applications, build native business applications with low code and event-driven application interfaces (APIs), best user experience, security, ensure business continuity, reduce complexity, real-time data insights.
Video lesson: S/4HANA Public Cloud: The Essentials
SAP Cloud Platform – The Future
The SAP Cloud Platform has already captured the interest of many customers, not only those who use SAP systems but also non-SAP customers as it offers better flexibility and scalability for third party cloud based applications. With the advancement in technology and many exciting features cloud offers, many users around the globe migrate their applications from on-premise to cloud environment. Using SAP Cloud Platform, users have access to a wide range of pre-configured services. Using these services, users can build ready-to-use applications in no time.
The SAP Cloud Platform makes it easier to manage your application interfaces (API) – no matter whether for legacy systems or for new. SAP has already laid the foundation with its Cloud Platform, and it will further enhance its features for all applications. The SAP Cloud Platform (SCP) is the future for today's tech world and is all set to add more capabilities in the coming years.