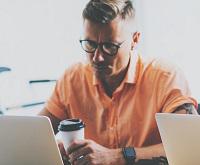 Employers want the best from their employees, and employees want their contributions to be recognized and rewarded. They also need to be developed if there are any gaps between expectations and their performance. However, it often remains an issue in the absence of a Human Resource management system to set goals, track progress, and evaluate performance in a structured manner.
SAP SuccessFactors Performance and Goals Management Solution
To help companies with managing their goal setting and performance evaluation processes in the best possible way, SuccessFactors provides a comprehensive cloud-based solution, referred to as Performance and Goals Management as part of the overall career development to improve performance.
Functions and Features
The main objectives of performance management functions are defining goals by employees or managers, recording activities or achievements, and evaluating performance on a periodic or continuous basis. The SAP Solution for the HR function has all the features required to support MBO – Management by Objectives, including
Powerful Goal Management & Performance Reviews
Accurate Performance Assessments.
With an easy-to-use interface, also accessible through mobile devices, everyone involved in the process can use the solution effectively and efficiently.
Configuration and Implementation
While the SuccessFactors Performance and Goals Management solution is highly customizable and can be configured according to specific business needs, it provides certain built-in features that can be used instantly, just by activating them. Customers can get Performance and Goals Management implemented with the help of SAP Implementation Partners.
A Consultant who is granted access to the backend and frontend interfaces of a customer's SuccessFactors instance adjusts system settings and configures the processes & features to make it ready for use.
Typically, this is done in the following sequence:
1. The system instance is prepared by enabling solution and features, including:
Compiling and Uploading User Data,
Defining Permission Groups and Roles, and
Assigning Users to Jobs and Roles.
2. Goal plan templates are configured, such as:
Adjusting General and Global Settings,
Defining Categories and Fields,
Setting Plan Template Layout, and
Implementing Field and Action Permissions.
3. Performance Form Templates are configured, which includes:
Creation of Rating Scales and Route Maps,
Sections and Fields Alteration and Definition,
Implementing Performance Form Permissions.
4. Performance Management Features are enabled & implemented, including:
Stack Ranker / Team Rater, and
Continuous Performance Management.
Depending on the business needs, the Calibration and 360 Degree Multi-Rater features are also implemented, in addition to the above. Customers who use other languages can also benefit from the solution's language pack feature.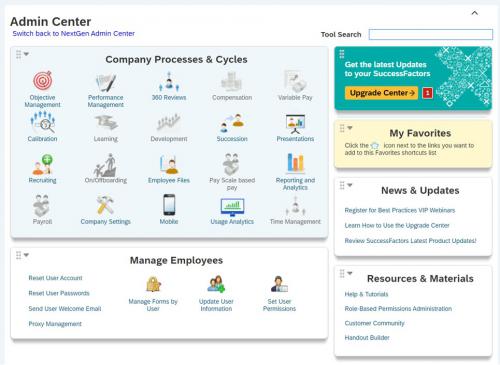 Part of the system settings is maintained in Provisioning and many others in the Admin Center within the system.
Performance and Goals Management Business Process and SAP SuccessFactors Solution
From a process perspective, the system is used as follows:

Goal Management: An Employee uses an already configured Goal Plan Template in the Goal Panel to create, change, view, or delete SMART Goals using the Goal Wizard or Goals Library. His/her Manager can do the same, as well as create Team or Group Goals. They can change the status and progress of any of the Goals.
Competencies Management: Using the Competency Libraries provided by SuccessFactors, the behaviors or competencies people need to exhibit, are assigned to Job Roles within Job Families. Performance feedback is then provided with the built-in Writing Assistant and Coaching Advisor tools.
Continuous Performance Management: If enabled, the feature is used by employees and managers to record activities and achievements in line with their goals on an ongoing basis. It also allows them to request or provide Feedback.
Performance Management: Depending on how the Performance Form Template is configured, the process is carried out in specific steps, from launching the form to using it to evaluate an employee's performance, according to Performance and Development Goals, and Job Role Specific Competencies. An employee's performance is assessed based on the ratings and comments received, to know if the employee lacks, meets, or exceeds the business requirements.
In addition to the end-users, employees, and managers, there are two more roles – HR and IT – who handle the process and maintain/enhance the solution, respectively.
SAP SuccessFactors Training
To be able to provide SuccessFactors implementation or support services to SAP customers, consultants need to learn more about the following:
Solution features such as configuration capabilities and best practices to meet business requirements,
Implementation approach and resources to address customer-specific challenges which can vary from business to business.
If you want to learn SAP SuccessFactors, these training courses can help you with achieving your learning goal. We already have SuccessFactors Introduction and Overview courses and are continually releasing additional courses. Should you like to be informed as soon as the new courses are available, please join our mailing list.