Whether you are starting an SAP implementation or just an upgrade, change management is a critical process to keep in mind.

People are not always happy to adopt new technologies, we often are resistant to change for many good reasons.

For example, when Microsoft changed their menu systems to the very different Ribbons, the most annoyed users were the superusers.

They were already so efficient at getting around that the changes, even though it was more intuitive for new users, it caused much frustration. Microsoft introduced may apps to help the transition but still, people resisted the changes.

Speaking from experience of Maintenance folks, going from a legacy system that they knew well to SAP was not an easy road. Over the years, implementers have learned many lessons but still many concepts are neglected. Even the transition from SAP ERP to HANA has been painful to some companies after GO-Live with user acceptance and adoption.

14 Tips For Improving SAP Implementations
So, what can we do to improve SAP Implementations? "Begin with the end in mind." Do not underestimate users' resistance to change, "show them the money".
Prior to implementing SAP, companies usually spend at least some time in change management. Often user acceptance is neglected or underestimated in the importance of the roll-out.

As an empathetic instructor of SAP, I wish to convey to project leaders, maintenance managers, and consultants what insights my experience has brought to my attention. We can do better!
"Begin with the end in mind".

Why the change? Explain in the appropriate language to each audience. Show the benefits of the changes. Their job may be easier and more relevant and connected. Value a constant learning attitude, constant improvement, and reinforce that.

Explain how 85% of the world runs SAP so it will look good on their resume.

People are generally motivated by "what's in it for them" Investment in education - encouraging better computer skills with courses, resources, and coaching.

Users with aptitude should be encouraged to contribute to training documents, tips sheets, help desk docs, and whatever other resources you can make available.

Assign ownership, encourage the use of templates, videos, etc. to reinforce knowledge.

Ask the questions who has what skills, who needs what skills, are we tracking achievements? This analysis will improve the bottom line, safety, profit, and reliability.

Show the users all the charts and graphs simplifying the data inputs (trends, problems/causes/solutions) so they appreciate what reporting will be possible from their efforts.

Focus on ease of accessing forms, job aids, operating and maint manuals, job aids, checklists, legal forms that the improvements should deliver.

Reduce complexity globally: upfront effort has a huge payback. Superusers should own global and site defaults for search screens (Variants), otherwise too many search fields on search screens add to the difficulty in usage.

Process steps should be in variants; each variant should be numbered as to Business Process step and made generic enough for users. Define the process, encourage, and share.

Teams should establish efficient meetings with key stakeholders and be prepared with answers, a positive constant improvement attitude, and not silos.

Create easy to use documents for help and procedures; issue type (problem or symptom, cause, and solution). Checklist steps, links to other resources, and guidance, for example.

Establish Superusers, owners of defaults, give them a 'train the trainer' type of program to incentivize learning.
A Few More Helpful Hints
Something vital to keep in mind: some Images from SAP ERP can be set globally for all users to benefit!
Does your ih01 screen display Equipment and Material Information as defaulted in SPRO?
(legacy number, Permit, PLG, WC, Cost Center or WBS, Status, Object Type, Warranty);
Are all your Global Default Variants protected, set to "fit to screen" and owned by a superuser? Is your ih01 set with dynamic current date or are new users not seeing updates? (example Global Variant SAP_tcode_iw28, no scroll bar)!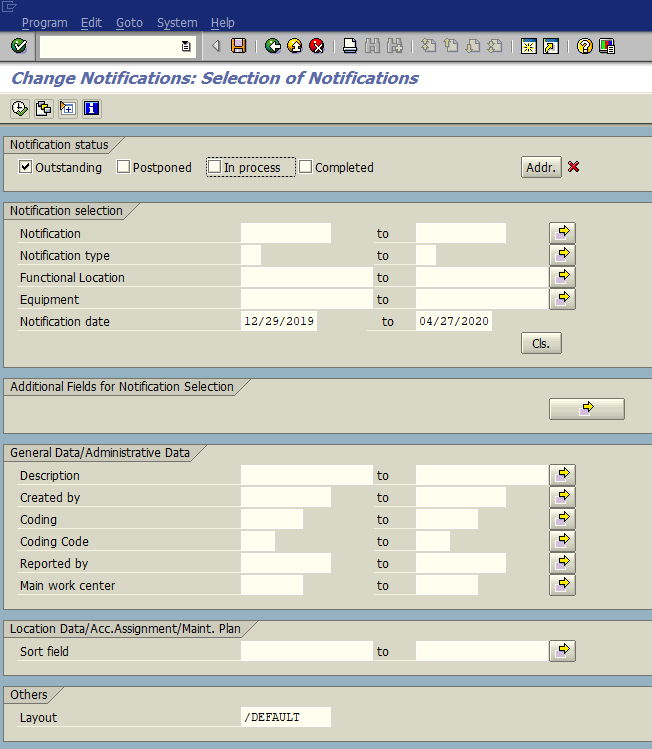 Are your Order, Task List, and BOM Edit columns all matched and set properly to allow easy data entry as well as paste from data sources? (PS: Add all required columns so no pop-ups).


SAP Change Management Courses
If you want to build on these foundational tips, check out Michael Management's course on Tips for SAP End Users.
In addition, check out our Basic SAP Configuration course to learn what configurations are possible in SAP, in order to better support t your clients' requirements
Anyway, I hope you enjoyed this post and find the tips useful.
And, thank you for sharing this post!