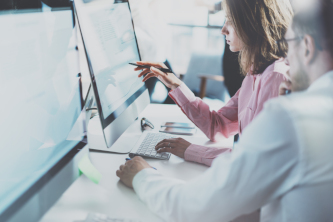 SAP Fiori is a design system that empowers you to create business applications for an enormous variety of different uses.
However, Fiori is the name of the overall feature set for SAP. There are also dozens of smaller, additional features underneath the title of "Fiori."
One of those features is Launchpad.
Launchpad is a shell that allows you to host the apps that you have in SAP. It acts as an "entry point" for mobile and desktop devices, allowing SAP users with the proper permissions to access the applications they need for their daily work.
But why would you want to use Launchpad? What are its advantages?
In this blog, we'll take a look at the top 5 advantages of using SAP Fiori Launchpad for your business.
1. Personalization
Personalization is the process of allowing someone to customize an interface to their exact liking.
Personalization is one of the most in-demand features of any software in the world right now, allowing businesses and individual employees to create their own views of their work that best suit their needs and productivity.
In Launchpad, personalization translates into allowing someone to arrange their dashboard of applications in any way they'd like. It also gives them the chance to pick and choose the applications that they use most frequently, make them most noticeable, and access them more easily.
In other words, personalization translates to ease of use on an employee-by-employee basis. This makes it exceptionally valuable to enterprise-level businesses where large departments need access to the same general suite of applications, but each employee may use those applications for different needs.
2. Spaces
In addition to personalization, Launchpad's "Spaces" allows groups (like individual departments) to customize their dashboards on a group-by-group basis.
This means that the marketing team, sales team, IT team, etc. can all have their own dashboards that are pre-made with the essentials that each employee needs in that department.
Then, an individual employee can personalize their own dashboard further, tweaking it to be perfect for their day-to-day roles.
Spaces also make it easy for a company to hire and onboard a new employee with the base amount of information they need to start working. Once an employee logs in, they enter their department "Space" and see what's available to them.
3. Embedded Support
Aside from customization, Launchpad also comes with embedded support options.
This is mostly important because SAP is such a broad and all-encompassing software, it's easy for new users to feel lost or perhaps even overwhelmed.
Embedded support addresses this potential by giving employees the chance to reach out to a support specialist, find support documents, and acquire other forms of help as they work in SAP.
With embedded support, there's no need to send a separate email or fill out a long, complicated support ticket.
Instead, employees can get their answers and move on with their days.
4. Notifications
Notifications are a part of almost every software suite today, but they're exceptionally important for Launchpad.
This is because Launchpad is designed to be a self-contained experience for employees, meaning they can do a large portion (or all) of their daily work from their interface.
Notifications make this possible by removing the need for constant back-and-forth in other communication media, like email or telephone.
Instead of making independent calls or outreach, employees can see the messages and updates that are important to them as they work within their interface.
5. Search (Enterprise Only)
Finally, one of the biggest advantages to SAP Launchpad is its search function.
While only available in SAP Enterprise, the search function empowers employees to look up information across all applications and business objects.
This gives employees an enormous range of potential opportunities when they need to find something specific in such a broad database like SAP.
In essence, the Enterprise search function is finely-tuned to discover the important information and ideas related to a user's search query.
Want to Learn More about SAP Launchpad?
Take a look at our comprehensive write-up on our website.
Our team is exceptionally experienced in SAP and all of its inner-workings, which is why we're a leading supplier of SAP educational materials.
If you're looking for SAP courses, updates, certifications, and more, we have what you need. Or browse our access plans, some of which include FIORI access, if you need a real SAP system to learn, practice, or explore on your own.