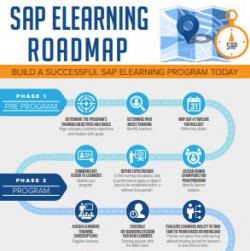 Yes, it is that busy season again… with everything from year-end closing, new year budget creation, the holidays and the New Year you may be feeling overwhelmed.
Here at Michael Management Corporation, this is the time of year we help our customers report on current SAP training ROI and focus on forecasting training needs for the new year.
While I was assisting one of our customers with their training budget forecasting, I came across a couple of interesting training survey's that I wanted to share.
Download infographic:
SAP eLearning Roadmap
SAP Training Survey
The first survey I always share with our customers is actually our MMC SAP training survey, this year the information and opinions captured were provided by 865 SAP professionals.
The key take-aways from this report are:
67% of respondents prefer online SAP training over any other delivery method.
Almost 50% of SAP professionals say that they can devote 30 minutes – 1 hour per training session, while 28% say they can spend more than an hour.
Almost 1 out of 3 respondents (31%) cites not having access to useful training material as their main training challenge
A frightening 44% of all SAP professionals state that they have not received sufficient training to perform their job duties. Think about that for a minute.
Organizational Training Survey
Secondarily, I came across this Brandon Hall Group survey about organizational training and could not help but see similarities between our own MMC SAP training survey. The BHG survey is a general training report but does overlap with our SAP specific survey in several ways.
The key take-aways from the BHG report are:
More business leaders have primary responsibility for learning budgets than CLOs/heads of learning.
eLearning is the most expensive learning experience to develop, and video learning is the least expensive, eLearning is utilized 28% more often.
58% of organizations spend more than $1,000 per learner on training for senior leadership - compared to just 39% for high-potentials and 32% for mid-level management.
The classroom is still king in terms of use -- it's chosen 22% more than any other modality. But coaching/mentoring is seen as more effective for the third consecutive year, while usage is 37% less.
The overall theme seems to be more training for the business units and end-users is extremely important but seem to be often underfunded and overlooked.
Are your training plans for the new year completed, will you be able to keep pace with the best run/trained benchmark organizations?
Ask yourself or your team that question and if you don't like the answer, then look for training options that include:
Extensive course library
Courses with quizzes or knowledge assessments
Comprehensive reporting & tracking
Cloud-based learning platform
Self-paced learning curriculums
Dedicated account manager
Training Needs Assessment
Finally, I came across this How to Conduct a Training Needs Assessment which breaks down the needs assessment into these 4 bullet points:
Identify the Business Need
Perform a Gap Analysis
Assess Training Options
Report Training Needs and Recommend Training Plans
I hope this information has been helpful. As always, we're here to assist you in your SAP training needs – in fact, take a look at our SAP Training Roadmap! Have happy training in the new year!