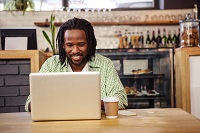 Technological disruption is affecting nearly every industry right now, impacting revenues and consumer behavior and leading to massive changes in companies' business models.
In fact, digital transformation is shocking both companies and industries alike.
Because Michael Management is in the SAP training industry, we decided to do our own case study about how technological disruption is affecting learning, which, of course, includes SAP training courses.
After much research, we think Steve Bandrowczak, the COO of Xerox Corporation, said it best in a recent CIO Dive article: "Industries don't even know they [are] being disrupted."
This is why continuous learning, across all industries, is more important than ever before, and also why executives across industries are in agreement it's no longer optional.
To demonstrate, we made a list of the top 5 ways technological disruption is affecting learning. Here's what we found.
1. New opportunities for learning and industry change
Technology has (finally) taken the reins in learning, leading to a better overall experience for teachers, students, and staff members alike.
This (luckily) goes against the long-standing notion that education is slow to change. In reality, the education industry has also been affected by technological disruption, which means both more learning opportunities and increased competition for companies in the space.
This is, in large part, the result of e-learning and loss of a physical barrier. Simply put, geographical location is no longer a hindrance to what teachers and learners have access to.
Young people are foregoing typical lengthy and expensive college degrees in favor of faster, more practical online degrees and certifications. In fact, seventy-five percent of Generation Z think that there are ways of getting a good education besides going to college, according to an article by Inc.com.
"More than a third of college students are over the age of 25, and an increasing number are learning virtually, forgoing the campus experience altogether. Nearly three million students are enrolled exclusively in online courses, while another three million are taking at least one online class," Northeastern University said on its website.

2. Virtual lessons
Colleges and universities are reaching underserved markets, virtually, by bringing the learning experience directly to the learner.
Virtual lessons mean that even if a teacher can't get to their classroom, students don't miss out on getting their educations. Bad weather or health problems do not affect either students' or teachers' ability to be a part of class. In fact, to digital-savvy learners, the digital world is simply a part of who they are.
They want extremely flexible, highly-personalized educations that can be where they are. And why not, particularly when this "flipped model of the classroom" can actually improve comprehensibility and retention of information.
The ability to view past and present lectures on-demand means learners are able to focus on their problem-solving and critical thinking abilities instead of their slide-reading ones.
Connected classrooms (that go beyond having a video projector) allow professors to send out quizzes in real-time and engage their learners through "gamification", which is proving to be a very helpful part of learning.
These strategies engage students in both e-classrooms and regular classrooms and turn boring subjects into more memorable ones.
Technology is also helping to bridge the gap between education and actual employment, giving learners more tools than ever before to connect with businesses looking for (cheaper?) prospects.
Students are also able to get career advice more readily than ever before, from just about anyone who works in their desired industry. LinkedIn, anyone?
Also, read this recent story for an inside look at how Michael Management develops successful online SAP training courses
3. More research tools
Remember when you used to use Cliff's Notes and it was the best thing ever? Well, it's even better now.
Classrooms, and homework assignments, are better and more interactive than ever before, which benefits both students and teachers alike. For example, apps like Kindle allow students to highlight relevant passages to refer back to or make annotations.
Simply having an internet connection means learners (and teachers) can look up (and cite) pretty much anything they need, and a lot faster than ever before.
4. Innovations in online learning
The e-learning market was valued at around $190 billion in 2018, according to a report by Global Market Insights. Interestingly, college enrollment in the United States dropped for a fourth year, with online enrollment continuing to rise.
One of the most fascinating aspects being used is artificial intelligence (AI). AI is being used to develop advanced tutoring tools and personalize user experiences. One example of this is BYJU's, a learning app specifically developed to make math and science tutoring available to students in remote areas or who have restrictive disabilities. The app currently has two million subscribers, 30 million app downloads, and its estimated valuation is over $5 billion.
The e-learning platform Coursera, which offers similar options for higher education, works with universities to offer advanced online classes. Coursera is one of the largest online learning providers, competing with other "mega universities" like edX, Udacity and FutureLearn. Interestingly, these platforms are performing extremely well while individual online universities like Arizona State or Georgia Tech are peaking out.
"We're in the phase of living the questions about AI. What does it mean for me? For my organization? What kind of cultural changes will take place?" said SAS principal consultant Marcia Walker in Smart Industry. SAS Institute recently announced a $1 billion investment in AI over the next three years with a focus on software innovation and education.
"AI augments the human intelligence. We are investing human assets. This is an investment in education and training, along with an investment in technology and an investment in the infrastructure that goes with the technology," Walker said.
5. Unrestricting restrictive costs
The use of online education has introduced competition and, with that, come lower costs. For example, MOOCs, or massive open online courses are free to learners. Unfortunately, MOOCs and other free high education resources have their downsides.
"MOOCs are a bit like exercise bikes: you start with the best of intentions, but most of the time exercise bikes end up under the bed, and MOOCs end up incomplete," Deakin University's Dr. Phillip Dawson told PricewaterhouseCooper's Digital Pulse. The report also cited that having highly differentiated content lowers the attrition rate.
Disruption in the delivery of education is not all bad and, in many ways, is opening up otherwise impossible opportunities and at cheaper costs. Universities and other education providers must now keep up with this disruption by finding ways to differentiate themselves from the rest of the pack.
That's what we did.
By providing SAP training to our 30,000-plus learners, we give them one of the most valuable and sought-after skill sets in today's workplace. If you're ready to begin your SAP skills e-learning journey, register for a free SAP training preview.