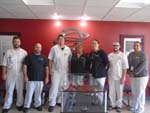 We interviewed Tom Adkins, the training coordinator of Musashi, winner of our 1st Annual SAP Training Challenge.
With Michael Management as a training partner (and plenty of hard work) Musashi has created effective SAP training plans, processes and learning development requirements, that are solving real challenges.
We asked Tom how his training program has been so successful:
Michael Management: What strategies have you used to engage or involve your different department heads and their teams with our training?
T: We have strongly encouraged our associates to spend at least 2 hours per week on training. We track their time spent and send out weekly notifications to users and management to keep them updated.
MMC: What was the biggest training challenge you faced prior to working with Michael Management?
T: The biggest issue that we had faced with training was being able to track the progress of trainees.
MMC: What benefits have you seen from the making SAP training available to your team, department, or company?
T: We have seen some of our departments be able to create new processes and streamline older ones. Our accounting department was able to rectify a past issue.
MMC: How do you supplement and reinforce the SAP training received from Michael Management within your organization?
T - The associates that are participating in Michael Management training are heavily involved in SAP as part of their day to day responsibilities. Most of them have been asking for proper training for quite a while.
MMC: Within your organization how do you reward or incentivize the completion of training?
M: The training and improvement of SAP functions have been incorporated into departmental business plans and are reported on to top management.
MMC: On average how much time is spent training your team per/day?
T: We track per week, and right now we are averaging about 3 hrs/week per associate.
We have worked with many teams such as yours to make learning SAP easier, faster, and a lot of fun. Email us with any questions: info@michaelmanagement.com