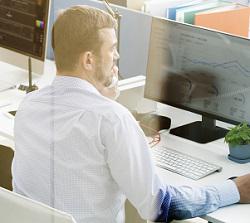 The value of a competent SAP S/4HANA Basis Administrator is rising and is expected to increase even more as the use of data in business grows.
The future for a career in SAP is looking bright, but this role requires a proper skillset and continued training to remain competitive.
Here we will dig into the SAP S/4HANA Basis Administrator's role, clarifying their benefits for businesses and why training is so vital for the position.
What is SAP S/4HANA Basis Administration?
SAP Basis Administrators perform a multitude of activities, from maintaining system performance to troubleshooting errors. With the migration to SAP S/4HANA, these responsibilities have become more complex.
Subsequently, it has become imperative for businesses to invest in SAP S/4HANA Basis Administrator to make sure they remain up to date, and their systems function correctly.
How Does SAP S/4HANA Basis Administration Benefit Businesses?
An SAP Basis Administrator keeps the SAP environment for a company running properly. Without an administrator, a business can't run SAP for its operations. Thus, the SAP Basis Administrator is an essential role for companies relying on SAP.
Without an administrator, a business' SAP system will quickly become ineffective as configuration, updates, and other daily needs of the team will not be met.
With an administrator, teams can get the support they need and can focus on getting things done with the right tool set inside SAP.
A company's need for an SAP Basis Administrator who is reliable and maintains their skillset makes this position extremely valuable to a company. Someone who can stay up-to-date with administrator skills is likely to excel in their career.
What are SAP S/4HANA Basis Administration's Main Features?
With SAP S/4HANA Basis Administration, you can consistently monitor the health of your SAP landscape. SAP Basis Administration entails activities that often extend beyond the scope of the IT department. With SAP S/4HANA Basis Administration, you can perform a variety of tasks to manage the different editions of the system, including versions for Cloud Marketing, Cloud Project Service and Cloud Enterprise.
Here are some of the main features of SAP S/4HANA Basis Administration:
Monitoring the System
SAP Basis Administration allows you to conduct monitoring activities for your system. This sounds basic, but it is crucial for maintaining a healthy SAP system. As an SAP Basis Administrator, you can first ensure that the system remains available.
Secondly, you can conduct daily maintenance through several activities, including tasks such as reviewing logs, load balancing, managing backup, and, most importantly, troubleshooting. Through regular feedback from other departments, you can also check the efficiency of your system.
Scheduling Jobs
Your SAP landscape is continuously performing several automated jobs as part of its primary operations. As these jobs consume resources, administrators have to make strategic decisions regarding when to run these jobs. In most cases, administrators will choose a time when the user demand is generally low. This is to ensure that the system keeps running efficiently without any hindrances.
SAP Basis Administration makes it possible to schedule these jobs. For example, in some instances, the system needs to extract, transform, and load data from various sources. Through SAP Basis Administration, these jobs can be scheduled effectively to ensure that the system performance remains unaffected.
Strategic Planning of System Updates
As an SAP Basis Administrator, you are responsible for making sure all systems are running correctly and as efficiently as possible. Updates are an essential part of keeping systems healthy and improving functionality, but they require proper implementation and troubleshooting.
The SAP Basis Administrator is responsible for planning, implementing, and troubleshooting updates so that the system runs smoothly, supporting the company's users.
Why is SAP S/4HANA Basis Administration Training Required?
There are two main reasons why training is required for SAP S/4 Basis Administration.
Base Qualification - A minimum skillset to be an administrator is required. Training is the most practical way to reach this minimum level needed.
Keeping Up - Just having the base level of skills is not enough to properly administer SAP in the dynamic business environment almost every company operates in today.
SAP programs and the businesses that utilize them are dynamic. Changes in operations, staffing, resource usage, updates, and many more variables mean changes in how SAP is used.
The SAP S/4HANA Basis Administrator has to keep up with this dynamic environment and updates as SAP evolves. Training on the latest features/updates allow administrators to keep up and even excel above their peers.
What Can SAP Users Expect from Online S/4HANA Basis Administration Training?
There are several SAP training courses and certifications available on-line for each task that falls under the Basis Administrator's responsibility. The most effective courses provide guidance on methodology, configuration, and best practices, and they do so through manageable course lengths, task specificity, and hands-on practice.
Start at the Right Levels
Depending on your previous skillset, you can choose a level that suits you best. It is essential to select the right starting level for the most valuable learning experience.
In fact, superior SAP course providers will typically employ various skills assessment tools to determine which level is suitable to begin with.
Best Practices
SAP Administration training should include an overview of configured business processes based on industry best practices. In the initial configuration stage, you can use these as a starting point for implementation.
By using the model for best practices, you can conduct implementation more efficiently. Best practices usually include sample data, which can be used as a starting guideline.
Guided Configuration
After you choose your level, you can expect the training to start with step-by-step guidance on the configuration. This step runs you through the process detailing how to configure and efficiently use the SAP landscape. This also includes advice on tools to help activate best practices content and make customized adjustments.
Methodology
The SAP S/4HANA Basis Administration training should also feature guidance on methods to activate the software through careful explication of the SAP Activate Methodology.
How Can Michael Management Help?
At Michael Management, we aim to provide you with a platform that allows you to increase your earning potential with effective and affordable training.
Taught by Experts - Our SAP Basis Administration eLearning courses are taught by industry experts with practical experience. This allows you to get insights and tips from the best in the business, not just professors teaching from the book.
Affordable - The Michael Management learning environment is built to help you learn the real skills you need for career growth at an affordable price. You can even preview your first lesson with a free trial.
User Friendly - Our learning paths help you see where your most significant potential is and the best way to improve your skillset.
Get started now with the free preview edition.