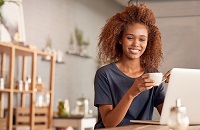 YES! You made the decision. You are going to get your SAP training on and finally get certified. So, now what? Below we will cover the steps necessary to get certified in SAP. Don't worry, I got you.
Start where you are
You want to start your SAP training and you want to make the most of it by training for a certificate. But, which one? The first step to determining what certificate will work the best for you is the most basic. What do you do now? If you are already working as an SAP end user and you are in accounts payable, then you may want to go for the first and most obvious choice and get certified as an SAP Accounts Payable Specialist. To earn this certificate, you will need to take about 20 hours of on-line training, pass quizzes to test your knowledge and then pass a final exam. This can be done at your own pace, so don't panic because you can't put 20 free hours together this month.
Start where you want to be
You can also decide to make the leap into a new field and get certified in a skill set you want to move into. While you are the SAP Accounts Payable Supervisor, you may have your eye on SAP General Ledger Accounting. You know that position pays more and you want to apply for a move in the financial department. There is no better way to show you commitment that by becoming certified as an SAP General Ledger Accountant. For this certification path you are looking at about 31 hours of training. There are pre-requisites for this advanced level of accounting as well.
Learn, learn, learn
After you have signed up for your courses, there are a few steps that you can take to help you in your path to certification. Here are a few tips to help you succeed in your eLearning;
Make sure you have great Internet access – reliable Internet is important when streaming video, taking notes and taking tests online. If you aren't training at work, make sure you are in a place with reliable service.
Develop a study plan schedule – just like "regular" school, you need to set time aside for your eLearning. Set goals for yourself and stick to them. Don't procrastinate on your training.
Have a place to learn – go to your designated study place if you can. Can you take your lunch hour at work and go to a quiet conference room? If training at home, set up away from the bustle and distraction of the house.
Take a break – if you are training for a few hours at a time, remember to take a break after thirty minutes to an hour on-line. Look away from your work and take a break or walk. Then come back fresh for your next assignment.
Keep the motivation high – when you don't feel like training, come back to your motivation. Think about that new job, promotion, more income, or pride and satisfaction that will come when you complete your training. Focus on the goal.
Take a look at the career paths to get Certified in SAP and make the leap toward your future today.
What is your motivation to get SAP Certified?