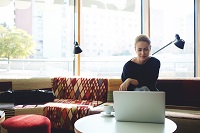 It is not an urban legend. Your future employers will look at your social media profiles. Not only is it important to clean up your image, but to add to it as well. Last week SAP Expert John Reed shared his thoughts on how to showcase your SAP skills. It is important that you take the time to improve your on-line persona before you start looking for your next position. In this article, we will cover several platforms and give you some important reminders of where to look and what to change.
According to recent information gathered by themuse, "85% of employers indicate that they are less likely to hire candidates whose social networks profiles or tweets evidence unprofessional behavior." Jobvite found that, "92 percent of recruiters now use social media as a part of their recruiting process."
According to the 2012 annual technology market survey from Eurocom Worldwide, "One in five tech executives say that a candidate's social media profile has caused them not to hire that person." Another recent survey shows that 37% of firms across industries browse social media profiles to evaluate each candidate's character and personality.
Google yourself
I think that you will agree that most employers evaluate you and make a judgment based on what you post on-line. So, present yourself in the best social light. A quick Google search will show you a social account, blog or article you may have forgotten about. It's good to check.
Does LinkedIn match your resume?
LinkedIn is specifically for networking and job recruitment. 93 percent of recruiters use LinkedIn as the primary on-line tool to evaluate a candidate. Is your profile up-to-date? Review your LinkedIn account and make sure the time lines; job titles, description and work highlights match your resume. Be sure to add all awards, SAP training, volunteer work and groups of interests on LinkedIn. This is your chance to get a little more information about you in front of a prospective new employer.
Pay attention to your updates, comments and published articles. Delete anything that seems unprofessional.
There's more to Facebook than your profile
First, do the obvious – delete pictures and posts that show racist or discriminatory comments or actions, delete posts with profanity, partial nudity or illegal activity. Nix everything that shows you had poor judgment.
Once you have taken care of the obvious issues, take a moment to scan your comments. Make sure to hide or delete comments that meet any of the above criteria. Also remove rantings about co-workers, or previous jobs and bosses.
Look at your friends and what they post on your account. If you have some offensive pals, no need to un-friend, you can hide their posts to keep your timeline looking a little more professional.
Double check your profile and bio information. Be sure to update it with current employment (if you choose to list it) and any other relevant information you want to share. You also have the option to set your page to private.
If you scrub your profile squeaky clean – you may not get the job
Most tips focus on what to remove – but you need to know that there is a trend that is turning recruiters off. The too clean account.
"According to a survey by the Chartered Institute of Professional Development (CIPD), two out of every five employers look at a candidates' Facebook, Twitter or LinkedIn profiles before recruiting them. Forbes once reported on a 21-year-old college intern, working at a recruiting firm, who'd been hired to vet candidate social media profiles for her bosses. The intern was ordered to toss candidates who didn't have wedding photos, baby photos or photos of themselves attending parties with friends on their social profiles. A profile without character, according to the recruiters, suggested that it had been scraped clean to get rid of racy or controversial content. The recruiters also thought that a clean profile without photos indicated that the person didn't value relationships and might not get along with co-workers."
Show who you really are – be yourself
If there are posts that show who you are and what you care about. Leave them. You want to find a job where you fit in, so don't neutralize your personality. State your opinions, just be respectful. Post for the causes you care about, go ahead and tell your friends about the latest gadget you loved. You don't need to be generic to have a profile that is attractive to future employers.
Other accounts to think about
Look at your You Tube videos, check out your blog posts. Take a quick look at every social platform on which you have an open account. Do a quick once over and make sure it looks professional, shows your personality, and has accurate information. Adjust privacy settings as you go. Twitter can be a platform for you to display your opinions, and that is great. Be sure to look at your content and make sure it passes the new employer professionalism test.
There is good news derived from all the studies mentioned above. The top reasons to hire you – good personality, wide range of interests, background was accurate, and professional image. This means you need to let your incredible personality show through because that is still your number one asset.