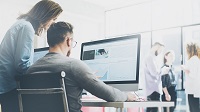 Do you know how to create a business case for S/4 HANA in your organization? In addition to our SAP training, we want to keep you up to date on the best business techniques surrounding SAP software.
Companies have questions about HANA and its potential.
A structured plan can help managers and executives think about building a business case for HANA.
The presenter for this webinar is Arun Trivedi of Cognizant. Arun is the director of Cognizant's SAP practice and leads the sales & revenue transformation practice in North America. He is an SAP Practice Leader based on the West Coast and a frequent speaker on HANA and related topics.
This webinar will present an overview of S/4 HANA, high-level capabilities, and key considerations for building a business case for a strategic roadmap and implementation plan. You will get a simplified framework for building a business case for HANA and a sample strategic roadmap and implementation plan.
The HANA Platform improves the four core levers of your business - Cost, revenue, operational efficiency and people experience.
In this webinar you will learn your options for implementation
New Implementation – new or existing SAP customer implementing a new SAP S/4 HANA system with initial data load

System Conversion – complete conversion of an existing SAP Business Suite to SAP S/4 HANA

Landscape Transformation – Consolidation of current regional SAP Business Suite landscape or selective data transformation into one global SAP S/4 HANA system
S/4 HANA is the next-generation business suite.
It is a new product fully built on the SAP HANA platform and designed with SAP Fiori user experience (UX). It delivers massive simplifications (adoption, data model, user experience, decision-making, and processes) and innovations (Internet of Things, Big Data, business networks, and mobile-first) to help reinvent businesses.
This webinar is about 35 minutes long.
Are you ready to develop a business case to bring S/4 HANA to your organization?