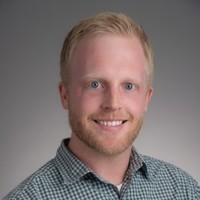 How many of you can explain what the SAP Cloud Platform is? I'm assuming that most of you who are reading this blog have a vague grasp, or at least an awareness of the term, but not necessarily a comprehensive understanding of exactly what the SAP Cloud Platform is and what it does.
Luckily, Jon Yagos is both a great teacher and an SAP Cloud Platform expert who did all the work for us. Jon's beginning level course provides students with an understanding of what the SAP Cloud Platform is, how it fits into an enterprise architecture, as well as a walkthrough of how to set up a trial account of the Cloud Platform.
Meet Jon Yagos
Jon is an SAP professional with experience in partnering with customers to help them understand the value of technology across their enterprise as both people and processes grow and change. Jon's MMC courses look at the future of intelligent enterprises as well as cloud based development and extension platforms. He is definitely on the cutting edge of SAP's future and development. He's current working on a course surrounding IRPA (Intelligent Robotic Process Automation).
I personally enrolled in Jon's SAP Cloud Platform course and was very impressed with the depth that he was able to provide in a thirty-minute overview. For anyone who is looking to further their understanding of SAP's Intelligent Enterprise, Jon's course is a fantastic place to start.
Understanding the SAP Cloud Platform
Watch our interview to get a further understanding of the SAP Cloud Platform and what it means for students, customers and SAP as a whole.
What is the SAP Cloud Platform?
As Jon puts it, the digital era is rapidly changing and it should be no surprise to us that as businesses grow and adapt to new environments and demands, companies such as SAP will respond and deliver accordingly. SAP's game plan for the creation of the cloud platform (also known as SCP) was quite straight-forward.
SAP recognized that customers were living and breathing in a hybrid environment, meaning that not all systems were comprised only of SAP or other single vendor technology but rather of multi-vendor applications as well as hardware. In addition, with the movement to cloud, on-premise was no longer the 'norm'.
Therefore, SAP decided that customers needed a single platform to integrate ALL of their hybrid environments, build new differentiated apps decoupled from the core ERP, and extend applications that were already running.
In a nutshell, this is how the current SAP Cloud Platform came to life. Below is an image from Jon's course that outlines the timeline and development of the current cloud platform.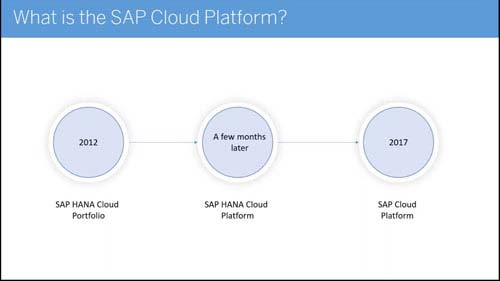 A Need for Innovation
SAP's Cloud Platform came out of SAP and customer's need for innovation. In a typical environment, customers would innovate and customize and create new things at the core ERP level, which makes upgrades and enhancements very difficult.
SAP is now going to the SAP cloud platform for the innovation experience so that customers can keep their core clean. This means that customers can leave their core ERP system (currently S4HANA) clean and non-customized, but when there is a need from the business to make those customizations, that will happen in the cloud platform.
In addition, within the cloud platform, there are services available around application development (DevOp) services, Intelligent technology (AI), (Conversational AI) and integration services.
Cloud Vs. On Premise
In easy-to-understand terms, cloud means that somebody else is hosting the software, whereas on premise means that each business manages their own hardware/data/infrastructure etc. On premise environments require each business to have their own data center as well as manage and run their own hardware.
Managing your own data was the 'norm' 5-10 years ago, but with cloud based solutions, customers no longer need to be in the business of supporting hardware and data centers, but rather, can offload their software to a Hyperscaler such as Google Cloud, AWS (Amazon) or Azure (Microsoft). Jon states that these are known as the 'big three', but there are several more. These centers manage all the servers for customers, setting up data centers, taking care of infrastructure, guaranteeing uptime and making sure hardware doesn't go down.
SAP has partnerships with several top Hyperscalers and is able to run the SAP Cloud Platform on each of them. However, Jon does note that there are some limitations to which programs can be run of each of the Hyperscalers. SAP is working towards a unified approach which would allow customers to run the SAP Cloud Platform on the Hyperscaler of their choice.
What does this mean for SAP?
Jon stresses that on cloud is where innovation is going. One of the best advantages to SAP's Cloud Platform is that SAP is able to automatically update the system as quickly as every two weeks. This is a vast difference between cloud and on premise, seeing as on premise customers will get updated service packs once or twice a year as opposed to every few weeks. Due to this, on premise customers are often quite behind on upgrades and enhancements leading to security risks and a disadvantage for new innovations.
Jon encourages that as SAP continues to move towards a cloud based company, all innovation will go to the cloud first and then be introduced to on premise based customers. The SAP Cloud Platform allows SAP to keep up with the changing demand of customers and new approaches towards innovation.
In recent years there has been a big movement around intelligent technology (API Connectivity, RPA, AI, Machine Learning), and these are all services that have already come or are on the horizon on the SAP cloud platform.
Preparing for the Future of Innovation
In the last three years, Jon has seen drastic changes within SAP and 'next gen' technologies. Who knows what the world will hold in the next three years, but one thing is certain: there is a lot more intelligence coming into play.
Jon stresses that students need to prepare for the ever-changing future of innovation by staying abreast on intelligent technologies. New technology is being embedded into core SAP technologies (such as S4), so understanding the basics of S4 will allow students to continue to innovate and better differentiate themselves and their businesses.
As indicated previously, if you need somewhere to start, I recommend diving into Jon's course overviewing the SAP Cloud Platform. It's better to be ahead of the trend than frantically trying to catch up.
We live in exciting (albeit sometimes overwhelming) times, so being equipped with basic SAP skills needed to understand intelligent technology and the future of innovation is invaluable.