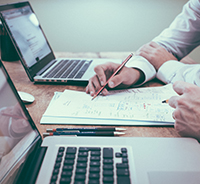 There have been major changes in the IT industry, especially with the introduction of RESTful Programming Model e.g. ODATA. These changes all lead to the Micro-service architecture, which it did not make sense to me, as I have been an ABAP developer and this was not relevant to me, I was living in my own ABAP world, there was only ABAP, no other ABAP worlds interested me.
The term made sense to me when I registered into SAP Free Cloud Trial Account, it took me a while to learn all the terms and concepts relevant. JSON has been adopted across the industry, this was a milestone not that I cared as I am an ABAPer, JavaScript or JSON did not mean much to me. JSON gave rise to OData and Restful services, which again was a big change, as each program can expose itself to outside like a database.
The industry started changing: AWS started to dominate the Cloud technology; the cloud started getting more and more important. Additionally, out of all these a new architecture is born aka Micro-service Architecture…
I was an ABAPer and there was a part of me questioning "do I need to know all these?" Well, the answer came soon suddenly, SAP put UI5 out and announced the Fiori and the new way of developing UI interfaces. What? SAP announced all the SAP GUI controls are obsolete for UI including Web Dynpro and UI5 is the new way of doing everything for UI.
I was in a shock, UI5 was another SAP product based on RAP (Restful ABAP Programs). RAP was a huge change and brought a change that no one could comprehend. ABAPers need to learn JavaScript and ODATA, which is completely different, loosely typed, dynamic, and asynchronous.
In the ABAP world, everything is synchronous, meaning you need to wait for each step to go onto the next one. ...