SAP Work Orders are an integral part of the SAP Work Management process. They constitute not only the planning and scheduling of the maintenance work involved but also crucial historical information that helps develop business and asset improvement strategies, forecasting, and budgeting.
Most organizations excel in the planning and scheduling of Work Orders (or internal orders, maintenance orders, service orders, etc.), as these are more imminent and very required in nature. But most organizations also excel in failing in the proper closeout and workarounds required to complete an SAP order as these activities are usually seen as unimportant and menial.
As a guide, below is a list of 10 Essentials when completing SAP Work Orders. These essentials may differ with different organizations and processes, but serve as a checklist for those that may require some guidance.
Depending on your SAP configuration of the order type and functional location, an order can be technically completed (TECO) in the master data record without these activities being completed. If this happens, specific users will not be able to perform their functions or enter history relating to their tasks. This could lead to re-work, delays, and not accurately capturing history, usage, and costs of maintenance.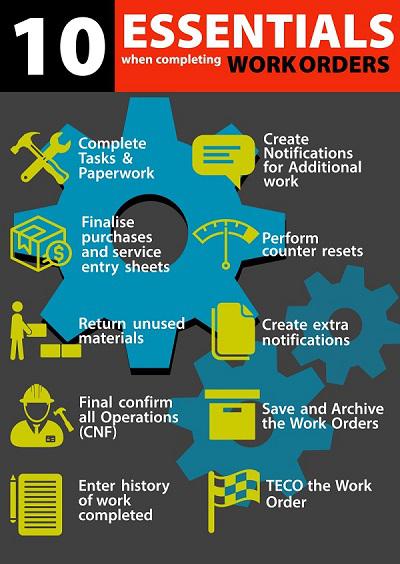 1. Complete Tasks & Paperwork
This is the most obvious of the commandments when closing a work order. It commands that all work for all operations in a work order have been completed; this does not just mean the actual task required. Still, all areas of pre-start checklists, safety, proper put-away of tools, and any paperwork that is required to be completed that may not be obvious to do.
This step is essential because it informs stakeholders if tasks have been completed and if assets are safe to be utilized.
2. Finalize Purchases and Complete a Service Entry Sheet (SES)
Processing open purchases and completing service entry sheets is the process of making sure that all materials and external labor have been receipted and utilized in the operations.
Timely and adequately completing these activities allows the Purchase-to-Pay process to be completed. It gives the accounts payable team the prompt for vendors to be paid. Also, it lets us track the usage and costs of the materials and external labor for future analysis. The actual cost of these elements equates to the cost of maintenance.
3. Return unused materials
The return of unused materials is the restocking of unused materials back to the warehouse or return to the vendor.
This activity is required, as it will help capture the more accurate actual cost of the Work Order and the utilization information of the material.
4. Final Confirm all Operations (CNF)
The indication of Final Confirm in all the operations is a status that symbolically advises all stakeholders that the specific task is safely completed. This indicates when the next operation may be started and completed. It also shows information relating to the duration of tasks and labor hours utilized for the task.
5. Enter History of Work Completed
Within the Work Order and the Notification long text, you can add information such as reasons, suggestions, requirements, improvements, results, and findings that may be useful for future analysis.
6. Create Notifications for Additional work
Follow-up work or a Subsequent Notification is an activity that is completed when additional work is found, usually after completing an inspection or preventative maintenance, to create work trail information that stems from that initial work order.
This activity may be used as a tool to highlight the effectiveness of the specific preventative maintenance to find faults and trends within the assets. These additional works are a means to help reduce breakdowns and improve reliability and continuous usage of the asset.
7. Perform Counter Resets
Performing counter resets are sometimes overlooked in the closeout process; this activity usually completed after a component change out is finished to help track the utilization or usage of the component. This information also allows for the tracking of the reliability of the component and when the change-outs are required to be set in the future.
8. Create Extra Notifications
Creating additional notifications is usually completed to capture extra information or history from the completion of a work order.
As an example, Preventative maintenance is usually called Work Order only; this means that once created, they do not have a Notification attached to add history. Also, you may add an extra notification to any work order to add extra information at any time. These created notifications will be technically completed at the same time as the Work Order.
9. Save and Archive the Work Orders
Archiving work orders is the activity of saving the document or paperwork used to complete the task. This document is the printed work order, checklists, pre-starts, health safety information, and many more.
We are required to save these core documents as backing to the information completed in the Notification and Work Order, as some information may have been missed when entered into SAP. These documents are also used for auditing, investigations, and if the task is legislative or statutory, they may be required to be kept for many years.
10. Technically Completing (TECO) the Work Order
The final step of the process is the easiest to do, and it's also one of the most important. Clicking the TECO flag finalizes the whole work order as completed.
Technically Completing a work order finalizes not only the tasks in the work order, and it captures the actual cost of the work order. Also, this activity starts the process of background settlements, chargebacks, payments of invoices, and analysis of work.