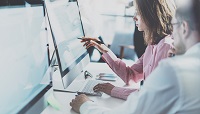 Quite naturally, many organizations over-rate the quality of their enterprise and corporate performance management (EPM/CPM) practices and systems. The same thing tends to happen when companies rate their in-house SAP training. In reality they lack in being comprehensive and how integrated they are. For example, when you ask executives how well they measure and report either costs or non-financial performance measures, most proudly boast that they are very good. Again, this is inconsistent and conflicts with surveys where anonymous replies from mid-level managers candidly score them as "needs much improvement."
Not every organization can be above average!
What makes exceptionally good EPM/CPM systems exceptional?
Let's not attempt to be a sociologist or psychologist and explain the incongruities between executives boasting superiority while anonymously answered surveys reveal inferiority. Rather let's simply describe the full vision of an effective EPM/CPM system that organizations should aspire to possess.
First, we need to clarify some terminology and related confusion. EPM/CPM is not solely a system or a process. It is instead the integration of multiple managerial methods – and most of them have been around for decades arguably even before there were computers. EPM/CPM is also not just a CFO initiative with a bunch of scorecard and dashboard dials. It is much broader. Its purpose is not about monitoring the dials but rather moving the dials.
What makes for exceptionally good EPM/CPM is that its multiple managerial methods are not only individually effective, but they are also seamlessly integrated and imbedded with analytics of all flavors. Examples of analytics are segmentation, clustering, regression, and correlation analysis.
EPM/CPM is like musical instruments in an orchestra
I like to think of the various EPM/CPM methods as an analogy of musical instruments in an orchestra. An orchestra's conductor does not raise their baton to the strings, woodwinds, percussion, and brass and say, "Now everyone play loud." They seek balance and guide the symphony composer's fluctuations in harmony, rhythm and tone.
Here are my six main groupings of the EPM/CPM methods – its musical instrument sections:
Strategic planning and execution
Cost visibility and driver behavior
Customer Management Performance
Forecasting, planning, and predictive analytics
Enterprise risk management (ERM)
Process improvement
EPM/CPM as integrated suite of improvement methods
CFOs often view financial planning and analysis (FP&A) as synonymous with EPM/CPM. It is better to view FP&A as a subset. And although better cost management and process improvements are noble goals, an organization cannot reduce its costs forever to achieve long term prosperity.
The important message here is that EPM/CPM is not just about the CFO's organization; but it is also the integration of all the often siloed functions like marketing, operations, sales, and strategy. Look again at the six main EPM/CPM groups I listed above. Imagine if the information produced and analyzed in each of them were to be seamlessly integrated. Imagine if they are each embedded with analytics – especially predictive analytics. Then powerful decision support is provided for insight, foresight, and actions. That is the full vision of EPM/CPM to which we should aim to aspire in order to achieve the best possible performance.
Today exceptional EPM/CPM systems are an exception despite what many executives proclaim. If we all work hard and smart enough, in the future they will be standard practices.
You can find out more on EPM in Gary's course Analytics-Based Enterprise Performance Management