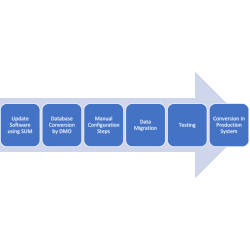 SAP S/4Hana brought about a revolution in terms of SAP system architecture, creating a faster and better user experience through various tools like Fiori and Analysis for Office. At the same time, it enabled transaction and analytical processing through a single source of truth (S/4Hana) eliminating the need for multiple systems for Transaction Processing and Analytics.
SAP will discontinue support for ECC by 2030, which means existing SAP customers need to move to S/4Hana. SAP S/4Hana ERP and many allied applications (ie. Concur, Ariba, Salesforce) are now available 'in the CLOUD' which can bring further savings in terms of costs of implementation and maintenance
If you are planning to move to S/4Hana there are several approaches available: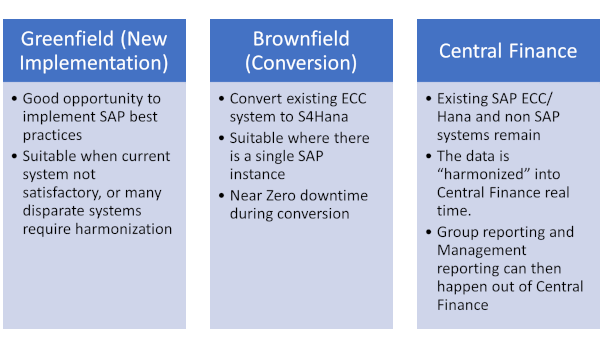 In this article, we are going to discuss the steps involved in System Conversion to S/4Hana using the Brownfield (Conversion) approach.

Preparation Phase - SAP Readiness check
SAP runs a "Readiness check" on your current production system and gives a very detailed report about the system. The purpose of this report is to help you understand the implications of system conversion. It helps to plan for the time and resources that will be required for the conversion.
The report will elaborate on the following topics:
1. Minimum System requirements
The minimum system requirements in terms of hardware sizing and Hana database version need to be ensured before embarking on a conversion
2. Compatible and Incompatible Add-Ons
The current system may have several standard SAP add-ons and plug-ins or third-party software like OpenText or Vertex tax. SAP checks the compatibility of the add-ons with the relevant SAP S/4Hana version. If the add-ons are incompatible, the vendors of the add-ons will need to be contacted to procure the latest compatible versions. Any incompatible add-ons will be uninstalled before conversion.
3. Business Functions
Business Functions are usually activated for activating specific Sap functionality. Some of the add-ons are not compatible with S/4Hana. If a particular add-on is incompatible but the functionality is still required, alternatives that are supported by S/4Hana will have to be explored. SAP Notes on the topic can be consulted.
4. Simplification items
This is one of the most important and comprehensive sections of the Readiness Check. Simplification items are the mandatory solution adjustments required in the system conversion. SAP Readiness Check will throw up the Simplification items relevant to the Organization. SAP has introduced many guidance "Notes" to facilitate the implementation of simplification items.
For example, under Finance, the topics for simplification can be – Ledger Approach vs Accounts approach, Currencies in Financial accounting/ Universal ledger, Alignment of Asset Depreciation areas with Financial Accounting, Use of Profit centers in Universal ledger, Parallel ledgers, Document Splitting, and so on.
These involve important design decisions that have long-term impact. They also help in understanding the scope of conversion and arrive at a detailed project plan
5. Custom code Analysis
The S/4Hana design has undergone a lot of simplification vis-à-vis ECC. Many tables have become redundant and merged into tables like ACDOCA. However, to have backward compatibility, SAP has created "views" of the redundant tables. Therefore, programs with read access to the redundant tables will still work in S/4Hana through the views. The views however cannot be written to. Tools like "ABAP Test Cockpit (ATC)" can analyze incompatible code which needs to be replaced. The conversion is also a good opportunity to retire (delete) Z* programs that have not been used in a long time.
6. Redundant transactions and new Fiori Apps
Several transactions have now become redundant and replaced by Fiori Apps.
Actual Conversion (Realization)

When it comes to the actuation conversion stage of your migration, there are a number of steps to be performed and SAP tools that you will be able to utilize:
Software Update manager
The Software Update Manager (SUM) executes the technical conversion by updating the software to the latest S/4Hana version. In case the database is not on Hana, a Database migration will be done using the Database Migration Option (DMO)
Follow up configuration activities
There are certain manual configurations required (like Ledgers, Assets Accounting) to be done in the system in order to take maximum advantage of S/4Hana functionality.
Silent Data Migration
The application data conversion is done in each client in the background with near-zero downtime.
Custom Code Adaptation
As per the custom code assessment done in prepare phase, custom code needs to be re-written where required and tested.
Testing
The conversion process usually starts with simulating the entire conversion in a sandbox and resolving issues. Once the conversion is achieved in Sandbox, it's time to start with the real system landscape. The process is then repeated in a development environment, and transported to production with several test cycles. It is possible to have near-zero downtime while doing the conversion in Production.
Change management
Finally, like on any other SAP project, there is a substantial "Change management "involved during conversion to S/4Hana in terms of :
Using the opportunity to carry out Process Changes with the consent of Business.
Training the Business user in Fiori and other new applications.
Conclusion
S/4HANA is a once-in-a-generation update to the SAP ERP suite. Hopefully, this high-level overview helps you understand what to expect when migrating from SAP ERP.
Thankfully, there are also numerous resources available to help, from SAP's own Conversion Guide for SAP S/4HANA 2020, to training courses designed to help you with specific elements of the transition. Additionally, the move to SAP 4/HANA presents a learning opportunity to re-skill your general SAP knowledge and maintain relevant skills in the changing landscape.