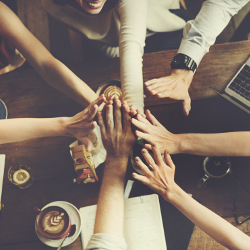 Are you a Human Resources professional looking to advance your career with systems applications and products (SAP) software and methodology? You're in luck! There are three primary training paths that an HR professional can take in order to become SAP proficient, earn a certification, and grow their careers.
This is crucial for HR professionals who want to have the opportunity to advance or expand their expertise in areas that are not always required by employers. However, the skills and proficiencies that you learn with SAP are always appreciated by employers.
That's because SAP is one of the most widespread pieces of company software in the world, and it's used at the enterprise level for countless applications, including human resources. So what are the ways that you can advance your career as an HR professional with SAP?
Let's look at three SAP HR Career Paths.
1. Human Resources Administrator
SAP training for HR administrators is an essential part of any HR professional's training. That's because the administrative functionality of SAP's HR program forms the foundation of the different actions you can take. This includes everything from basic reporting skills to personnel administration and even timesheets.
You start your learning journey with SAP-specific skills like navigation, reporting, and function overviews. Afterward, you advance to more HR-focused criteria, like organizational management and success factors. This part of your SAP education also includes essential functions like reporting on organizational management and managing CATS timesheets. Once you've accomplished these skills, you can take your certification exam to prove that you're capable in a role as an SAP HR administrator.
It's also possible for you to continue learning SAP functionality to improve your own education and further grow your career. This can include a wide variety of desirable topics, including SAP payroll rules, performance success factors, employee vendor maintenance, and even a bit of employee travel expense reporting. While these additional skills are not explicitly required for you to become certified as an SAP HR administrator, it certainly looks good on a resume to go above and beyond.
2. Human Resources Manager
SAP Training for HR managers is the more personnel and talent management approach to using SAP for human resources. In this pathway, you spend most of your time learning the intricacies of interviewing, hiring, reviewing, and — most importantly — keeping employees.
Typically, this is the part of SAP training that feels the most like traditional human resources. This is the common HR role at small businesses, and enterprises may have any number of HR managers who play a role in hiring and keeping employees. With this SAP Learning Path, you'll start by learning basic SAP skills like reporting and navigation. You'll also touch on a few key overviews concerning HR functionality itself.
Then, you'll take the next step into personnel administration, the basics of payroll, success factors, and even employee travel management. There's even a portion on employee vendor maintenance. This SAP training is included because HR managers spend a lot more time working with the people of an organization themselves, along with the data that relates to those people.
After this portion of the career path, you'll be eligible to take your certification exam. Then, you can continue your education as well, just like HR administrators can. This includes expanding your SAP knowledge into areas like payroll rules so you can become more specialized as a payroll expert.
You may also choose to take a look into SAP organizational schemas that are used for payroll, which is more of an administrative function. It's an excellent way to round out your education as an HR manager with SAP knowledge and could make you more valuable to a company.
3. Human Resources Payroll Manager
The SAP HR payroll manager plays a crucial role in both the short- and long-term functionality of a company as a whole. Without payroll managers, companies can crumble overnight and lose their finest employee talent.
The coursework for HR payroll managers working with SAP starts with an introduction to navigation, reporting, and general SAP skills.
From there, you embark onto more specific topics that get down into the details of payroll and how it works day-to-day. This includes time management, basic payroll principles, and the schemas that SAP uses to organize and structure payroll. You'll also learn about data sets to manage employee travel, including the reports that you can create from them later.
Just like with our previous career paths, HR payroll managers earn their SAP certifications by taking a final, cumulative exam. A passing score means that you earn the certification and have mastered that much more of the always changing and growing SAP system.
After certification, you may several different topics, including more traditional HR roles like personnel management or organizational reporting. While not essential to earn your certification, these courses are excellent for expanding your horizons and making you a more desirable candidate and employee for a company.
Ready to Jumpstart Your Career?
Pick the path that you want to pursue from our choices above! If you're ready to start your journey as an HR professional proficient with SAP, this is your opportunity to make a landmark decision in your career.
Get started today with SAP for HR administrators, SAP for HR managers, or SAP for HR payroll managers. Or consider an Unlimited SAP Training Subscription for access to all three learning paths.