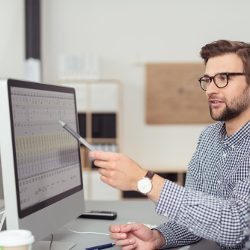 Systems applications and products (SAP) is one of the best-known and most widely-used corporate software suites. It's legendary for its uses in everything from information systems to human resources — and that includes finance.
SAP for financial professionals can be a different beast from it's other uses. Finance is not inherently a technical industry, though technology has certainly changed it substantially over the past few decades.
As a result, using SAP for finance can feel a bit different, even when compared to other leading financial software products.
So where can you start if you want to advance your career as a financial professional? More importantly, what does it look like for you to start learning SAP in a meaningful and impactful way?
The answer lies in a handful of steps that can lead you to an important, fulfilling, and lucrative career.
1. Learn the Fundamentals of SAP
For financial professionals, SAP starts with the fundamentals. This means learning the application, as opposed to learning its intricacies in finance.
Learning the basics of any new software may sometimes feel labor intensive because of the subject matter. After all, isn't it easy to learn how to navigate the software just by using it? The answer to this is yes, but there's more to the fundamentals than knowing your way around the software.
There are also financial reporting skills that you need to learn, and they're specific to SAP. These are building blocks in your education as a financial professional. Perhaps most importantly, you learn about SAP configuration.
Generally speaking, SAP fundamentals are essential to any financial professional's success with the software. After you have these skills under your belt, you'll start building on them to accomplish more advanced tasks.
Some of those advanced tasks may include topics like bank accounting.
2. Understand SAP Bank Accounting
SAP bank accounting is a specialized segment of financial education that offers exactly what it says on the tin.
In the case of SAP, bank accounting shows you information, simulations, and instructor-led sessions of important tasks that a financial professional will have to do This includes coursework around bank accounting from a general perspective, and it also entails a little bit of risk management.
Again, you'll find information here concerning configurations as well, ensuring you know how to read, contextualize, report, and organize the financial data you'll use daily.
3. Understand SAP Asset Accounting
SAP asset accounting is another avenue that financial professionals can take in their education.
In this setting, asset accounting deals with tracking the different positive financial qualities under the ownership of a company. It's a fundamental role and process that ensures the company as a whole can understand its gross and net worth in reference to cash, valuation, and more.
A financial professional can expect to learn how to create a suite of different reports that empower them to structure and present this crucial financial data to the right people at the right time.
Year-end closing accounting, assets under construction, asset history, and more are all covered in asset accounting. Each of these subjects also contains its own fine details and opportunities, which are important to master if you're looking to grow as a financial professional.
There are also SAP-specific skills to learn here as well, including configurations and enhancements. You may also learn about Fiori (also called FIORI), which is SAP's streamlined approach to simplifying and accelerating functions that are essential to everyday work, including financial reports.
4. Earn Your SAP Certifications
With backgrounds in bank accounting and asset accounting, you're learning a wealth of knowledge that could help any company looking to track and organize its financial data.
The next step in your education is to earn your certifications.
Certifications for SAP vary depending on the specialty you want to learn at that moment. For example, SAP bank accounting has a certification and so does SAP asset accounting. Because these two functions require unique skills, they have separate certifications.
This ensures that when you're certified, you truly know the financial functionality to the best of your abilities. It's also a powerful voucher for your current or future employer that you can complete critical components of your role in a company's financial division.
In a nutshell, SAP may require financial professionals to earn multiple certifications to prepare for their careers — but the certifications themselves are well worth the effort, time, and investment.
5. Grow in Your SAP & Finance Expertise
Now that you have your certifications proving you understand SAP for financial professionals, you have the incredible opportunity to pick where you take your career next!
This can include a wide variety of different opportunities, including learning more about financially-related topics (like risk management) or branching off into other career directions (like accounts payable).
Regardless of what you choose, continuing to learn SAP as a financial professional can only serve to enrich your career as a whole, ensuring you're constantly in demand by employers for the duration of your career.
Jumpstart Your Growth as a Financial Professional
Are you ready to begin your career with SAP training for financial professionals? It's never too late (or too early) to advance your career in such a profound and meaningful way.
To begin, consider taking a look at any of the financial courses we discussed above. These can serve as the first steps you take to becoming proficient and growing your skills.
Click here to learn more about SAP bank accounting, or here to learn more about SAP asset accounting.