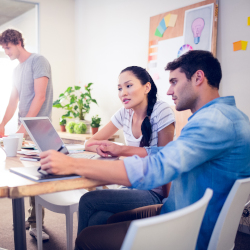 Companies are always looking for employees with keen, sharp, and up-to-date SAP skills.
But you may not have the chance to attend in-person training for SAP, especially if you're a remote employee. So what can you do if you want to improve your skills without an in-person instructor?
The answer lies in SAP online training courses.
There's always one question that SAP learners ask though — are online SAP training courses worth the investment?
The answer is yes.
Let's learn about the immense amount of work that goes into the creation of online SAP courses so that you can know that they're trustworthy.
Project Management
Every SAP training course starts with a project manager who oversees every aspect of the online course's creation. This includes every subsequent step that we're about to list, and it can also include pre-project meetings where the concept of an SAP training course is still being fleshed out.
Regardless of how far along a course is in development, the project manager plays a crucial role in its success.
Subject Matter Expert (SME) Input
In the case of SAP, this means individuals who have been SAP developers, designers, and users for years. These individuals are often so proficient in their skills that they're able to work a full-time job where they use SAP before performing SME duties in their off-hours.
While this means they're constantly busy, it also means they're constantly learning new ideas, processes, and functions that they can include in the online course itself.
With all of this in play, the SME is responsible for creating the overall lesson plan and providing the content for lesson scripts.
Once that's done, it's on to the next step.
Editing
Every online SAP training course has at least one editor, and others may have more (depending on their complexity and importance).
Editors are responsible for ensuring the grammar and style of a script are correct. They often don't provide extra content in terms of explaining SAP, but they play an essential role in ensuring that information is communicated quickly, concisely, and easily.
Instructional Design
Instructional design is the process of taking the script and creating the lessons that SAP students will use. This includes recording any audio, animating videos, and creating exams.
Instructional designers are experts in the field of education, allowing them to apply the most up-to-date learning strategies in the context of SAP.
This ensures the people who come to learn SAP from an online course can proceed through the course and recall information once it's completed.
In a nutshell, the instructional designer is the person who creates the lessons that the end-user — someone seeking to improve their SAP skills — will consume.
Review
Once the instructional designer is done with the lesson creation, the content goes to a reviewer.
The reviewer goes through the lessons that the instructional designer created, and the reviewer will look for any inconsistencies, inaccuracies, or misrepresentations in the learning content.
The value of the reviewer comes from knowing that the created lessons are top-quality and reliable, ensuring that students who use them have the best possible chance of easily learning, retaining, and improving upon the information they consume.
Voice Acting
Once the lessons have gone through review, it's time for a voice actor to add narration to the lessons. This is done by a seasoned actor going through the script, reading the information out loud, and collecting files to return to the instructional designer.
The narration plays a key part of the overall lesson. Current learning theory tells us that different people have different learning styles. Some people learn by doing, others learn by seeing, and still others learn by hearing.
As a result, the voice actor is the final piece of the puzzle that allows an audible learner to absorb and retain information in the way that works best for them.
Instructional Design (Again)
Now that the audio and visual information is completed, it can be combined. At this time, an instructional designer will once again take a leading role in the project. They will combine the audio files with the visual slides, animations, and assessments.
The end result is a fully narrated, fully visualized lesson that covers an SAP topic from start to finish, ensuring you — the student — can learn what you need to know as quickly, easily, and permanently as possible.
Final Checks
With everything done, the completed SAP course will go through any number of final checks to ensure its quality and longevity.
Then, it's added to an online store — like Michael Management — for sale.
By the time this is all done, there are potentially thousands of hours invested in the creation of a single SAP module. Level 1 lessons can take as many as 160 development hours for a single hour of content. Level 3 lessons can take more than 300!
This also doesn't take into account the ongoing maintenance and updating of the lessons once it's finished, a task that can intermittently take several more hours after the lesson has been published.
What Does It Look Like to Develop an SAP Online Training Course?
Download our free infographic to see everything concerning the conceptualization and creation of an online SAP training course.
You'll also see how it compares to in-classroom training, which can be a completely different ball game from virtual lessons.
Take this last step and see why so many SAP experts trust online coursework for their professional development.