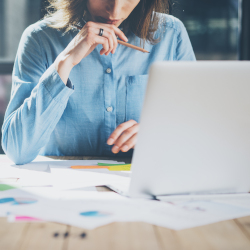 SAP is one of the world leaders in enterprise business software, covering nearly everything you need to properly run a thriving company.
But it's a huge environment with a litany of different pathways that someone can follow in order to be successful. With everything from specialty skills like SAP Fiori — the new browser-based interface — to the simplicity of app navigation, SAP runs the gamut of an impressive range of proficiencies.
So if you're a department head looking to improve your team's skills or an individual looking to learn SAP for oneself, here are the best, most in-demand skills on the market today.
Download Free eBook: Top SAP Skills - What do SAP Pros really want?
1. SAP S/4 HANA Basic Skills & Navigation
SAP S/4 HANA Basic Skills & Navigation is a fairly long name for a surprisingly simple skillset — finding your way around the software's basic skills and navigation include things like menu knowledge, clicking through to the right areas of the software, and being able to find what you need when you need it.
This concept is not unique. In fact, it's universal in a constantly growing ecosystem of business software developers who create proprietary platforms.
But this is perhaps also the reason that these skills are so popular. Before you can jump into a defined specialty, you have to know the basics.
And it doesn't get much more basic than knowing your way around!
2. SAP S/4 HANA Reporting Skills
SAP S/4 HANA Reporting Skills refers to a set of proficiencies that allow you to create on-demand reports that pull data your company uses. Reporting is the backbone functionality of SAP as a whole. It's essentially the function that allows a business to verify what is and is not working from both a high level and in nitty-gritty detail.
Regardless of the SAP specialty you choose, you're almost certainly going to have to know how to report on the work you're doing and the results that it's producing. As a result, reporting skills are considered table stakes by many employers and SAP consultants who understand its inherent value.
After all, the real power of SAP comes from verifying that a company is growing and then extrapolating that into learning what is and isn't working.
Then, it's a matter of changing so that a company can continuously improve. If you can't show the merits of your work with reporting, then you may as well not have done it at all.
3. SAP Fiori
SAP Fiori is our first specialty skill on our "best SAP skill" list.
Fiori is the web browser interface that enables individuals to use and explore an SAP interface without installing anything on their computers.
This revolutionary concept may not be new from the worldwide perspective where cloud-based software has become the norm. But for SAP, it's an enormous step forward in terms of the versatility of the platform itself.
The skills related to Fiori include its use (to state the obvious). But beyond that, there is also Fiori design and the skills required to use create a sensible, consistent, and user-friendly experience throughout a single SAP instance.
This requires an immense amount of design skill, knowledge, and experience. Fiori is just the tool that a designer uses to bring all of that to life.
Once a designer understands Fiori and how to create with it, they've taken a colossal leap forward in their design expertise. They're now able to apply best practices and innovative problem-solving to an internal system that can help their coworkers do their work more quickly and easily than ever before.
As a result, SAP Fiori designers don't just make an SAP instance look pretty.
Instead, they're a force multiplier that has a "ripple" effect on other roles in a company, empowering them to do more with less and in less time.
This is why every company wants a Fiori designer on the team.
4. ABAP for SAP Users
ABAP is the SAP programming language that is an amalgamation of several established coding languages, including Python.
ABAP empowers programmers to use the best strengths of multiple coding languages while avoiding the pitfalls that any individual language may have.
As a result, ABAP is one of the most intuitive and powerful coding languages in the world.
But programmers often have high-level knowledge that takes years to acquire and turn into actionable value. Not everyone has that, but they may still be able to use ABAP for different purposes.
This is why accountants, designers, and managers may all want to know how to use ABAP in a limited capacity. It not only allows them to make tiny tweaks to code — it also helps them "read" the code that's been written and understand how it works.
When you can do that, other roles don't need to understand "developer speak" to know how their company functions. Instead, they can take a look through the custom code that already exists and look for the parts they need to know.
Then, they can read, follow up with questions to developers, and arrive at the conclusions that they require.
As a result, ABAP isn't just for programmers anymore. It's an essential skill set that makes a well-rounded SAP professional.
For You: The Source of Our Data
You may be wondering how we have the data and authority to confidently publish a blog post like this one. The reason is that we offer SAP training to all levels of professionals, and we track the popularity of the different modules we offer.
More importantly, the SAP skills we mentioned above are only the top four best SAP skills that are in demand right now.
So what else is there that you should know? What if you're not interested in Fiori or Materials Management as your specialty areas?
To learn more about these skills and why they're so popular right now, get your free copy of our infographic for yourself.
Click here to download our infographic!