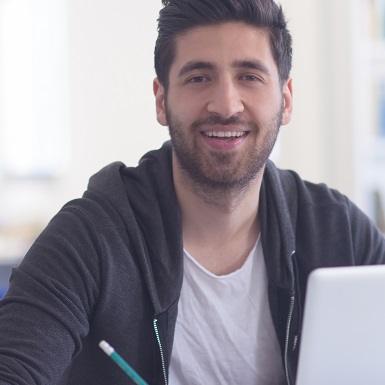 If you have looked at big company job ads recently you have probably noticed that many of them say 'SAP experience required/preferred' – in fact, 86% of the large Fortune 2000 companies around the world use SAP software to run their businesses. It's no wonder that SAP skills are in such high demand these days.
Once you apply for one of these jobs you will eventually be quizzed on your SAP knowledge in the interview process. To make this a little easier on you, we have compiled this list of the Top SAP Interview questions – you're welcome (and good luck in the interview)!
Top 10 SAP Interview Questions
1. What does SAP stand for?
SAP is German and stands for 'Systeme, Anwendungen und Produkte' – in English: Systems, Applications, and Products. It's important to remember that SAP is a Germany company, founded in 1972 in Walldorf, Germany (just 1 hour south of Frankfurt). The company is publicly traded, has almost 100,000 employees with revenues of around $25bn US Dollars.
2. Can you give me a quick overview of SAP?
SAP is the 3rd largest software company in the world and the leading provider of enterprise resource planning software. It offers integrated software solutions for large enterprises around the world as well as small to mid-sized businesses.
3. What is an ERP system?
ERP (Enterprise Resource Planning) systems are used to manage the various business processes within a company, for example, financial accounting, purchasing, sales, production, etc. All of these processes can be handled with the ERP system because the applications are connected to each other and a central database to share a common set of business data.
Large-scale ERP systems like SAP's products can support business and accounting requirements in most countries in the world and also support the different languages and localizations required to meet statutory regulations in each country.
4. What are SAP's main products?
SAP's main product is Enterprise Resource Planning software. Currently, its flagship product is called S/4HANA and its predecessor is ECC 6.0. However, SAP also sells a wide array of other products, including:
CRM - Customer Relationship Management
SRM – Supplier Relationship Management
BI – Business Intelligence / Analytics
SCM – Supply Chain Management
PLM – Product Lifecycle Management
And dozens of others.
In addition, SAP acquired a host of 3rd party companies, primarily in the cloud-space area (such as Concur (travel & expense management), SuccessFactors (HR management), Ariba (supplier management), and most recently Qualtrics (customer experience management).
5. What are some of the core SAP modules?
SAP's flagship product S/4HANA (and its predecessor ECC 6.0) is organized by functional business areas such as Finance, Controlling, Purchasing, Sales, Human Resources, etc. These functional areas are referred to as modules. Some of the most commonly used modules are:
FI – Financial Accounting
CO – Controlling
MM – Materials Management
SD – Sales & Distribution
HR – Human Resources (aka HCM – Human Capital Management)
PP – Production Planning
PS – Project Systems
PM – Plant Maintenance (aka Preventive Maintenance)
QM – Quality Management
BC – Basis Component (= System Administration)
And many others.
6. What is a transaction code?
A transaction code is a shortcut to an SAP transaction (or activity, such as Posting an Invoice, Creating a Sales Order, Changing a Customer Record, etc.). In the early SAP versions, transaction codes were 4 characters long (i.e. VA01 – Create Sales Order). However, over the years SAP realized it would eventually run out of possible combinations, and thus, transaction codes can now be of any length.
The advantage of using transaction codes is that they are much faster than starting the transactions via the very large SAP menu tree instead. Most SAP users typically run 10-30 transaction codes as part of their business role and thus, tend to remember the transaction codes quickly.
7. What is ABAP?
ABAP stands for Advanced Business Application Programming and it is a proprietary computer programming language that the main SAP products are written in. SAP first created this language in 1983 and is still used for the majority of SAP's product code (alongside the JAVA language, too).
8. What are some of the SAP product releases?
The current, most recent ERP system is called S/4HANA – because it is the 4th product generation and runs on SAP's HANA database (HANA – High-Performance Analytic Appliance). The release prior to S/4HANA is called ECC 6.0 (Enterprise Core Component). Its predecessor is R/3 Enterprise (used approx. from 1992 – 2003) and prior to that there was R/2 (a mainframe system) and ultimately, SAP's first commercial product called R/1 (originally released in 1973).
9. What is SAP Basis?
The SAP Basis module (aka BC – Basis Component) is SAP's system administration module. While the other modules exist to support a company's business functions the BC module's purpose is to manage, administer, and deploy the technical SAP system and server. It is of critical importance and requires a specialized SAP System Administrator or Basis Admin to ensure a stable SAP system for all users.
10. What is the SAP GUI?
The SAP GUI (Graphical User Interface) is a program used to login to an SAP system. There are 3 different types of the GUI:
Web GUI – this is a URL that allows you to login to an SAP system via a supported browser such as Google Chrome.
SAP GUI for Windows – this is the most widely used GUI. It is a program installed on your computer to allow you to login to SAP.
SAP Java GUI – this is the GUI typically used for MAC computers (although it is platform independent and could run on a Windows PC, too).
There are, of course, many other questions that you might be asked during an interview, especially in your particular job area (i.e. somebody working in accounting will be asked specific questions about SAP's FI/CO modules while someone working in Procurement will be asked about the MM module). However, this list of the most important SAP interview questions will give you a good foundation when you walk into your interview.