Clifton,US

Dorian Salmon

SAP Software Designer, Developer, Technical Author & Mentor
---
SAP-certified Technical Consultant / Business Process Expert with over 30 years experience of Systems and Application programming, specializing in SAP UI5 / Fiori, EDI / IDOCs and SAP 3rd-Party integration. Extensive application development experience using ABAP Objects, Business Server Pages (BSP), Web Requests, Web Services, ECC Enhancement Framework, Easy Enhancement Workbench (EEWB), People-Centric User Interface (PC-UI), Web-UI, Model / View / Controller (MVC) Programming, Business Workflow, ABAP List Viewer (ALV), Dynpro screens, Fiori, UI5, Screen Personas.
Courses by Dorian Salmon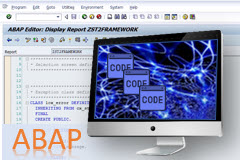 ---
4.6 Average Rating
8 Reviews
1174 Student Views
1 Courses
Are you an SAP Professional?