How can I change the default browser in the SAP GUI

Overview
By default, SAP uses the old (and no longer supported) Microsoft Internet Explorer as a browser. This, of course, leads to a frustrating user experience at times. Each time you start a transaction that itself starts a web browser, it tries to open the URL using the old Internet Explorer - for example, transaction CRM_UI (to start the CRM Web UI).
You can easily fix this problem by changing the default browser setting in your SAP GUI settings. Start the SAP GUI for Windows and then click the hamburger menu top left > Options.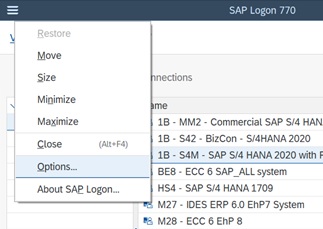 Then select Interaction Design > Control Settings and choose your default browser as shown below.
The next time you start a transaction in SAP, it will automatically use the selected browser.
If you have any questions, please don't hesitate to Contact us
Account
General
---
How can we help?